The cost of living has put a financial strain on many of us in the last few years. From energy prices to food bills, your expenses may have gone up – making it harder to save for retirement or do the things you enjoy in the present.
If you're struggling with bills or need a little guidance with managing your money and pension, here's a reminder of where you could get support. As everyone's circumstances are different, some of these resources may be more relevant to you than others.  
1. Help with your energy bills
The price cap that limits the cost per unit of energy has gone down in 2023 but is still much higher than in 2020 and 2021.
If you're worried about paying your energy bills or want to see if there's a better deal available, contact your energy supplier in the first instance. There may be a cheaper tariff you can switch to, and/or in some cases financial support or repayment plans to make things more manageable.
Outside of your supplier, here are some other places you can turn to.
Help for Households government campaign
The Government's Energy Bill Support Scheme ended in March 2023, but there's still cost of living payments available until Spring 2024 if you claim certain benefits or tax credits. This should be paid to you automatically in the same way you usually get your benefits or tax credits. To find out more about who qualifies, check out the Government webpage cost of living payments 2023 to 2024.
Fuelbank Foundation
If your home has a pre-payment meter and you're worried about being able to top it up, the Fuelbank Foundation may be able to assist you. They provide emergency funding to households identified as being in a fuel crisis. On their website, you'll also find more tips and guidance including their 3 big things that make a difference.
Energy Saving Trust 

The Energy Saving Trust is an independent profit for purpose organisation working to address the climate emergency. They run various campaigns to help people save money on their energy bills. Plus, try their warm home hacks to heat up your home on a budget. There's specific information based on which region in the UK and Northern Ireland you live too.
Citizens Advice
Citizens Advice is a national charity that offers confidential advice. Their dedicated energy supply webpage features lots of detailed resources, for example if you're struggling to pay your bills or if you're having problems with them.
2. Managing your food costs
Inflation and the conflict in Ukraine have been factors in the rising price of food. In August 2023, the annual inflation rate for food and non-alcoholic beverages was at 13.6%.1 However, it's worth noting that month by month, the increase has slowed significantly. There was only a 0.3% increase between July and August 2023.1
You might be able to save money on your food bills by making a few small changes, like trying our sustainable food tips. Here are some other sources you may find useful.
Supermarket price comparisons with Which?
Every month, Which? do a price comparison analysis to find out what the cheapest supermarket in the UK is.
Research by Which? found that shopping at a convenience store (for example a Tesco express or Sainsbury's local) can be up to 10% more expensive than shopping at a regular store of the same brand.2 For some people, it's a no-brainer to go to the regular supermarket. However, if you live far away from a big store, consider if it's worth the extra time, effort and cost of travelling further. You might find that it doesn't make much of a difference.
Love Food Hate Waste
Love Food Hate Waste is a charity committed to reducing food waste and making the most of your food at home. Their How do I? guides give insight into how you can make the most of, and get the greatest value out of the food you buy – saving you time, money and waste.
Grab a deal with Too Good To Go
Too Good To Go is an app where you can buy bags of food from local shops and restaurants that would have otherwise gone to landfill – for a third of the original price. The only catch is you don't know what food you'll receive, but you'll know the shop you're buying from.
Local food banks
For those most in need, you may be able to claim vouchers to use at your local food bank. Access to a food bank requires a referral, usually from a care professional such as ahealth visitor, a social worker or school staff. With a voucher you can collect a parcel of nutritious, non-perishable food to last at least three days.
The Trussell Trust is a well-known organisation with food banks across the UK. You can find your nearest location on their Find a food bank page, along with other guidance.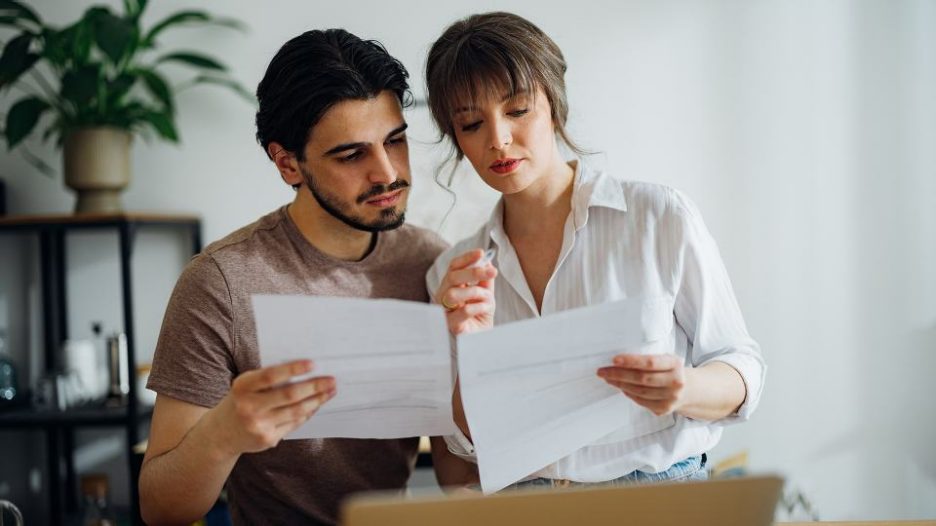 3. Support with your pension
A higher cost of living may have impacted how much you've been able to save. And you may be wondering whether the amount in your pension is enough to last throughout retirement. Experts at the Retirement Living Standards have estimated that a single person will need £12,800 a year to live a minimum lifestyle in retirement.3 They'll need £23,300 a year to live a moderate lifestyle and £37,300 to live a comfortable lifestyle in retirement.3
If you need support with your pension, here are some pages and organisations to check out.
Our Money Tips hub
Our Money Tips hub has lots of articles with hints and tips to help you get better with money – and be more confident with your money and pension. For example:
With financial uncertainty comes market volatility. If you're worried how this will impact your pension, read our article How market volatility can impact your pension.
Right now, saving for your future self might feel like you're leaving yourself short of money in the present. However, pausing your pension contributions could have a bigger impact on your future. It's important that you take some time to consider what's right for you. To find out more, read The impact of pausing your pension contributions.
MoneyHelper
MoneyHelper is a government-backed, free and impartial guidance service for money and pensions. They have free resources you can use to support you with your long-term savings, as well as on topics such as benefits, housing and family and care.
If you're considering getting financial advice, you can also find an adviser through MoneyHelper's website. Please note that there's usually a cost for speaking to a financial adviser.
Pension Wise
Pension Wise, a service from MoneyHelper, is a government service for people over the age of 50. They offer free, impartial pensions guidance on your pension options. You can book a free appointment if you meet the eligible age. A pensions specialist will explain how each withdrawal option works – and point out some other things you might need to think about. The appointments are designed to empower you to make informed decisions about taking money from your pension pots.
4. Tips for budgeting
If your outgoing costs have gone up, it may be useful to revisit your budget and what you spend money on. A simple budget review could identify where you can save a little more each month. Try to keep your goals achievable by dividing them into short, medium and long term. Regularly review your progress against each, so you can make any necessary adjustments as you progress.
It's still important to do the things that bring you joy and purpose, even if you're cutting down on costs. Our article How to do what you love on a budget might give you some ideas on how to do the things you enjoy most with a smaller budget.
Our Financial wellbeing index is a useful tool to find more information on managing money and improving your financial wellbeing. Find budgeting tips and considerations in the Income: money in, money out section.
5. Other resources
Help for households – webpage hosted on GOV.UK explaining what government help is available.
Contact your local council – your local council may have schemes available to you, such as support with energy and water bills, food and essential items. Some councils may offer food vouchers during school holidays.
Entitled To – calculator showing what benefits you might qualify for.
We're here to support you during uncertain times. If you're concerned about the impact of the cost of living crisis, or market volatility, our dedicated Cost of living hub contains articles and resources to help you.