All data is based on research conducted by Research in Finance, in February 2022.
Aside from the economic aspects, the pandemic has been shown to have had two fundamental effects on the way people view their lives. First, is greater flexibility in working environments, facilitated by people's greater comfort with technology. Secondly, the pandemic has made more people reflect on what they really want from their lives, specifically around their financial, physical and mental wellbeing – and how they might improve each and all of those aspects.

Quite simply, people have had more time to think about what's important to them. This has affected existing clients of financial advisers and heightened awareness amongst potential clients that having a professional look after their affairs may be a sensible option to take.

While money management and wealth building are an important part of this, for many people what they now want consciously spans way beyond that to what they require mentally, emotionally and financially to help them feel secure and have meaningful and enjoyable lives.  

Advisers who focus on the overall wellbeing of their clients – what we term wellbeing maximisers – rather than simply concentrate on the investment journey in achieving financial goals (performance maximisers), can be better positioned to support clients on this journey.

The wellbeing maximiser approach is about making sure the client has a good relationship with their money, is comfortable with their situation and has peace of mind (the financial, emotional and mental wellbeing mentioned above).

Uncertain times – such as we have now with a war in Europe, supply chain issues, rising inflation, and underperforming stock markets – can cause anxiety, stress and indecision for clients. In this situation, the value placed by clients on knowing they won't be staying awake at night worrying about their finances, because they've undertaken a complete review of their finances in relation to their life goals with their wellbeing adviser, not just the performance of their investments, can't be understated.

There's a client need for reassurance that their plans for the future (whatever economically happens and is outside of their control) can be financially supported or proactively managed – supporting them to live their best lives and get satisfaction from knowing what they can do to meet their financial goals. A wellbeing maximiser approach can help provide that reassurance.

In fact, post pandemic and in the current environment, it can be argued that the need for the financial wellbeing approach with clients has never been greater.

There's another aspect to be considered here, namely the impact of technology on the advice sector. The increase in direct investing and employment of digital guidance tools which help clients make their own investment decisions, for some is replacing the need for a performance-driven adviser.

Where tech savvy clients (and this particularly applies to the next generation of clients) can use digital guidance to invest and so take action to improve their financial wellbeing, financial advisers must prove they have value and worth over and above this aspect of the advice process.

The wellbeing adviser can do this through frequent and friendly client engagement and by providing a more holistic financial plan.

Given the above, it's perhaps no coincidence that our recent in-depth research where we compared the business models and approaches of wellbeing maximisers and performance maximisers, a greater number of the former expected their business profitability to increase and also to receive a higher ratio of referrals from their client banks.
Neither is it any surprise that wellbeing maximisers feel their approach means they are in a more resilient position to fend off wider competition and as a result they tend to hold a more positive outlook for the financial advice industry.

Tools to support you
Our in-depth digital flipbook explores our research even further and provides clients with recommendations to help them think and act positively about their future - going deeper than budgeting tools and savings rules and shows how financial wellbeing is possible for everyone.
We've also created a summary of our insight into the nation's financial wellbeing – just for advisers and employers.
Plus our financial wellbeing tool is here to help your clients identify areas of their financial wellbeing you can work on together.
Find out more about financial wellbeing at aegon.co.uk/financialwellbeing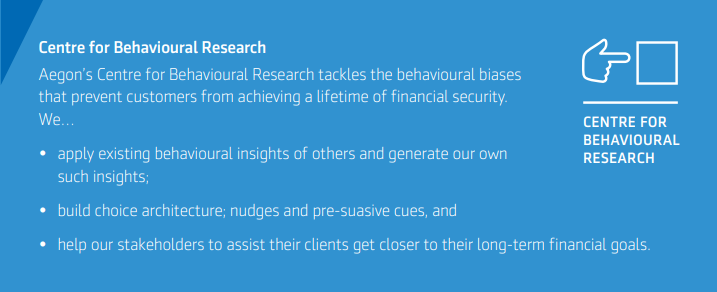 Read the other articles in this series:
Financial wellbeing and its impacts on your profit margins