All data is based on research conducted by Research in Finance, in February 2022, unless otherwise stated.
Adviser expectations of how the advice market will alter over the next five years leave some concerned for the future and others able to respond positively to the changes to come.

After a period in which, according to the lang cat's Mark Polson, advisers have been 'standing on top of the mountain', there are challenges ahead which are likely to see advisers reconsidering their business models and their approach to advice.

This will be considering what's important to clients, and the changes underway as a result of advances in technology and the way digital services are impacting the financial advice market.

In our recent in-depth research into the adviser market, analysing on how firms were approaching advice – whether taking an investment performance-focused approach or a more holistic, client wellbeing approach – most advisers (74%) expected to see an increase in client demand for their firm's services over the next five years. But there were concerns.

Post-pandemic there's evidence that the financial, physical and emotional uncertainty that was caused, and persists in its aftermath, has resulted in many more people (specifically in the younger generations) reflecting on what they really want from their lives1. A realisation that while wealth building is a core part of their financial plans, they want a financial advice service that offers more than wealth creation and that is focused more on creating meaningful and enjoyable lives.

It's no coincidence that post-pandemic retail services providing experiences have recovered faster than those offering products.2  Advisers focused on wellbeing found while wealth building remained a core part of clients' financial plans, the pandemic had affected clients to be more reflective and look beyond wealth creation, with more conversations around protection, earlier retirement, mortality, and spending time with the important people in their lives.

Likewise, with the rise in use of technology in everyday life, it's a trend that's playing into the financial advice market with the introduction of digital financial guidance and the automation of advice services, in the form of hybrid financial advice.3

There's much talk also around whether the next generation of wealthy investors, the inheritors of the baby boomer wealth, will follow in the footsteps of their elders and seek advice and if they do, what that advice might look like.

In our research results it was apparent that advisers following the more traditional approach to financial advice, focused on products and maximising the performance of their clients' investments, were most concerned about the potential impact of these trends on their business over the next five years.

Traditional performance maximisers feel that their business may reduce as tech savvy younger clients will be able to do more and more online, educated and guided through the investment process by digital services which don't require an adviser to maximise their investment returns. 

Around 40% of performance maximisers said they were concerned by the rise in so-called robo advice. As one adviser in our research commented: 'I think as time progresses, more and more people will [invest] online… as there is more competition vying for their services.  How do [advisers] then demonstrate… that they are worth paying for?'

Wellbeing maximisers were not immune to the threat, 29% said they were concerned by digital services. But in general, advisers who have adopted a wellbeing maximising as opposed to a performance maximising approach, were more upbeat. Their feeling was that their businesses would become busier, incorporating intergenerational planning.

The difference being that wellbeing maximisers are not focused on the investments but in helping clients to identify and achieve what they want out of life, creating the meaningful and enjoyable lives to which they aspire – the experiences over the products.  

Wellbeing maximisers can offer the added value, holistic human touch service for which clients are willing to pay.

Our research also showed that, as a result, wellbeing maximisers not only were more likely to envisage an increase in client demand for their firm's services (78%) but, compared to performance maximisers, significantly more of them have a more positive outlook for the financial advice sector over the next five years.

Tools to support you

Our in-depth digital flipbook explores our research even further and provides clients with recommendations to help them think and act positively about their future - going deeper than budgeting tools and savings rules and shows how financial wellbeing is possible for everyone.
We've also created a summary of our insight into the nation's financial wellbeing – just for advisers and employers.
Plus our financial wellbeing tool is here to help your clients identify areas of their financial wellbeing you can work on together.
Find out more about financial wellbeing at aegon.co.uk/financialwellbeing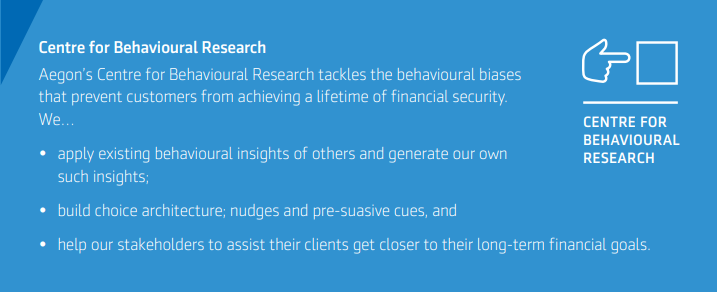 Read the other articles in our 3-part series:
Financial wellbeing and its impact on your profit margins