All data is based on research conducted by Research in Finance, in February 2022.
The simple answer to this question is, yes it can, as results of our in-depth research into this area reflects.

Traditional financial advice has developed with a focus on products and investment performance and regularly reviewing strategies with a view to improve or enhance investment returns. And with good reason, as all clients like to think they're invested in the best way and to see their wealth increase over time. 

Longstanding client relationships can and have been built that way, with advisers ensuring a client is informed, engaged, communicated with, understands the potential upsides and downsides of the strategy – and is committed to working with the client to achieve their financial goal.

But these relationships can be heavily dependent on external influences such as performance of selected products and market volatility. When markets plunge or investments underperform against their peers, this can make for less than happy clients and some difficult conversations.

Taking greater control of the client relationship, where the emphasis is on the overall wellbeing of the client over maximising of performance, from a strategic and tactical perspective, appears to be a better business model. Significantly, it can make for deeper, longer lasting client relationships and a more profitable business, with clients more likely to refer family, friends and colleagues to their adviser.

The two types of financial adviser

In our recent in-depth research, we identified advisers with different approaches:

1.    Performance maximisers – building investment strategies based on risk-profile, capacity for loss, expected life span, and financial goals.

2.    Wellbeing maximisers – with building a financial plan by considering what the client and their families need and encompassing what they require mentally, emotionally and financially to help them feel secure, taking precedent over financial performance.

Advisers who focused on maximising the wellbeing of their clients rather than performance, reported in the survey that having strong and more personal client relationships was having a positive impact on the profitability of their business.

While seven in ten advisers overall said they expect their business profitability to increase, this was higher among wellbeing maximisers (77%) compared to performance maximisers (64%).
By taking an approach which offers more than performance-focused advice, the client can see they're deriving additional value from their adviser and its relevance to their life and overall wellbeing, something for which they're prepared to pay more.

As one financial planner said: 'I think you can charge more if you are a wellbeing adviser because you are going above and beyond what an investment manager can do.'

Building better relationships

Wellbeing maximisers said they had experienced a positive impact on their relationship with clients, including more meaningful conversations around the client's overall lifestyle and consequent financial needs, and as such, the advice was closer aligned with what would make their clients' lives meaningful and enjoyable.

From interviews conducted, wellbeing maximisers indicated they were having more frequent and friendly contact with clients, which in turn can produce deeper and longer-held relationships.

Knowing their clients better and on a more emotional level, an adviser could be sparked into contacting the client around a football result, a holiday idea, and so forth, as well as times when clients might need reassuring, such as the market reduction and volatility due to the Ukraine/Russia war.

Having more frequent conversations with clients, based on softer aspects of the client's life, also offers the greater opportunity for the wellbeing adviser to keep abreast of changes in the client's circumstances and provide additional advice or guidance where needed, in turn deepening the relationship further and creating further income for the firm.

Referrals are a case in point. This was another area where wellbeing advisers reported greater benefit from their approach. All advisers reported receiving introductions from their clients, with 28% claiming that over half of their client bank have introduced to the advice firm, but the data shows incidence of referral was higher among wellbeing maximisers (31%) compared to performance maximisers (20%).

In an ever-changing financial advice market, an advice approach which is highly valued by clients, who are willing in turn to help deliver a steady stream of new business to the firm, can create a self-perpetuating business model – as captured by one financial planner, who said: 'It [a wellbeing maximiser approach] strengthens the sustainability of the firm because if those people are happy, they are going to stay and they are going to introduce new customers who will be dealt with in the same way.'

Tools to support you
Our in-depth digital flipbook explores our research even further and provides clients with recommendations to help them think and act positively about their future - going deeper than budgeting tools and savings rules and shows how financial wellbeing is possible for everyone.
We've also created a summary of our insight into the nation's financial wellbeing – just for advisers and employers.
Plus our financial wellbeing tool is here to help your clients identify areas of their financial wellbeing you can work on together.
Find out more about financial wellbeing at aegon.co.uk/financialwellbeing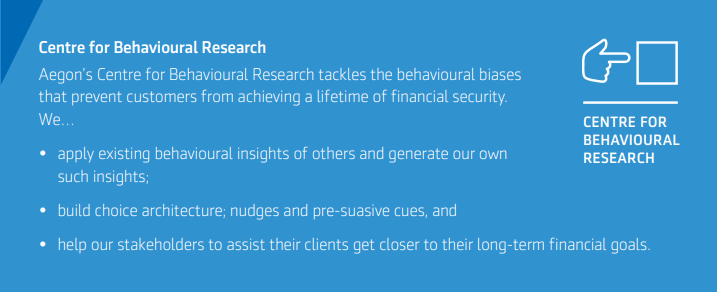 Read the other articles in this series:
Why financial wellbeing should be part of your advice