Ukraine crisis – the impact on investments
Richard Whitehall, Aegon's Head of Portfolio Management
Wednesday, 2 March 2022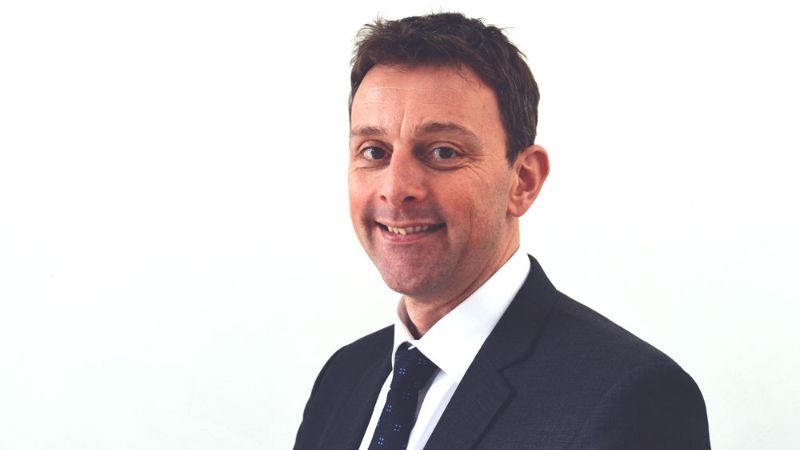 Aegon's Head of Portfolio Management, Richard Whitehall, provides an update on the impact of the Ukraine conflict on markets, and what this may mean for investors.
Background
On 24 February 2022, Russia began a large-scale military invasion of Ukraine. Russian President Vladimir Putin has described it as a peacekeeping operation, demilitarising Ukraine's eastern region of Donbas, which has been occupied and run by Russian-backed rebels since 2014. In contrast, world leaders have condemned Russia's attack on Ukraine, stating it has no founding and is a breach of international law.
At the time of writing, the invasion has already reported to have led to loss of life and significant damage to infrastructure. Allies to Ukraine have begun sanctions against Russia, including financial sanctions and export controls, intended to place pressure on Russia's economy.
Impact on markets
The conflict will have an impact on global markets. Oil prices rose above $100 for the first time in more than seven years, although as of the end of trading on Friday 25 February, the price had fallen back to below $93. Russia's currency, the rouble, fell to an all-time low against the dollar and the euro. Initially many main equity markets fell, with the FTSE 100 index down more than 3% in initial trading on Thursday 24 February. Although the S&P500 fell more than 2% shortly after opening on Thursday, by the end of trading it had rallied to return +1.5%. This somewhat surprising response to the conflict continued into Friday, with the FTSE 100 increasing by 3.9% and the S&P 500 rising by a further 2.2%. Bond markets also suffered a tumultuous couple of days. Initially bond yields fell, as investors sought a safe haven, but then yields rose and ended the week in many cases above where they started. For example, the US 10-year yield closed on Wednesday around 1.99%, before falling below 1.85% during Thursday, but ended Friday above 1.95%.
A long-term perspective
Significant events, such as the Ukraine conflict, often create a rush to take action, and an urgent drive to 'do something' as asset values come under pressure. This can lead to investors selling out of assets quickly. And while this may prevent further losses, selling assets when they're near or at their lowest point also means investors cash in at a loss and miss out on gains if markets rebound. A downturn in markets is never pleasant, but while stock market shocks tend to be sharp and painful, they're usually relatively short-lived as illustrated in the chart below.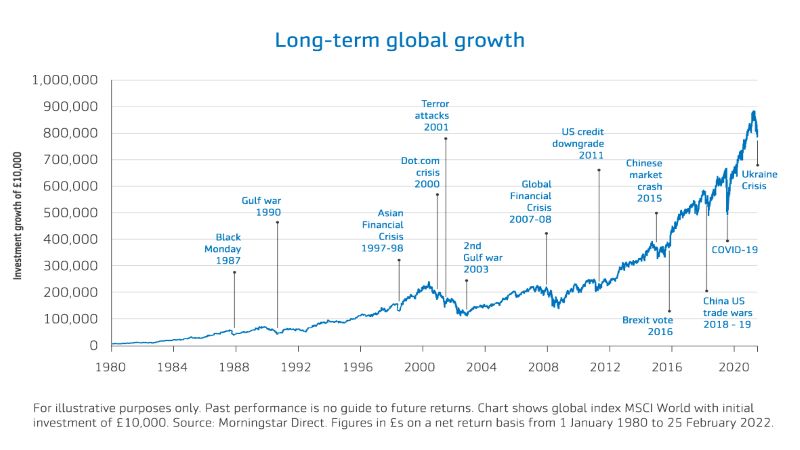 The market tends to win more than it loses, especially when looking at longer term annualised figures, although there's of course no guarantee that past performance will mimic future performance.
We typically rebalance our multi-asset portfolios after large price movements to maintain our asset allocations and realign to risk targets. Price moves as a result of the Ukraine conflict may result in the rebalancing of some of our portfolios.
We'll continue to assess the impact of recent events on the fundamental value of equity and bond markets to ensure that we appropriately balance risk and opportunity in line with the long-term investment objectives of each portfolio and, where in the best interests of investors, we'll make adjustments to our asset allocations.
We have a long-term investment horizon and this colours how we manage our multi-asset solutions. Our aim is to achieve a balance between risk and reward that is in line with our investors' expectations over periods of five years or more and we will continue to position the portfolios to do so.
Please read our article on market volatility for more information on how different types of savers may be impacted.
Richard Whitehall is manager of Aegon's Risk-Managed Portfolios, the Aegon Workplace Default fund and Aegon's Universal Balanced Collection and its associated fund variants.
This market update note is based on our understanding of the current and historical position of the markets and shouldn't be interpreted as recommendations or advice. Past performance isn't a reliable indicator of future performance, and the value of investments can fall as well as rise. Investors may get back less than they invest.
Data featured in this article was sourced from Bloomberg.
If you have any questions, please speak to a financial adviser, your usual Aegon contact or visit our website.
If you're thinking about making changes to your investments, we recommend that you talk to your financial adviser. If you don't currently have one, you can find one on the MoneyHelper website. There may be a charge for advice.