TPR outlines key priorities in two-year corporate plan
Professional Pensions
Thursday, 16 June 2022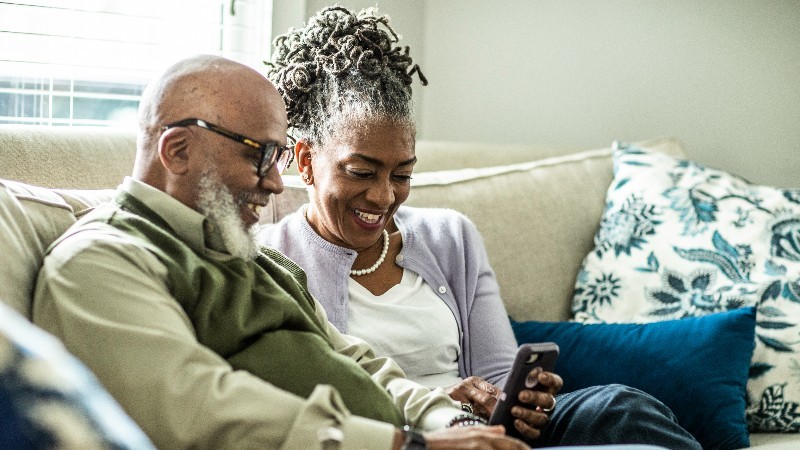 For financial advisers only
Want to learn more about the TPR's strategy for the next two years? Read Martin Richmond's piece from Professional Pensions for the details.
The Pensions Regulator (TPR) has outlined its five strategic priorities for its regulation of the pensions industry over the next two years.
The regulator's 2022-2024 corporate plan - published today (13 June) - builds on both its 2021 to 2024 plan and corporate strategy by including a roadmap of its biggest priorities.
It has identified these priorities as security, value for money, scrutiny of decision-making, embracing innovation and 'bold and effective' regulation.
Central within these priorities are TPR's plans for how it will evolve its work on pensions dashboards, master trust supervision, collective defined contribution schemes, increasing diversity among trustees and managers, climate change and supporting trustees.
It also outlines the work the regulator intends to do and what it expects from the industry regarding pension scams, cybersecurity challenges and diversity and inclusion work across the industry.
Key strategic priorities
The five key strategic priorities are as follows:
1. Security: ensuring that the money of pension savers is secure and that members get the benefits they are entitled to
2. Value for money: ensuring savers receive good value for their money and that their money is invested appropriately
3. Scrutiny of decision-making: all decisions made on behalf of savers are thoroughly scrutinised to be in their best interests
4. Embracing innovation: using market innovation and technology to ensure the needs of savers are met
5. Bold and effective regulation: ensuring that regulation TPR provides protects the outcomes for savers 
TPR has published a set of 19 saver outcomes (see below) that will guide its work as it aims to deliver on its commitment to protecting saver outcomes, especially given the challenges the industry faces such as the aftereffects of the Covid pandemic, the war in Ukraine and the ongoing cost of living crisis.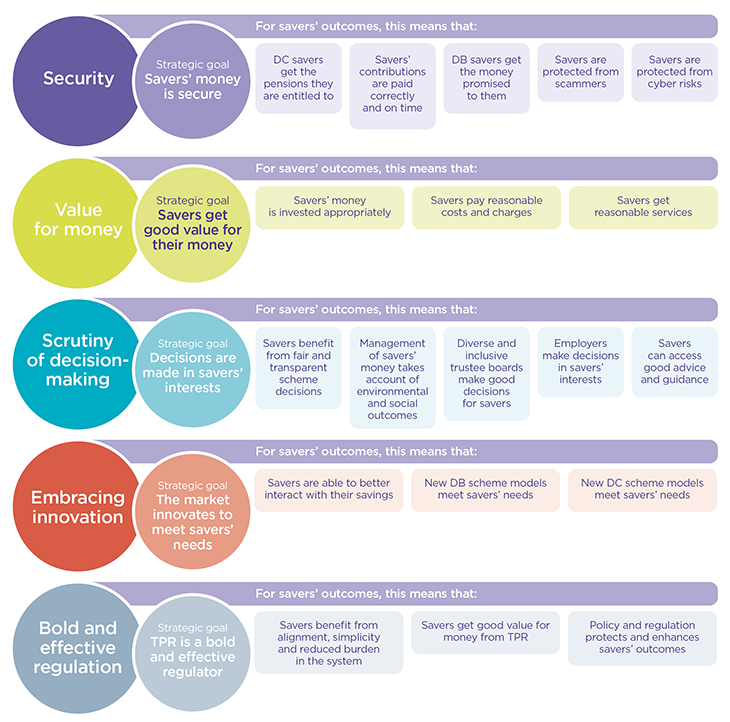 Source: TPR
TPR chief executive Charles Counsell said:"Our latest corporate plan shows we are well placed to protect savers as the pensions landscape continues to evolve. It is vital that we and the industry are prepared for heightened volatility."
"In these challenging times, we are committed to helping employers comply with their pension duties and to protect the security of their workplace schemes and are ready to act if they do not."
Chair Sarah Smart added:"We want to see diverse and inclusive trustee boards making decisions that consider and represent all members. We will publish an action plan setting out how we plan to support the development of more diverse and inclusive trustee boards and managers."
This article was written by Martin Richmond from Professional Pensions and was legally licensed through the Industry Dive publisher network. Please direct all licensing questions to legal@industrydive.com.