Thinking ahead: Social care funding and intergenerational advice
Steven Cameron, Pensions Director
Friday, 10 September 2021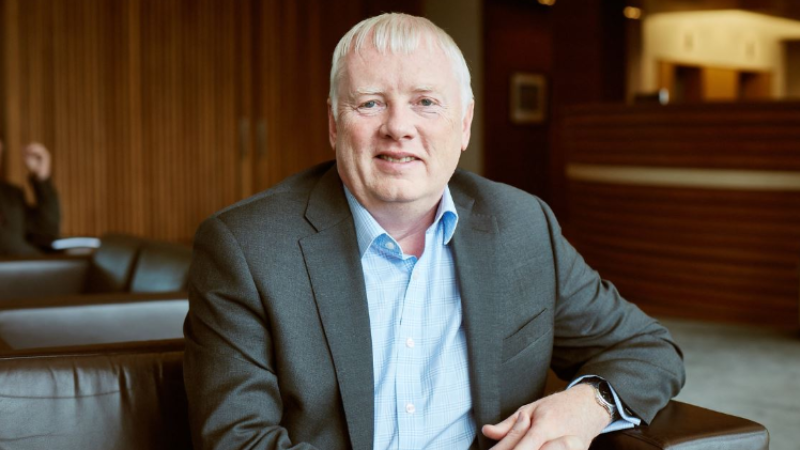 For financial advisers only
In the third article in our Thinking ahead series, our Pensions' Director Steven Cameron gives an update on the Governments plans for social care funding and the opportunities it presents for intergenerational advice.
This information is based on our understanding of current taxation law and HMRC practice, which may change. The value of any tax relief will depend on individual circumstances.
The changes being introduced
The 7 September will go down as a momentous day for advice on retirement planning. After much delay and speculation, the Government set out its stall on social care funding – Building Back Better: Our Plan for Health and Social Care1.
This was quickly followed by a decision on the highly contentious State Pension triple lock. I support the decision to announce both almost simultaneously, as each raises big intergenerational challenges and from a fairness perspective need to be looked at together.
Social care
Capturing the initial headlines, working age people will be required through the National Insurance (NI) system to provide additional support to the NHS and to those who need social care including in later in life. This is also at the heart of the debate around how generous an increase to grant next year under the State Pension triple lock –  which of course is also financed by the NI contributions of today's workers.
But the other aspect of the new social care deal – around how much individuals will have to pay personally if they need care – is far more significant and could well feature in every future advice conversation around retirement planning. It also adds to the need for ongoing advice in retirement and increases the merit of involving younger family members in such discussions.
The background
As we're living longer on average these days, more of us are likely to need care in later life. The pandemic and its devastating impact on our most vulnerable and elderly means that now more than ever we need a new fair and sustainable deal on social care funding.
We've always argued that this must involve a sharing of costs between the state and individuals, based on their wealth. The question remains who should fund this and how?
State Pension triple lock
The pandemic and furlough measures created major distortions to national average earnings statistics which could have generated a massive 8.8%2 increase to State Pensions next April – at a time when many of working age are struggling to get back to pre-coronavirus earning levels.
Of course, social care, broader NHS costs and State Pensions are paid for on a pay-as-you-go basis. There's no massive Government fund built up to fulfil future promises. Instead, it's today's workers who pick up the tab, historically at least, through National Insurance.  Granting a pandemic-distorted increase of say 8.8% to State Pensions while also increasing NI for health and social care would have been a double whammy on those of working age.
With this in mind, it's not surprising that the Government didn't stick with the unadjusted triple lock. Instead, the move to a double lock for one year only will grant state pensioners an increase of the higher of 2.5% or CPI for the year to September, which will be announced mid-October. If the increase is 5% lower under the double lock, it'll save the Government and NI payers around £4.5billion3 – not just next year but in all future years.
The impact of breaking of Manifesto commitments
Both the increase in NI and the dialling back of the triple lock break Manifesto commitments. But with the pandemic creating unimaginable havoc, I believe the Government had the justification to put these aside and they'll be hoping the voting public agrees.
Both of these policy decisions will have relevance to advisers and their clients who are planning for later life. The temporary move from a State Pension triple lock to a double lock will highlight more than ever the fragility of relying on the State Pension to fund retirement years. Far more significantly, the clarity given to how much individuals might have to pay towards their own care should they need it opens up a whole new world of advice opportunities which we'll explore.
State contributions to social care
The Government plans to fund an increased state contribution to social care alongside an additional temporary boost to the NHS through an increase of 1.25% in both employer and employee NI. This will start in April 2022 and in April 2023 it will become a separate Health and Social Care levy, recorded as such on payslips to increase visibility.
From April 2023, the levy will also be charged to those above State Pension age who've earned income above the NI threshold. While this may not generate huge sums, it really did need implemented to avoid heightened accusations of intergenerational unfairness.
Many will see using NI, rather than say income tax, as poorly targeted. With concerns that younger often lower paid workers will pay a disproportionate share of the costs of care for today's elderly, many of whom seem comparatively wealthy. One justification used by the Government for the NI route is that unlike income tax, it means many businesses will also contribute. Of course, this isn't the case for the self-employed, exacerbating differences in 'tax' treatment between them and employees
Increases in tax to dividends
In another surprise announcement, the Government is also adding 1.25% onto dividend taxes. This will make sure individuals with investment income from stocks and shares will also contribute even if they've no earned income. The Government paper states that investments within ISAs will be exempt from this and it was subsequently confirmed that dividends paid within pensions will also be exempt.
An increased state contribution towards social care is to be welcomed and should be of benefit to anyone who does need social care at any point in their life. The Government will consult on the broader delivery system in the Autumn, including better integration with the NHS.
Personal contributions
Social care provision is devolved with different provisions applying in Scotland, Wales and Northern Ireland. While individuals and businesses in the devolved nations will pay the additional NI and dividend taxes – the new arrangements on personal contributions apply only to those living in England. To compensate for this, there will be a payment to devolved Governments which the UK Government hopes will be used for NHS and social care.
Despite the increased contribution from the state, those in England will still be expected to pay a share of their care costs, depending on their assets and income.
The most significant and welcome change is that from October 2023 onwards, anyone going into care will have their personal contributions to care costs capped at £86,000. I expect this will be indexed each year. This means those who require care for lengthy periods avoid facing catastrophic costs which can wipe out life savings and force the sale of the family home. The government also refers to individuals being given the option to pay a 'top up' for a more expensive service, but these top-ups won't count towards the cap. This suggests the Government will set out 'eligible' care costs for the purpose of the cap.
It will be very important to explain to individuals that while personal contributions to care costs will be capped, they'll still need to pay for daily living or 'room and board' on top of this if in a residential care home.
Means testing threshold changes
Right now in England, individuals have to pay their full care costs until their assets have dropped below £23,250. The Government then pays part of the cost until assets fall to £14,250 when it covers all costs4. These limits are being increased significantly to £100,000 and £20,000 respectively, meaning many more individuals will start receiving some Government support sooner.
While these means tested rules apply to 'assets', until the £86,000 cap is reached, individuals will be expected to contribute towards care costs from any income including from pensions. Room and board costs will also have to be covered from any income. I'd expect more details on this in due course.
The means testing approach will continue to include the value of the individual's home as is currently the case. But this will be excluded if the individual is still living there, rather than in a residential care home. Care home residents can as currently defer selling their home until their death, repaying outstanding contributions then. This arguably fulfils the Prime Minister's commitment that no-one will have to sell their home to pay for care.  
Advice opportunities
At the moment, it is extremely difficult to help clients plan ahead for possible care costs because of the unlimited personal contribution. At the point when an individual needs care, they can buy a 'care annuity'. We know that planning ahead for all eventualities has been almost impossible because of the complex rules and the risk that by saving more, an individual will simply be expected to use those extra savings to pay more for care.
Why I see the new deal and the cap as hugely welcome
It opens up a range of opportunities for individuals (with advice) to start planning ahead. While this can start at early ages, I expect many people will want to build it into their planning as they approach retirement.
The Prime Minister referred to looking to the financial services industry to designing insurance solutions here. An insurance policy might play a role, paying out if individuals needed care, up to the cap. But the costs of such insurance may be relatively high, particularly if there's a degree of 'self selection' around who buys it.
Another option is to build up a savings fund, notionally earmarked for use should a client need care. The pension freedoms led themselves very well to this. There is nothing stopping someone 'notionally ringfencing' the capped amount (or the grossed-up equivalent) in their drawdown pot, aiming to live off income drawn from the balance. This is tax efficient and means that if care isn't needed, the funds are still available for later life needs or for passing on as an inheritance.
There will be other avenues to explore too. Including how best to manage savings, pensions and other assets in the most tax efficient and inheritance friendly manner. This may be needed not just at the point of retirement but on an ongoing basis. It will take the industry coming together with their thoughts to help maximise opportunities. 
This also increases the merits of including younger family members in retirement planning advice, which in turn can highlight other intergenerational advice opportunities.
Looking at more immediate implications, clients will want to understand how the NI increase and dividend tax change impact on them or their businesses. The NI increase might prompt considerations around salary sacrifice for pensions, although we could see further rules here. Increase in dividend taxes creates another relative advantage in holding investments in tax favoured wrappers.
Overall, I see the social care deal as having one of the most significant impacts on retirement advice since pension freedoms.  
You can find the first two articles in the series here:
Thinking ahead: The road to economic recovery
Thinking ahead: The FCAs plan for consumer engagement
Sources