Thinking ahead: An asteroid of our own making
Hilkka Komulainen, Head of Responsible Investment
Friday, 25 February 2022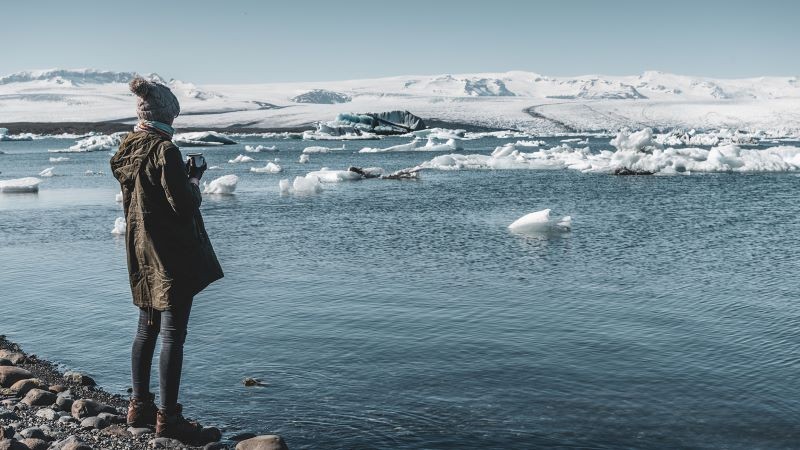 For financial advisers only
Climate change and the impact on advice
Our Head of Responsible Investment, Hilkka Komulainen, shares her thoughts on the climate crisis, the investment risks, business risks and opportunities it presents. Hilkka also discusses the approaches advisers can take to climate-proof their proposition.
The impending asteroid
As the recent Netflix movie 'Don't look up' depicted so well, an asteroid is an excellent metaphor for the irreversible damage climate change could do to our planet. The only difference of course being that climate change is of our own making.
So where do we stand right now? The shift from discussing global warming as an abstract concept to the climate emergency we currently face, may have been gradual, but data shows that the past decade has been the hottest on record¹. The frequency of extreme weather is also becoming more evident, and arctic ice is melting faster than ever². In fact, climate-related disasters such as severe storms, droughts and wildfires have jumped 83% in the last 20 years³.
The Intergovernmental Panel on Climate Change (IPCC) report, released last year, states that the planet's average temperature is currently increasing at a rate of 0.2°C per decade which has been largely down to human activities⁴. One of the main causes for rising temperatures is carbon dioxide (co2) in the atmosphere. Thanks to our incessant burning of fossil fuels, atmospheric co2 levels have continued to climb and are now higher than they've been in millions of years⁴. Stopping the release of these molecules, and other greenhouse gases such as methane, is critical if we're to avoid the worst impacts.
Deflecting the asteroid
It was COP21 in Paris where the landmark agreement was reached to combat climate change, with the core aim to keep the global temperature rise well below 2 °C above pre-industrial levels, preferably closer to 1.5°C. Fast-forward six years and Glasgow was awash with protestors, world leaders and dignitaries – all dissatisfied with progress and set on accelerating the transition to a low-carbon world, changing the trajectory of the asteroid.
Sadly, several months on and the world is yet to shift onto a necessary Paris-aligned pathway. Even with strengthened national contributions and net-zero targets, we're on course to significantly blow the carbon budget for 1.5°C – supporting a glass-half-empty verdict. Even if pledges are upheld and targets are met, we'd fail to meet the upper two-degree Paris target by some distance⁵.
However, while COP26 hasn't moved us safely away from the precipice, there's an unmistakable feeling of resolve and momentum. And this is abundantly clear with both financial service providers and investors. Fuelled by climate-related investment risks, a sea of regulatory change, a boom in client demand, and a realisation that private capital is required to support the transition – the industry is aligning around rapid decarbonisation and the goal of 'net zero'.
Investment risks are evolving
Climate change brings two distinct types of risk – transition risk and physical risk.
1.Transition risk
The transition to a low-carbon world will challenge many business models, due to policy change, technological innovation and changing consumer preferences. The structural shift from fossil fuel to clean energy is a prime example of technological change – just look at the success of Tesla, which has disrupted the automotive industry and forced competitors to play catch up.
2.Physical risks
Physical risks relate to the potential impact of the metaphorical asteroid – what will higher temperatures and more frequent severe weather do to company assets, infrastructure, or natural resources they need for production? Damage to food crops, buildings, power outages, and increased costs are examples of the physical risks companies face.
The other side of the coin of course is that climate change brings opportunities. Take Orsted for instance, from its origins in fossil fuels, it has undergone a complete transformation to become one of the world's leading renewable-energy companies. The world needs to invest enormous sums of money to shift the energy system away from fossil fuels, and Orsted has positioned itself to address this growth opportunity.
At Aegon, we believe climate factors can influence long-term value creation and investment returns, and therefore need to be incorporated in investment analysis and decision-making. Quite simply, not including these factors in investment decisions will lead to poor risk management and missing out on long-term growth opportunities.
Regulatory change is impacting advice
Somewhat of a grey area for advisers, climate-related regulation has been looming for some time. While Brexit stalled and confused progress, the government's recent Greening Finance Roadmap shows clear intent to pick up the pace. Key frameworks and regulatory developments to be aware of:
The Task Force on Climate-Related Financial Disclosures (TCFD) – provides a framework to help companies measure, manage and report on their climate impact in order to bring greater global standardisation to climate disclosure.
The UK Sustainability Disclosure Requirements (UK SDR)⁶ – this proposed legislation aims to reduce confusion and the risk of greenwashing, by making asset managers and owners disclose how they take sustainability into account. And similar to the EU Sustainable Finance Disclosure Regulation (SFDR) requirement, fund categorisation will be required to ensure financial products and services are labelled accurately to reflect their sustainability characteristics. UK SDR is not yet mandatory, and we expect the rollout plan to be confirmed later this year.
Suitability requirements – the EU has proposed suitability rules to MiFIDII legislation to ensure clients' sustainability preferences are taken into consideration during the investment advice process. While not applicable to the UK, City Minister, John Glen, has said that the UK is committed to at least match the ambition of the objectives suggesting that broadly equivalent rules will be adopted in the UK. In addition, the FCA's discussion paper on SDR and investment labels⁶ notes they're exploring how best to introduce specific sustainability-related requirements to ensure advice is suitable. No timelines for this have yet been given.
And we must not rest on our laurels. Following COP26, it's very likely that the carrot will be replaced with a stick, as governments and policymakers look to accelerate the transition to a net zero economy. This could include major carbon taxes or outright bans of certain activities, forcing industries to change. While not directly aimed at advisers, such policy interventions will clearly have an impact on markets.
Client demand is growing
As I mentioned earlier, there has been a sea change in customer awareness of climate change and the need to invest responsibly. We recently surveyed a panel of customers and 77% agreed climate change is an important risk to consider when investing⁷, while 45% agreed investing for net zero carbon future should be mandatory⁷. This level of appetite is beginning to show in fund flows – 2021 saw record inflows in the UK of £16 billion into responsible investment funds, up 37% on the previous year⁸. In fact, a PwC report predicts assets in sustainable investment products in Europe will outgrow conventional funds over the next five years⁹.
Climate proofing your business
Given the clear risks and the opportunities, how is the advice industry adapting? Research from our 2021 Adviser attitudes report showed that 65% of adviser firms have amended their proposition to meet growing demand for responsible investing¹⁰. Of the specific changes made, revising the client fact-find process to include sustainability preferences, and increasing sustainable investment options, were the most common.
Regardless of whether your firm has made changes, there are some clear learnings and opportunities to climate-proof your business and enhance your overall proposition:
1.Central investment proposition
Offer a range of responsible investment strategies to meet different investment objectives, values and cost considerations.
Review current responsible investment strategies to ensure effectiveness.
Build responsible investment criteria into fund selection and monitoring.
Categorise responsible investment strategies to support the suitability process.
Provide responsible investment reporting as part of customer reviews.
2.Suitability process
Ensure customers understand responsible investment strategies and the varying levels of positive change potential.
Make sure sustainability preferences don't clash with investment priorities.
Demonstrate clear link between suitability assessment and investment decisions.
There must be consistency between responsible investment suitability categories and investment fund categories.
Process must be overlayed with responsible investment expertise from adviser.
Revisit sustainability preferences on a regular basis.
3.Governance and reporting
Build climate considerations into investment beliefs.
Formalise climate governance policies and roles.
Document how you identify material sustainability risks and opportunities, their potential impact and the resilience of both the firm and investment portfolios.
Document how you identify adverse impacts of investment advice and products on the environment and society.
Identify strategic actions to reduce exposure to climate-related risks.
Asset managers' climate competence should be factored into selection and monitored post-appointment.
4.Embracing sustainability across your business
Make sure operations are resourced to meet the inevitable increase in data and reporting.
Ensure legal advice has the capacity and expertise to stay ahead of climate-related regulation.
Upskill marketing to clearly articulate your proposition and avoid greenwashing.
Embed corporate sustainability, giving back to the local community and the environment.
In summary
Whether or not you're interested in the details of climate change, it has significant implications for the advice industry that can't be ignored. At the minimum, it's a matter of necessary risk management for your business (including regulatory risk and loss of clients) and your clients' investment outcomes.
Creating a robust investment proposition that integrates both climate and wider sustainability factors, could improve client outcomes and support the transition to a more sustainable world. Staying ahead of regulation and climate-proofing your offering is wise strategically, but you must act soon.
Important information
The value of investments can fall as well as rise and isn't guaranteed. Investors may get back less than they invest and funds may not meet their objectives.
The information in this article reflects the author's opinion and may not necessarily represent views expressed or reflected in all Aegon strategies and communications. It shouldn't be taken as fact or relied on for advice purposes or when making individual investment and/or strategic decisions.
To find out more about how to climate-proof your proposition, and our approach to responsible investing, please get in touch with your Aegon contact or visit our Responsible investing hub.
Sources:
¹NAOO National Centers for Environmental Information, Climate at a Glance: Global Time Series 1880 – 2021, retrieved February 2022.
²Centre for Polar Observation and Modelling, National Environment Research Council, November 2021.
³Yale Environment 360, Yale School of the Environment, October 2020.
⁴Intergovernmental Panel on Climate Change, Climate Change 2021, The Physical Science Basis - Summary for Policymakers.
⁵Climate Action Tracker (2021). 2100 Warming Projections: Emissions and expected warming based on pledges and current policies. November 2021.
⁶FCA Sustainability Disclosure Requirements (SDR) and investment labels Discussion Paper, November 2021.
⁷Customer research carried out by Aegon, sample size 1,289. December 2020.
⁸The Investment Association, February 2022.
⁹2022 The growth opportunity of the century – Are you ready for the ESG change? PricewaterhouseCoopers, 2020.
¹⁰Aegon 2021 Adviser attitudes report Survey conducted by Opinium on behalf of Aegon. Sample size 251 advisers. October 2020.