The latest FCA clamp down on unsuitable transfer advice
Steven Cameron, Pensions Director
Thursday, 8 August 2019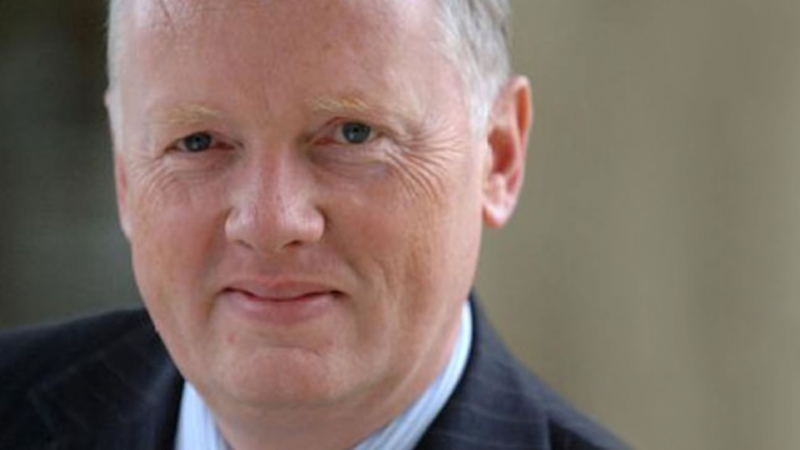 For intermediaries only
On 30 July, the FCA provided us with its latest consultation paper CP19/25 on Pensions transfer advice: contingent charging and other proposed changes. This builds on previous interventions and weighs in at a hefty 162 pages. Here, we look at the wide range of proposals and consider what these may mean for those firms offering advice to defined benefit (DB) scheme members.
Scope
The FCA is consulting on a package of measures to:
reduce the scope for conflicts of interest by banning contingent charging, with some carve-outs for specific groups;
allow adviser firms to offer a new short form of 'abridged advice' that can result in a recommendation not to transfer without going through the full advice process;
reduce the scope for conflicts of interest by limiting firms' ability to recommend transfers that incur unnecessarily high ongoing adviser and product charges, including strengthening the requirement to consider available workplace pensions as a transfer destination;
change how charges are disclosed and require checks on consumers' understanding;
introduce an extra 15 hours of continuing professional development for pension transfer specialists specifically on DB transfers, with at least 5 hours provided externally;
collect additional data including around professional indemnity insurance, and
amend certain technical areas including some assumptions within transfer value comparator (TVC) calculations.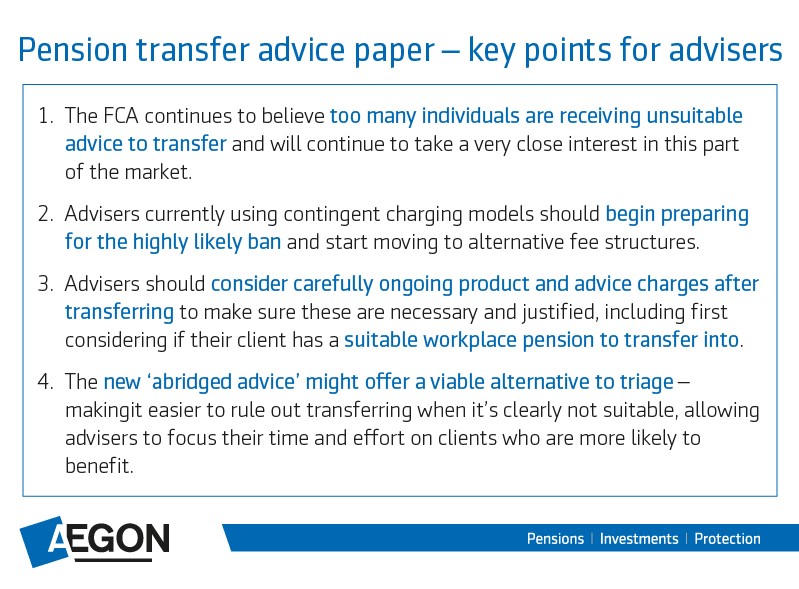 Proposed ban on contingent charging
In earlier communications, the FCA highlighted concerns that contingent charging for DB transfers can create conflicts of interest and lead to cross-subsidies and opaque charging. It also recognised that an outright ban could widen the advice gap. The findings of its most recent suitability review, which found a far higher percentage being recommended to transfer than the FCA believes is appropriate, 'intensified' its concerns over contingent charging. The Work and Pensions Select Committee has been a particularly strong critic of contingent charging and even the adviser community is divided on its merits for DB transfer advice.
Responding to previous consultations, we called for contingent charging to be allowed to continue, provided conflicts of interest could be managed effectively, to offer clients choice on how they pay for advice. We believe the Personal Finance Society's Pension Transfer Gold Standard sets out some effective ways of managing conflicts.
However, it's no surprise that the FCA is now proposing a ban of contingent charging, specifically for DB transfers. There are some carve-out groups and we hope these, plus the proposed abridged advice (see later), will help limit the extent to which a ban will make the DB advice gap bigger.
Under the ban, firms will be required to charge the same amount whether or not the advice is to transfer. This must cover the costs of implementing the transfer even though this, and resulting PI cover, do involve additional cost. The FCA also sets out further conditions to prevent 'gaming' through allocating or offsetting charges for DB advice elsewhere.
The FCA highlights other solutions it ruled out including price capping, improved conflict management accountabilities, separating transfer advice from ongoing investment advice and banning percentage based charges.
While outside of the FCA's remit, it has shared with the government other proposed solutions including paying for advice through a deduction in DB scheme benefits ('scheme pays') or encouraging more trustees to offer partial DB transfers.
Carve-outs from the contingent charging ban
The FCA accepts that for some, contingent charging is the only feasible way of paying for advice, so we're pleased it's proposing some carve-outs from the ban for certain groups based on their personal circumstances. These apply where the individual has a specific illness or condition resulting in life expectancy being lower than age 75 or is in serious financial hardship, such as at risk of losing their home due to being unable to meet mortgage payments.
Advisers may identify that an individual qualifies for a carve-out during triage or an abridged advice process. It will be for adviser firms to obtain official evidence before applying the carve-out. If a client within a carve-out proceeds to take full advice, the adviser must charge the same as had they proceeded on a non-contingent basis.
Abridged advice
One of the most interesting parts of the consultation is the proposed new abridged form of advice which advisers can offer to identify and 'filter out' in a more cost effective way DB members for whom transferring is unlikely to be suitable.
We've lobbied strongly for the FCA to allow greater personalisation within a pre-advice triage service, but the FCA has been clear that any personalisation crosses into a personal recommendation and is classed as advice. As the FCA requires advisers to start from the assumption that a transfer wouldn't be in most client's interests, we suggested that advisers should be able to short circuit the advice process if early discussions identified a 'killer fact' ruling out a transfer. We welcome the FCA exploring introducing a new form of 'abridged advice' which will allow advisers to make a recommendation not to transfer without the need for the full advice process, saving the additional costs that inevitably incurs.
As proposed, this would need to be undertaken (or checked) by a pension transfer specialist who'd still need to carry out a full fact find. Advisers will be able to tell relatively quickly with many clients if a DB transfer isn't in their best interest. These include clients who don't have other sources of income to cover essential retirement spending or aren't prepared to take on investment risk. We're keen to explore whether 'abridged advice' can be further shortened, removing the requirement for a full fact find.
As the costs of abridged advice should be significantly lower than full advice, the FCA will allow firms to charge for this on a contingent basis.
The only outcomes of an abridged advice service are either a recommendation not to transfer or a conclusion that the service has been inconclusive. Individuals need to go through full advice to be treated as an insistent client or to demonstrate to trustees that they've taken advice and as a result are entitled to transfer.
Product and advice costs after transferring
The FCA paper also responds to concerns that the ability to charge for ongoing advice post transfer can also create a conflict of interest. This could potentially prompt some advisers to recommend unduly complex or costly defined contribution (DC) pensions and then to collect unnecessarily high adviser charges.
The paper illustrates how high ongoing advice or product charges can significantly reduce the individual's pension pot growth. However, it doesn't take into account the value that ongoing advice can offer. But in other regulatory work such as the Retirement Outcomes Review, the FCA identifies the main risk of consumer detriment under pension freedoms is when individuals don't take advice.
Clearly, advisers should identify a receiving scheme or product and investment strategy which is best suited to the individual and shouldn't recommend something with unnecessary higher costs. Equally, the ongoing advice offered should be aligned to the individual's needs and costed accordingly.
Prioritising workplace pensions
The FCA is also strengthening its existing requirement for advisers to consider transferring clients into an available workplace pension ahead of individual pensions, suggesting in these schemes, 'the need for ongoing advice is reduced and product charges are typically lower'. Clearly, this is only possible if the individual is a member of a workplace pension which will accept a DB transfer in.
Not everyone who transfers will need sophisticated investment options or ongoing advice. But the larger a client's funds, the more they might benefit from personalised advice. This includes not only investment advice which may vary as circumstances change, but once in decumulation also includes help identifying an appropriate level of income, consideration of inheritance implication and potentially ongoing reviews of the appropriateness of annuity purchase. These needs are the same whether the individual is in an individual or workplace pension. Also, not all workplace pensions offer the full range of retirement income options which will be increasingly relevant the closer an individual is to starting taking an income.
It's important that rules designed to avoid some transferees paying for unnecessary ongoing investment advice don't discourage individuals from taking ongoing advice where it could add significant value. This proposal needs careful consideration.
Extended disclosures
In its suitability reviews, the FCA identified a high proportion of cases where files didn't fully comply with disclosure rules. The FCA is proposing firms send clients a letter of engagement ahead of providing full advice, setting out the costs of the initial and any ongoing advice in pounds and pence. For abridged advice, charges must be also be set out, including the cost if the client moves forward to full advice.
Additionally, the FCA proposes a one page summary of key information at the front of suitability reports. Clients will have to sign each section of this and, before finalising a recommendation to transfer, the adviser must gather evidence showing the client understands the risks of transferring.
This one page summary will again set out all product charges and ongoing advice charges in monetary terms. If the individual has access to a workplace pension, the product and advice charges if transferred to it must be compared with any alternative recommended receiving scheme. Controversially, the total first year charges are also to be expressed as a percentage of the DB pension income. Charges levied and income received are two very different concepts and linking them in this way is not only questionable, but could confuse consumers.
Extended data collection
There's to be a new section of the FCA's Retail Mediation Activities Return (RMAR), covering pension transfer specialists. The new section will require firm to report how many pension transfer specialists the firm has, the number of clients they advise, recommended actions, take-up of ongoing advice and advice charging structures. Data will be collected on the number of clients who are provided with abridged advice and who advisers treat as carved out from the contingent charging ban. Data collection will also look at the difficulty some firms are having in obtaining PII and the additional exclusions and conditions some PI insurers are requiring.
The FCA will use this data to monitor the size of the pensions transfer market and overall advice capacity, recognising its interventions and other factors are likely to shrink supply.
Technical changes
The FCA proposes reducing the charge assumption within the TVC 0.75% to 0.4%. It's also dropping the special treatment of TVCs within 12 months of retirement.
There's also additional guidance for those advisers using cashflow modelling, including these to be in real terms, to allow for indexation of tax bands and limits, factor in the lifetime allowance and include stress testing.
Next steps and timescales for introduction
The consultation closes on 30 October. The FCA will then consider responses before publishing final rules which, while no indication is given, might appear around the turn of the year. Some measures will then take effect within a week, include the contingent charging ban (with a three month transition if an engagement letter has already been issued), abridged advice and checking clients understand the advice. Others will come into effect within six months.
Conclusion
The FCA has made it very clear that it has significant ongoing concerns with advice on DB pension transfers, which these latest proposals seek to address. We share the FCA's desire to make sure individuals considering transferring receive consistently high quality advice on what for many is their single biggest financial asset. We know the adviser community shares this desire and the FCA is proposing a number of constructive changes.
If these proposals are implemented, the FCA does expect the market to contract and consolidate, at least in the short term. We must avoid a situation where DB members simply can't access advice. So it's important that the industry uses the opportunity the consultation offers to think in detail about all of these proposals, and their likely consequences, to make sure they deliver good outcomes for clients and a healthy advice market without any adverse unintended consequences.