The impact of the coronavirus on working women – here's how to help
Aegon Content Team
Friday, 3 September 2021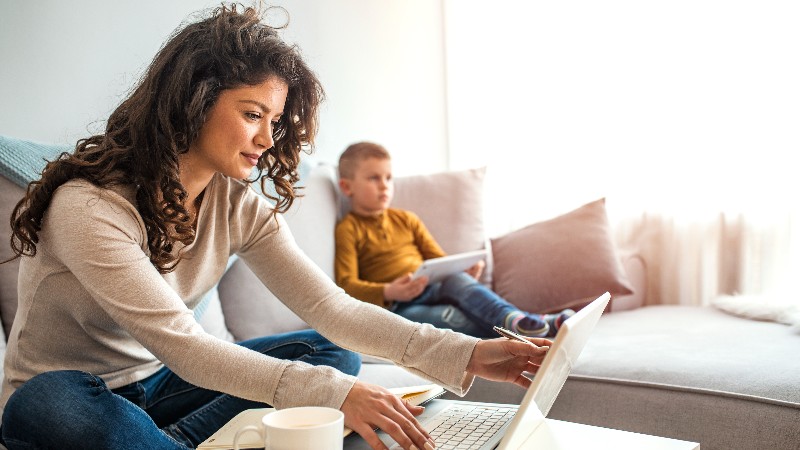 For employers only
The coronavirus has changed the working landscape for many people, probably none more so than for women. As an employer, you can play a big part in supporting your employees to get back on track. If you're looking for practical tips to do this, read on to find out ways that you can start to make a positive impact.
The impact of the pandemic
According to data from the Office of National Statistics, 232,000 fewer women were employed in October to December 2020 compared to January to March 2020, a fall of 1.5%.1 And with the lockdown closures of sectors such as retail and hospitality – the UK also saw a greater number of women than men furloughed between 1 July and 31 December 2020.2
Yet women have also chosen, or felt forced, to quit their jobs as well. This is likely due to the disproportionate burden of care that women tend to face – meaning some women had to reduce their hours or seriously consider leaving their role if the pressure didn't ease. Mothers in two-parent households were only doing, on average, a third of the uninterrupted paid-hours of fathers, but they were spending an average of 10.3 hours of the day looking after children.3 The personal impact of this on women and their families is huge, but there is also an impact on employers. Burnout, lack of support and the inability to respect personal circumstances will at best shatter productivity, and at worst drive otherwise loyal talent from your business.
Understanding what challenges your employees are facing can be key to ensuring they feel happy and productive in their job.
1. Engage with the impact the coronavirus has had on your employees
You'll know this already, but truly understanding what challenges your employees are facing can be the key to making sure they feel happy and productive in their job.
While some may feel confident vocalising concerns, others might shy away from admitting they're struggling – especially if they feel it could negatively impact their career prospects. Female employees could be reluctant to bring up the challenges of childcare if they think it will place them at a disadvantage in comparison to a male colleague. 
Having regular one-to-ones with a manager can establish a connection in which women can feel more confident to discuss any stress caused (or compounded) by the pandemic. 
How to cover wellbeing during 1-1s
Normalising wellbeing in these conversations is important. Starting the check-in with a temperature check of how an employee feels on a scale of 1-10 can provide useful insights. Discussing how to improve this score can lead to a manager identifying how to best support an employee. 
Mangers could also incorporate wellbeing objectives into an employees' personal objectives. This will allow their team to feel that wellbeing and success are priorities.
It's also helpful if managers set realistic expectations and re-evaluate performance criteria. For example, being open to employees working outside of core hours can allow employees to fit in their responsibilities when juggling it with caring duties. 
2. Consider flexible working options
The pandemic has made flexible working a necessity – and shown employers and policy-setters it's an effective way of working. Many companies are now more open to adopting a different approach and you might already be doing this too. 
The UK Government is considering making flexible working a 'default option' – pushed by Labour's Tulip Siddiq's flexible working bill. This involves part-time working, flexi-time and flexibility around the time, place and hours of work.  
For flexible working to benefit women, it also needs to be made available to, and taken up, by men. If all employees have access to a flexible working option, families have the freedom to share domestic and caring responsibilities. That means offering a range of opportunities to all employees, including: 
Job sharing
Working from home 
Part-time
Compressed hours
Flexitime
Annualised hours
Staggered hours  
Employee wellbeing schemes
As the divide between work and home life softens, employee wellbeing schemes are an increasingly important way to engage with employees. Designing or adopting a programme which takes a holistic view is key. Introducing initiatives like Employee assistance programmes  or offering free access to online GPs and health assessments can relieve some of the other pressures that impact an employee's overall wellbeing.
It's important that any employee scheme is not just seen as a 'perk', but also as a way to nurture a teams' physical and mental wellbeing.
3. Improve financial education for female employees
Of course, there are financial implications to the job losses, reduced hours and part-time work women are incurring – and these are likely to be felt for years to come.
One longer-term impact is retirement planning, with a recent report showing the gap in pension income between men and women has increased to 40.3%.4 You should consider how best to support employee engagement when it comes to pension contributions – making sure any opportunities for saving are explored to help women with their future financial needs.
Financial advice and creating a plan
We believe long-term planning is an important part of being financially well and resilient. In any case, having a clear, written-down plan can be enough to start to reduce some initial financial anxieties. Accessing high quality, professional, financial advice can help employees create and stick to their plan – although only 14% of over-40s have sought independent financial advice during the pandemic.5 This means many are running the risk of not saving adequately for their retirement, as they might not be aware of how much they'll need to save to have their desired lifestyle in retirement.
It's important to note that financial planning for women needs to be different to men's because their financial journey is different. Certain key decisions may need to be made at different times. For example, the earnings gap doesn't really appear until women hit their 30s. If they are able to pay more into their pension in their early working life, they could then stand to benefit from any potential compound interest. It's important to bear in mind that investments can fall as well as rise though and aren't guaranteed. 
Similarly, understanding when they are likely to earn less can help them to make informed financial decisions. For instance – if planning to have children – calculating the dates when they'll start school or leave home can help women develop a savings plan based on when their income is likely to be at its lowest level.
Once a plan is in place, it's important to review it relatively regularly, or at any life event that could have an impact on your employee's finances. Over the past 12 months, 78% of UK adults over 40 have failed to review their retirement savings at all. Meanwhile, 46% of pre-retirees have not checked the current value of their pension.5 These are all opportunities for helpful reminders.
Salary Sacrifice
Salary Sacrifice is another way to boost a pension pot, though it's often an underused tool. It works by the employee taking a contractual reduction in earnings in return for greater pension contributions from the employer – and both the employee and employer paying lower National Insurance contributions as a result.
An employer could use part, or all, of their National Insurance saving to boost their contribution to the employees' pension scheme – enhancing their employees' benefits. This is based on our understanding of current taxation law and HM Revenue & Customs practice, which may change. You should also bear in mind that the value of the reduction in tax and National Insurance will depend on an individual's circumstances and could also change.
Rainy-day (freedom) funds
In some cases, support won't involve the employee boosting their pension savings now, but reviewing what's in their pot and planning when and how they can increase contributions at a future date. It also might be more appropriate depending on their personal circumstances to focus on building an accessible rainy-day fund. Having at least three months of savings can help to protect from unexpected events.
What's next
It's clear there's a lot for working women to consider – not only in whether to reduce work hours or how to handle redundancy – but in how to protect and build savings during this time. Support from an employer like you can have a huge impact on their financial health, emotional wellbeing and commitment to work, which in turn can only benefit both parties. 
We have more resources that can help you to better support your employees and scheme members when it comes to managing their finances. Our in-depth Financial Wellbeing report has been created to better understand people's relationship with money and provide insight into the key elements that impact their financial wellbeing.
For more articles like this, visit our Employer Perspectives hub.
1. How has the coronavirus pandemic affected women in work?, Data source, House of Commons Library, March 2021
2.  Coronavirus (COVID-19) and the different effects on men and women in the UK, March 2020 to February 2021, Source, ONS, March 2021
3. Parents, especially mothers, paying heavy price for lockdown, Source, IFS, May 2020
4. What is the gender pension gap?, Data source, Prospect, March 2021
5. How to fix a problem like pensions engagement, Source, Money Marketing, July 2021