The biggest advice opportunities and threats for 2019
Steven Cameron, Pensions Director
Thursday, 1 November 2018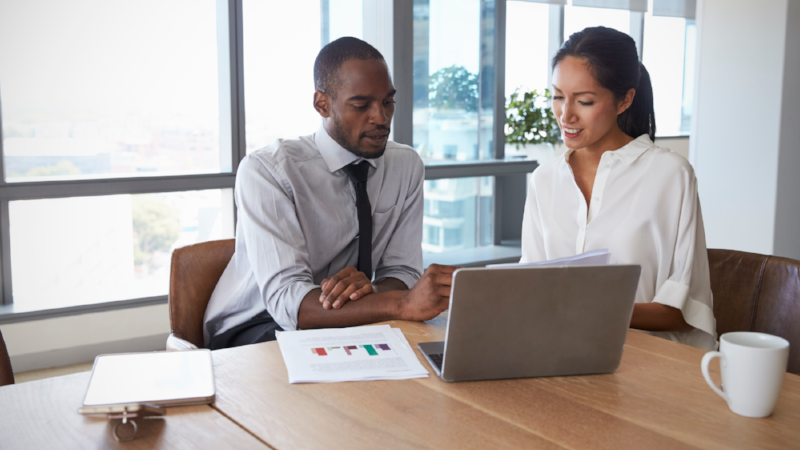 For intermediaries only
In today's world, change is a constant, and in financial services, this is often driven by the Government or regulators introducing new policy initiatives or changing rules and regulations. Change creates huge opportunities for advisers to help their clients optimise their financial planning, but can also pose threats.
We're always keen to hear from advisers on where they see future opportunities and threats for their clients and the advice sector. This is an essential input to our lobbying of Government and regulators. In our latest survey we asked 100 advisers what they feel are the biggest opportunities and threats for the advice industry over the next two years.
Our findings reveal advisers are in a confident mood against a backdrop of change and it was no surprise to see DB transfers leading the list of financial advice opportunities again, but the extent to which the adviser community is divided over the impact of leaving the EU does highlight how uncertain a post-Brexit world looks.
Advice opportunities
Topping the opportunity chart, for the second year running, was advice on transferring from defined benefit (DB) to defined contribution (DC) schemes. 45% of advisers voted for this. Coming in at number two was Brexit (27%), closely followed by political uncertainty (22%) and of course, these two are not completely separate. Pension dashboards were next on the opportunity count down (22%) with social care funding coming in fifth place (19%). As last year, our survey finds the adviser community upbeat about the many opportunities.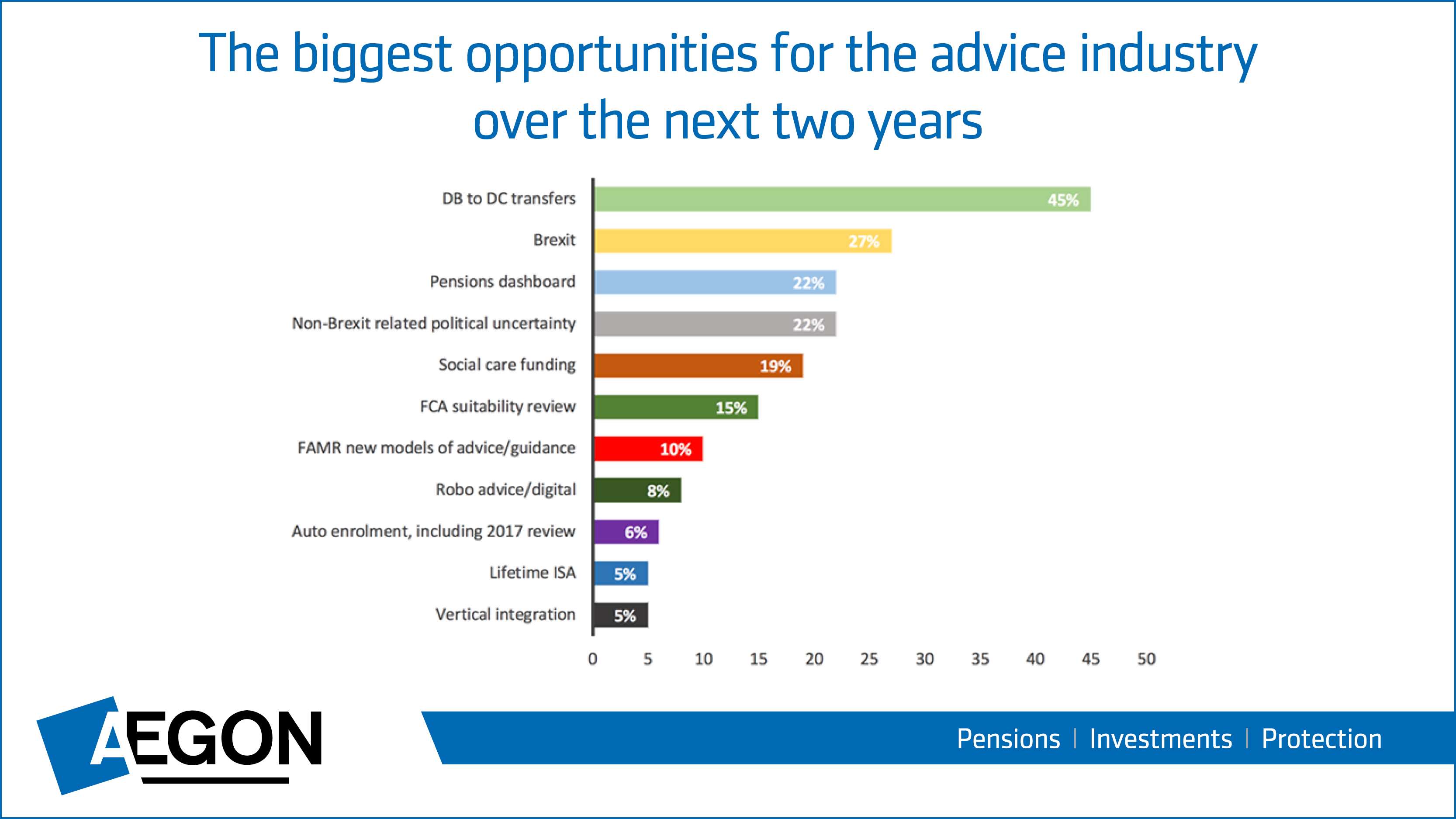 Source: Aegon adviser research, September 2018. Research conducted by Research in Finance amongst 100 UK financial advisers. Fieldwork conducted 30 August – 6 September 2018.
Advice threats
But advisers also recognise headwinds as we approach 2019. While many advisers see Brexit as an opportunity, it was also seen as the top threat to the advice market, voted for by 51% of advisers. Interestingly, pension scams come second (46%). The FCA's suitability review into DB transfers (34%) came next, closely followed by advice on DB to DC transfers (28%), so another item seen as both opportunity and threat. Clearly, one person's threat can be another's opportunity and much may depend on the adviser's client bank.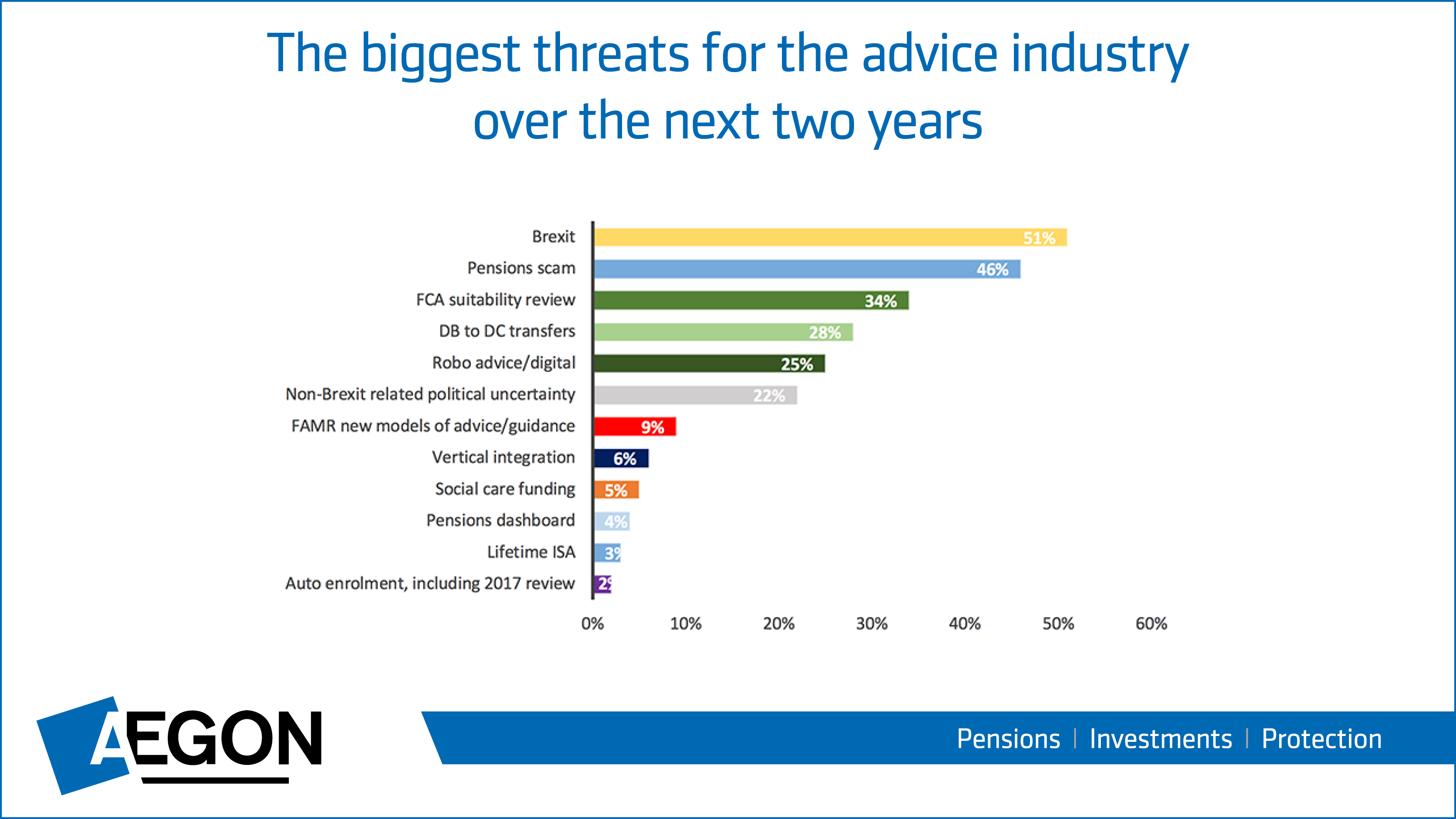 Source: Aegon adviser research, September 2018. Research conducted by Research in Finance amongst 100 UK financial advisers. Fieldwork conducted 30 August – 6 September 2018.
I'll now explore some of the top opportunities and threats in more detail.
DB to DC transfers
I support how the FCA is changing its rules regarding DB transfers. The pension freedoms mean the difference between DB and DC is far greater than it was previously, bringing many more factors including some 'softer', less numerical aspects into the decision making process. The FCA rules include lists, albeit non-exhaustive, of topics to consider, offering firms an insight into 'what good looks like' to the FCA and a means of ensuring their future advice approach is robust.
When we surveyed advisers, the two main outstanding points from the FCA concerned triage and contingent charging. Our research found widespread support for an effective form of triage (56%) with equal support for some form of ongoing contingent charging (56%).
The FCA has now issued its Policy Statement on these topics. We're pleased that at this stage, it has not opted to ban contingent charging, although it is undertaking further analysis. Aegon supports advisers and client having choices on how advice is paid for. Contingent charging can create conflicts of interest, but surely these can be managed professionally and an outright ban would simply widen the 'advice gap' in a market where demand already far exceeds supply.
The outcome on triage in our view is less positive. Aegon wanted the FCA to formally recognise the pre-advice conversations or 'triage' many advisers already have ahead of advising on DB transfers. Unfortunately, the FCA has highlighted just how little can be said without crossing the line into advice or personal recommendation. We remain hopeful that firms, working with the FCA, may be able to develop generic information guides, for example checklists, self-assessment questionnaires or information videos, which truly help customers decide whether to proceed to advice while staying on the side of information and guidance.
Clearly, the FCA suitability review will be concerning some firms and I hope the FCA's approach here is proportionate. It's also important to separate this backward looking exercise from forward looking advice.
Overall, the biggest concern to me is the difficulty and cost many firms are experiencing obtaining Professional Indemnity Insurance. It's particularly encouraging to see the FCA raise this within their Policy Statement. As the FCA says, having clarified its expectations of advisers, there should be less risk of unsuitable advice. Let's hope this message gets through to PI insurers and that they accept that future DB transfer advice doesn't warrant such high premiums and excesses.
Brexit
It's very difficult to anticipate the macro-economic implications of Brexit and how investment markets will perform in the run up to, during the expected transitional period, and after we leave the EU. There's clearly a risk that poor economic performance may mean less new money to invest, but those with existing investments will need help, creating a major advice opportunity. One area that still needs clarified is how advisers using passporting to advise clients already overseas will be affected.
Social care funding
As our population ages, finding a sustainable way to fund social care is one of society's greatest challenge. That's why it's so important that the Government consults on and reaches a decision on sharing costs between the state and individuals. And there must be a cap on individual care contributions, so individuals can plan ahead, with help from advisers.
Options include a private or state run protection policy, a care ISA or new forms of equity release. Aegon believes the most appropriate way forward is to encourage people to build social care funding into their pension planning. The pension freedoms already offer the flexibility to hold back or notionally ring-fence funds within a drawdown pot. So individuals can set aside the capped personal contribution and aim to draw an income from the balance.
Whatever the outcome, and there's every chance the Government will offer a range of funding options, there should be huge opportunities to help clients here. This will include tax and inheritance planning as well as optimising the approach to decumulating pension and other wealth throughout retirement.
Pension dashboards
Pension dashboards should be good for advisers as they'll provide ready access to all of a clients' pensions in one place, making advice more cost-effective, and aiding consolidation considerations. I hope the Government delivers on its commitment to pension dashboards and provides the necessary support to allow the industry to turn dashboards into a reality. This must include legislating to require all schemes to provide data. Otherwise, individuals who see some of their pensions are missing could easily lose faith in dashboards.
Pension scams
Pension scams have not previously featured in advisers' lists of threats so this needs explored further. One possible explanation is that the emphasis across the media on warning against pension scammers may have left some individuals suspicious of anyone seeking to provide help, however legitimate. If that's the case, we need to make sure customers have an easy means of checking the legitimacy of advisers. The enhanced FCA register has a role to play here and must be easily accessible and usable for consumers.
What didn't score highly
It's also interesting to look at some of the topics which failed to gain many votes, either as opportunities or as threats. In the advised market, the Lifetime ISA doesn't seem to be creating any excitement either way, perhaps because it will rarely be used for longer term retirement saving. Automatic enrolment didn't register as either opportunity or threat but over time, as individuals build up substantial DC pots, there are opportunities to grasp around advising on contribution adequacy, moving out of default funds and making pension freedom choices.
My biggest disappointment, although not particularly surprising, is that the Financial Advice Market Review is failing to register as an advice opportunity. A joint Treasury / FCA initiative to help close the 'advice gap' which generated 28 recommendations, all of which have been taken forward in some shape or form, really should have been an opportunity to further strengthen the advice market. While other Aegon research points to advisers continuing to support the principles, the unfortunate reality is the changes are yet to be felt in practice. Maybe next year…