Small pots, big problem: More than a quarter of adults have at least one small pension pot
Aegon Press Team
Tuesday, 12 October 2021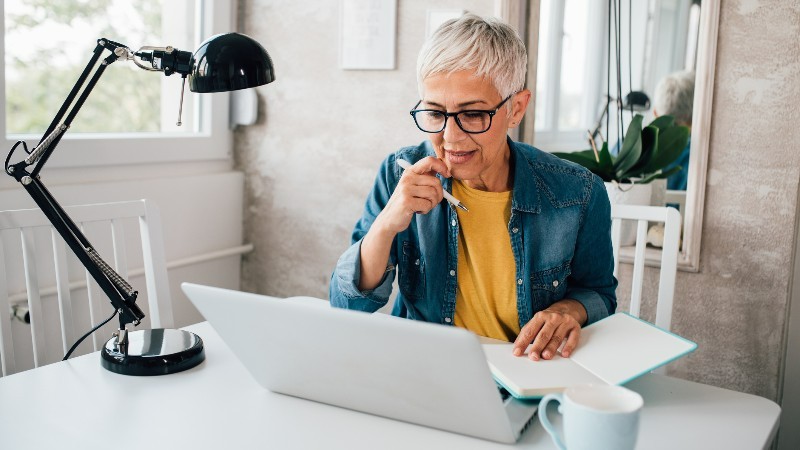 Aegon research highlights the growing issue of multiple small pension pots
Research shows a quarter (26%) of adults have at least one pension pot of less than £5,000 – 15% said they didn't know
58% said have never consolidated multiple small pension pots into one
Despite this, 34% said they would be interested in using an automatic consolidation solution
'Not wanting all eggs in one basket' and 'not knowing the benefits' were the top reasons stopping adults from consolidating
Ahead of National Pension Tracing Day on the 31 October, Aegon research* into the small pension pot issue finds a quarter of adults (26%) have at least one pension pot of less than £5,000, and 15% 'don't know' if they have one or not. The research also looked at whether people have combined multiple small pension pots in to one. It found that nearly six in ten (58%) adults have never consolidated a pension.
Aegon is supporting National Pension Tracing Day, an industry initiative launched by Punter Southall Aspire to encourage people to trace their lost pensions and gather a full understanding of their retirement savings.
Growing issue of small pension pots
Auto-enrolment and the fluidity of the job market has led to an increase in the number of small pension pots. Workplace pensions normally don't follow you when you move jobs, so people are likely to accumulate several different pensions over the course of their working life. Estimates suggest people will on average move jobs 10 times throughout their working life**.
Previous research from the DWP alongside the introduction of auto-enrolment looked at the prevalence of small pots under £2,000 and £10,000**. However, recent evidence shows a proliferation of much smaller pots under £500. Most of the adults in Aegon's research consider a fund of less than £10,000 a 'small pension pot'.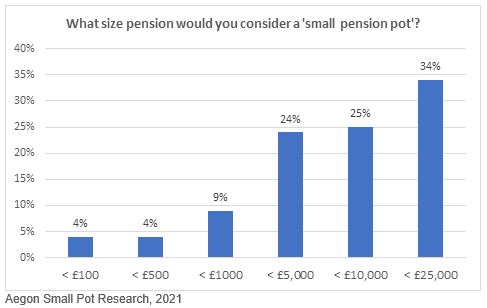 Consolidation
 One in four (39%) adults said they had moved some or all their pensions together, while one in six (58%) said they have never consolidated a pension pot. 2% didn't know.
The most common reasons stopping people from consolidating were not wanting 'all eggs in one basket' and not knowing the benefits.
For those who haven't consolidated a pension pot, 36% said they would be interested in bringing their pots together. One of the ways currently being explored by the government to facilitate this is enabling an automated solution for low-cost transfers and consolidation for the auto-enrolment mass market. Aegon's research found that a third (34%) of adults would likely use an automated consolidation solution to for a pension pot under £5,000.
Kate Smith, Head of Pensions at Aegon comments:
 "Auto-enrolment and a fluid UK labour market has led to a significant increase in the number of small pension pots people accumulate in their working lives. Eligible employees are enrolled into a new workplace pension scheme when they move employers and generally stop contributions to any old pension. Having multiple pensions can make it difficult for people to keep track of their savings and provides challenges when understanding the full value of their retirement savings.
"Bringing these pots together is the simplest way to keep track of pension savings, but Aegon's research shows well over half of adults have never done this. This isn't surprising given the low level of pension engagement and understanding in this area. Other benefits of consolidating small pension pots include the potential to receive lower charges and access to helpful retirement planning tools which many modern schemes now provide.
"The government's small pot working group is looking into solutions to address the issues associated with the rise in small pension pots. This includes how to implement some form of automated consolidation which Aegon's research shows is well supported. The inertia principle of auto-enrolment has been very successful in helping increase pension savings and this principle could be harnessed in automated solution to help tackle the small pot issue as well.
"Together with the pension dashboards programme, these solutions should offer savers a much clearer picture of their retirement savings and could be a major step towards improving pension engagement."
Here's Kate's useful 8 step pension pot to-do list: 
Track down old pension schemes – using the resources available on the National Pension Tracing Day website
Look up your annual benefit statements, you may have saved with more than one employer's pension scheme  
Review your spending habits and consider if you have the scope to save a little more each month
Get online – have you done all you need to do to be able to manage your pension online to make it simpler?
Think about what financial milestones you'd need to hit in order to increase your pension contributions and review your investment choices
Find out more about your current pension plan. If you pay in more does your employer match your contributions?
Check your expression of wish form is up to date. This is a request setting out who you would like to receive any death benefits payable on your death
Check your state pension entitlement. To receive the full state pension when you reach state pension age you must have paid or been credited with 35 qualifying years of National Insurance contributions. Visit the Government Pension Service https://www.gov.uk/contact-pension-service for information about your state pension.
References
* Research was conducted by Aegon with the Aegon UK consumer panel. Total sample size was 727 adults aged 18 to 64. Fieldwork was undertaken in March 2021.
**DWP, Small pots working group report, December 2020
Further information
Samuel Woods
PR Manager
Aegon UK
Notes to Editors
In the UK, Aegon offers retirement, workplace savings and protection solutions to over three million customers. Aegon employs around 2000 people in the UK and together with a further 800 people employed by Atos, we serve the needs of our customers. More information: www.aegon.co.uk
Aegon's roots go back more than 175 years – to the first half of the nineteenth century. Since then, Aegon has grown into an international company, with businesses in the Americas, Europe and Asia. Today, Aegon is one of the world's leading financial services organisations, providing life insurance, pensions and asset management. Aegon's purpose is to help people achieve a lifetime of financial security. More information on www.aegon.com
Figures correct, January 2021