Renewed faith in equities but UK splits opinion...
Nick Dixon, Investment Director
Wednesday, 27 March 2019
This communication is for intermediaries only. It mustn't be distributed to, or relied on, by customers.
Research by Aegon, carried out among 250 financial advisers, highlights renewed market optimism following the volatility at the end of 2018. It comes as investors navigate a complex range of factors including trade tension, declining growth concerns and notably, Brexit. However, it appears that advisers aren't letting near-term uncertainty deflect them from taking a more positive long-term view.
Advisers expect emerging markets equities to be the big winner over the next 12 months, with risk assets generally predicted to fare better than bonds or cash. Meanwhile views on UK equities are split, with 20% predicting that it will be the best-performing asset class, while 14% expect it to be the worst performer*.
Asset class advisers expect to generate the best/ worst returns over the next 12 months


Research carried out by Opinium on behalf of Aegon amongst 250 UK IFAs in February 2019.
We share renewed optimism for risk assets, well almost…
While the strength of conviction in emerging markets is somewhat surprising, I agree with the positive sentiment. Equally, I am firmly in the positive camp on UK equities. I am concerned, however, that favourable views of US market prospects are largely informed by historical performance, not by current valuations or future earnings growth.
Emerging growth prospects
Entering 2019, emerging markets appeared cheap relative to the US market and key valuation measures had also fallen modestly below their long-term historical averages. Yet the IMF projects that emerging markets will enjoy a rising share of global economic growth in the next couple of years – despite a small drop to 4.5% expected in 2019 (from 4.6% in 2018), growth is projected to reach 4.9% in 2020. In contrast, developed markets' growth is forecast to decline to 1.7% in 2020.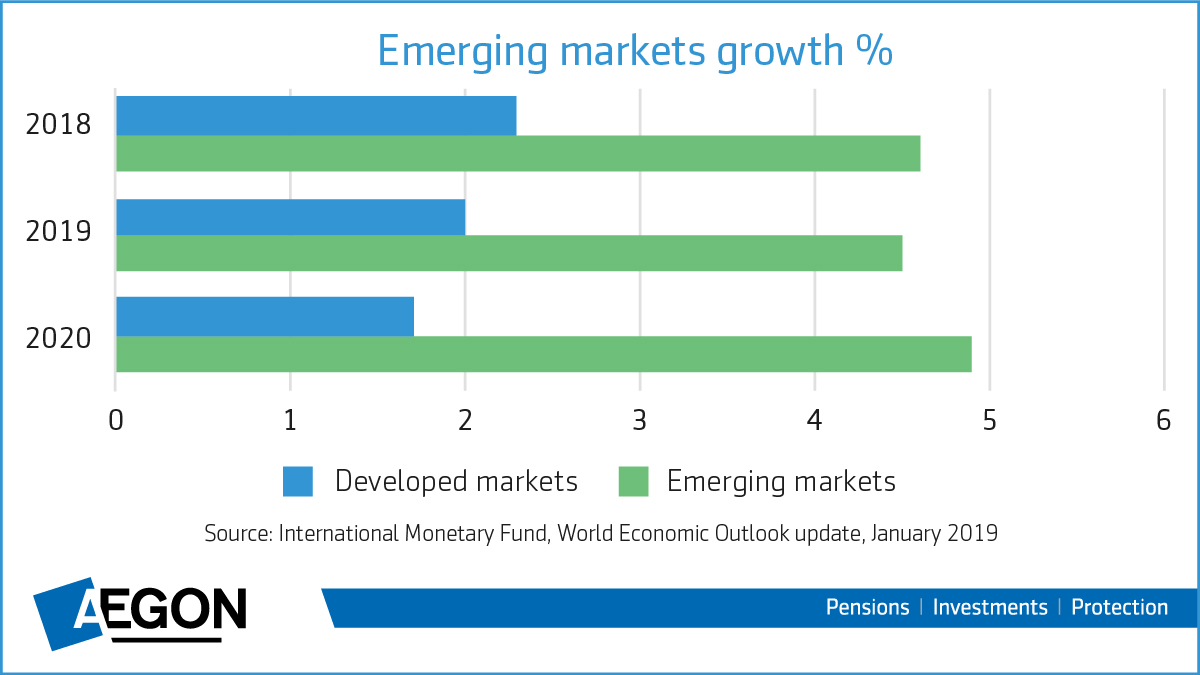 The weakness in emerging market equities in 2018 did reflect genuine risks from China's growth slowdown and the US-China trade war. However, I believe that investors' negative response has created a reasonable long-term opportunity at a time when we are seeing early evidence of policy measures to address these issues. An overweight in emerging markets is consequently one of our higher-conviction views. Nevertheless, as emerging markets are typically sensitive to global growth, it is important to be mindful of rising risks elsewhere.
US equities – treat with caution
I take a cautious stance on US equities, which experienced their worst December since 1931**. The US equity market has outpaced the majority of other developed markets since 2009, but there are now elevated risks, e.g. demanding earnings multiples, high profits as a percentage of GDP, and declining growth. Despite benign news flow at the start of the year, I feel US equities are overvalued and don't present sufficient reward for the risks taken.
Brexit causing clear confusion
20% of advisers believe that UK equities will generate significant returns over the next 12 months. But it won't have escaped the keen-eyed reader's notice that a sizeable number of advisers (14%) disagree with this notion, expecting them to perform the worst. This undoubtedly reflects the political instability facing advisers and their clients as the Brexit deadline approaches. It's not hard to understand, given the twists and turns of Brexit, which has voters and investors alike holding their heads in their hands.
However, having underperformed most other stock markets since 2015, the UK offers attractive relative value, reflected in our allocations across our Core and Select Portfolio ranges. In particular, the Brexit risk has contributed to low UK equity valuations versus historical norms. Regardless, just as many voters have accepted the possibility of short-term Brexit disruption, we believe that the UK market will settle down sooner rather than later.
Long-term market optimism
The view taken by our team of analysts is that the only way to survive the hullabaloo created by Brexit and all its attendant media hype is to take a long-term strategic view, driven by a fundamental assessment of valuations and future growth prospects. Establishing a long-term investment strategy and sticking to it is key to navigating this fickle market.
Divided views on UK equities are understandable as Brexit is very much uncharted territory. Reassuringly however, in the most part it appears that advisers aren't letting this dampen their appetite for growth assets over the long-term.
*Research carried out by Opinium on behalf of Aegon amongst 250 UK IFAs in February 2019.
** MarketWatch article, Here's how ugly 2018 was for stocks and other assets', 01/01/2019.
Past performance is no guide to future returns. The value of investments may go down as well as up and investors may get back less than they invest.
Please be aware that the opinions expressed in this article don't constitute investment advice.