Raising your ESG game
Natasha Petiton - Executive Director, Head of Product Strategy at J.P Morgan Asset Management
Friday, 29 October 2021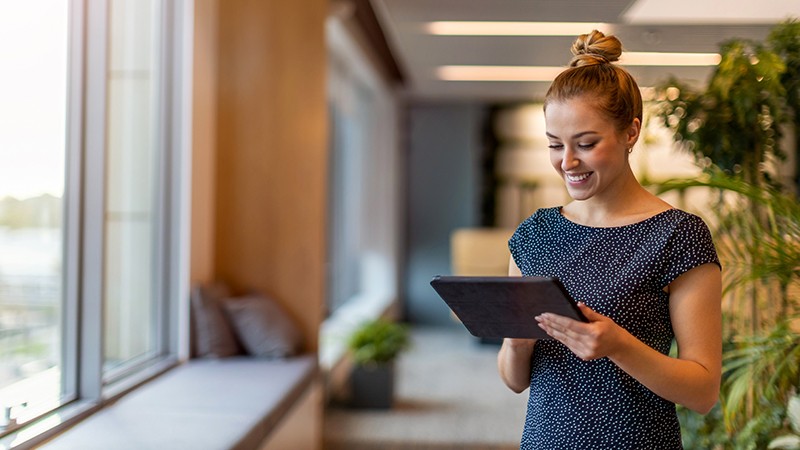 For financial advisers only
 How to make the most of new sustainable products, resources and regulations 
Investor flows into sustainable funds in Europe continue to break records, as investors are increasingly aware of environmental, social and governance (ESG) issues such as climate change and diversity. Regulation is also playing a part by creating standards to encourage investment in sustainable and ESG products. Against this backdrop of increasing client demand, financial advisers are facing a simultaneous explosion in ESG product choices while navigating new and evolving industry regulations.
Playing by the rules
The European Union Sustainable Finance Disclosure Regulation (EU SFDR) came into effect on 10 March 2021 with the aim of increasing transparency around investments, with sustainable or ESG characteristics, in an effort to make it easier to compare investment options – and more difficult for providers to greenwash products. The EU SFDR requires specific firm-level disclosures from asset managers and investment advisers regarding how they address sustainability risks and principal adverse impacts. It also requires funds to be classified into three categories, according to the degree to which sustainability is a consideration. The disclosures apply to any financial product distributed in the EU including UCITS, AIFs and segregated mandates.
The environmental considerations outlined in the EU SFDR will be further enhanced by the EU Taxonomy Regulation (EU TR), which comes into effect next year, and seeks to create a common, standardised language around economic activities that impact the environment. Financial firms and financial products will need to disclose the proportion of their investments that align with the EU Taxonomy, while companies will need to disclose their economic activities that are aligned.
Importantly, the EU SFDR and EU TR will be helpful ahead of the new MIFID regulations that come into effect in August 2022, which will require advisers to ask clients about suitability preferences, including interest in sustainable investing.
While there are no specific regulations around sustainable investments yet in the UK, the Financial Conduct Authority (FCA) has identified an overarching principle of consistency related to design, delivery and disclosure regarding ESG and sustainable investments. The FCA has further outlined three guiding principles related to the materiality of ESG considerations, the implementation and monitoring of holdings, and disclosures that are clear and easily understood.  
The UK FCA's Guiding Principles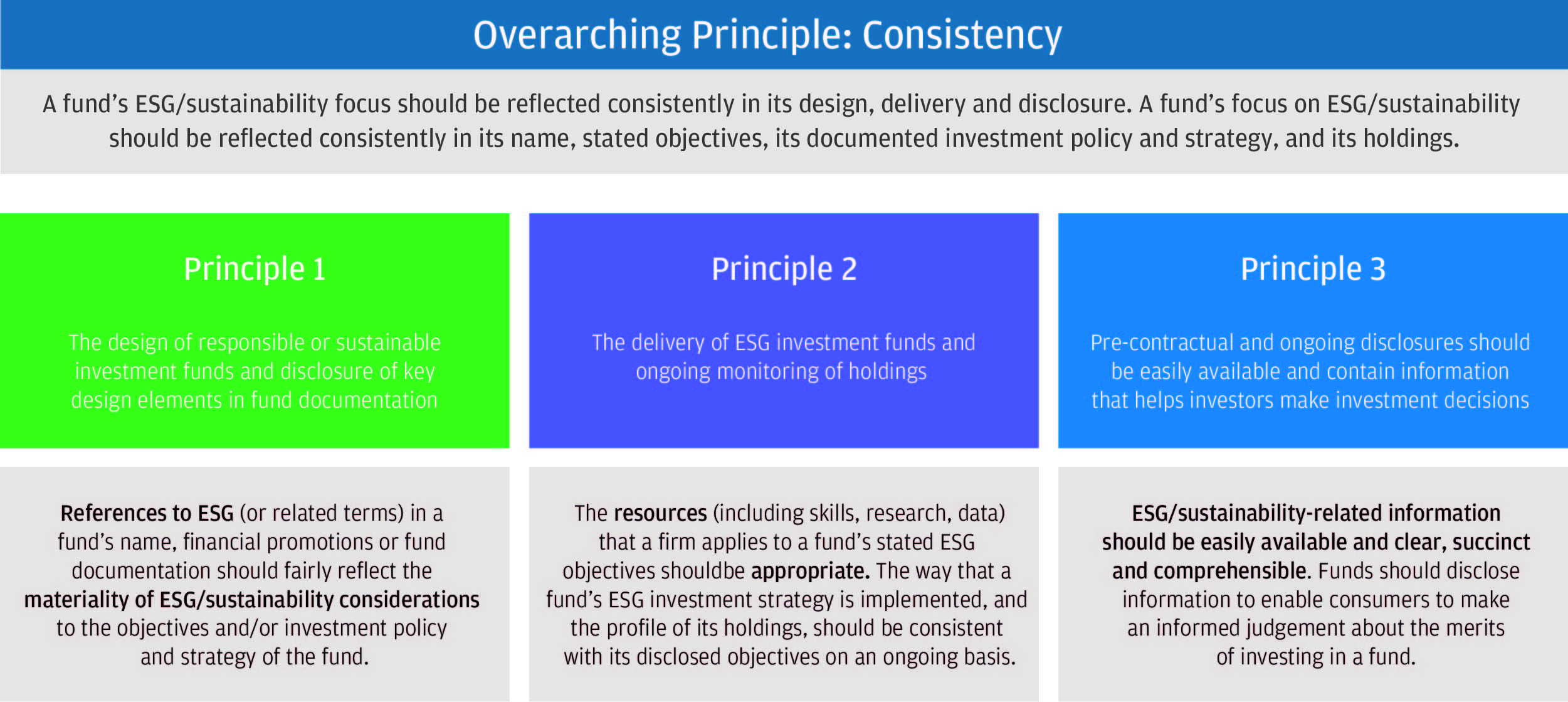 Source material: https://www.fca.org.uk/publication/correspondence/dear-chair-letter-authorised-esg-sustainable-investment-funds.pdf 
Choosing a winning strategy
Many organisations and asset managers offer frameworks and product offerings that are evolving to align with new sustainable investing regulations. For example, the 'Investment Association Responsible Investment Framework' identifies firm-level considerations in sustainable and ESG investing, including stewardship, ESG integration and exclusions.
The framework also categorises the main types of ESG and sustainability fund management as either:
Exclusions-based – where securities or industries are simply excluded from a fund.
Sustainability-focused – which includes positive-tilt and best-in-class strategies.
Impact investing – where funds can demonstrate making a positive environmental or social impact.
The IA Responsible Investment Framework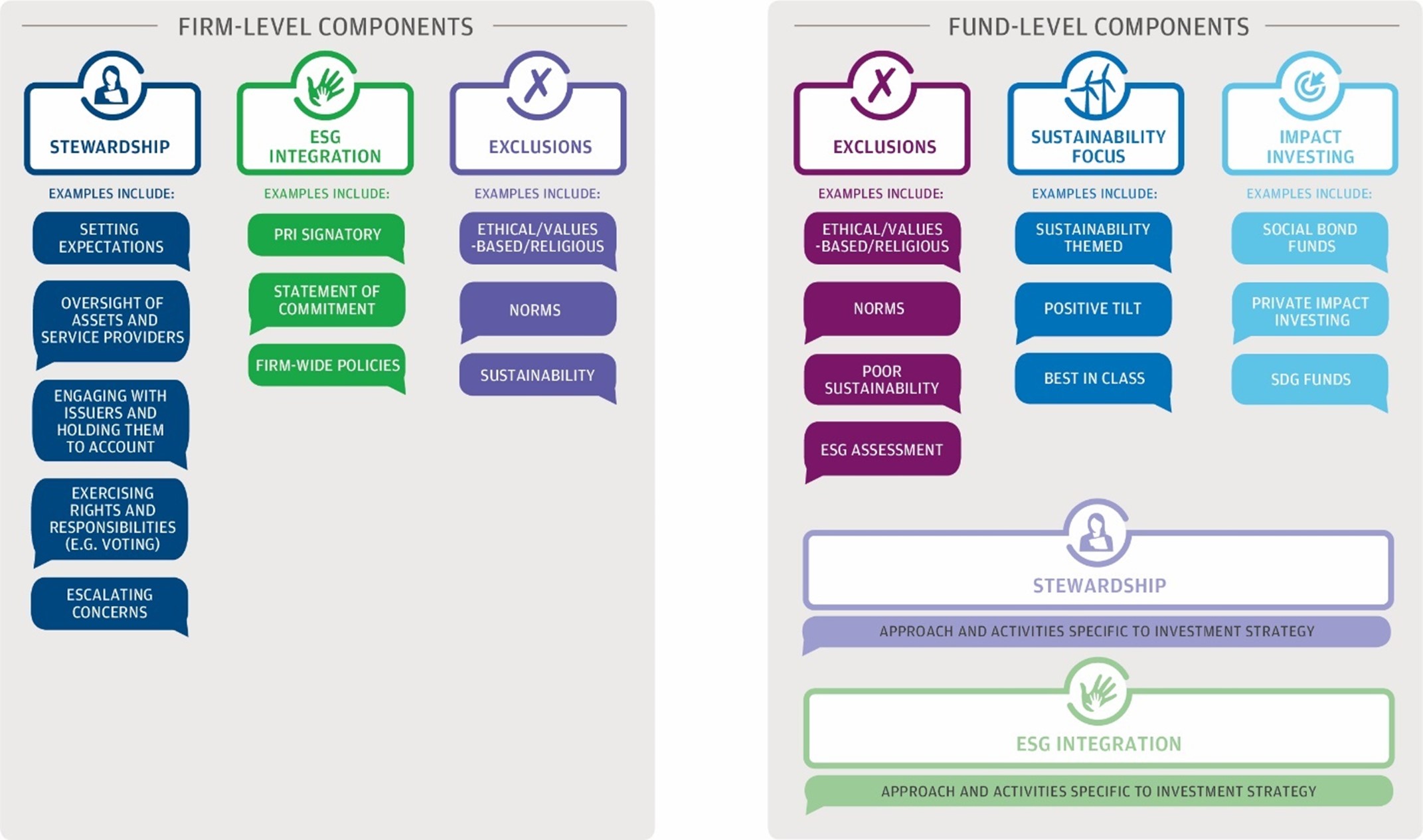 Source: https://www.theia.org/sites/default/files/2019-11/20191118-iaresponsibleinvestmentframeworkglossary.pdf
Forming a team of resources
Fortunately, resources for ESG investors have never been more readily available. MSCI is a widely used source for ESG data and has made its fund-level ESG data publicly available. This has allowed advisers or investors to view not only MSCI's ESG fund ratings and peer rankings, but the underlying data for the ESG quality of a portfolio, such as scores for carbon intensity, corporate governance and social objectives. Similarly, Morningstar, which uses data from Sustainalytics, also offers publicly available sustainability ratings for funds as well as a breakdown of ESG scores versus peers or benchmarks, and other metrics such as carbon risk.
Many asset managers are also keen to help advisers and clients learn more about ESG and sustainable investing – from process and product innovations to industry-wide issues. At J.P. Morgan Asset Management we continuously publish a wide variety of insights and thought leadership on these topics. We've also created a training programme for clients and offer tools that can help advisers review the ESG quality of a portfolio or build portfolios with stronger sustainability characteristics.
Fund flows, product launches and new regulation all signal that sustainable investing is becoming mainstream across Europe and the UK. Advisers will increasingly find themselves helping clients create portfolios that consider ESG factors. Thankfully, the resources available are keeping pace and can help advisers raise their ESG game.
Aegon is not responsible for the content and accuracy of investment articles provided by third party asset managers. We might not share the views of the author and organisation.
The value of an investment can fall as well as rise and isn't guaranteed. Your client could get back less than they invest.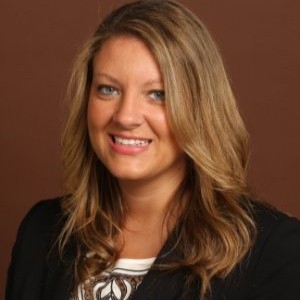 Footnote:
This is a marketing communication. J.P. Morgan Asset Management is the brand name for the asset management business of JPMorgan Chase & Co. and its affiliates worldwide. This communication is issued by JPMorgan Asset Management (UK) Limited, which is authorised and regulated in the UK by the Financial Conduct Authority. Registered in England No: 01161446. Registered address: 25 Bank Street, Canary Wharf, London E14 5JP.
Material ID: 09e6210710124649