Pension Geeks scoop award
Aegon Press Team
Thursday, 15 July 2021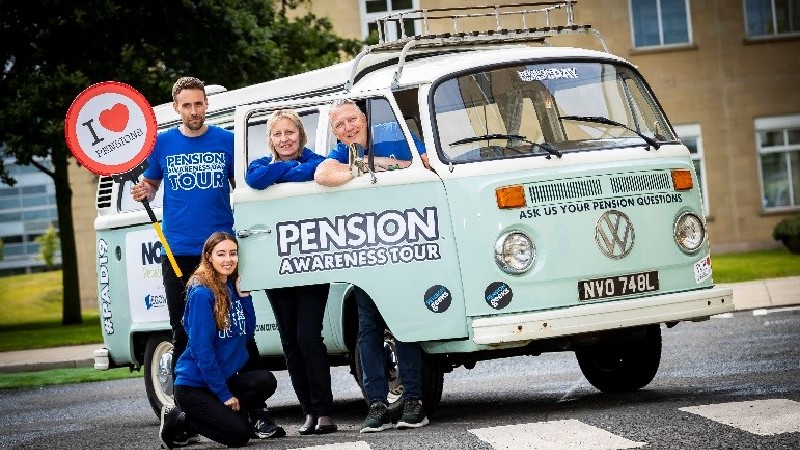 Pension Geeks win at the 2021 Pension Age Awards
Pension Geeks have recently been recognised as winners at the 2021 Pension Age Awards where they came out top in the Pension Communication Award – for the first virtual pensions roadshow.
Best Pension Communication Award
Pension Geeks were recognised for their work on the 2020 Pensions Awareness campaign. The Geeks set up Pensions Awareness Week in 2014 and have run it annually since then with the DWP, MaPS and the pensions industry, to provide practical help and guidance to people across the country on what can be a difficult topic. The campaign also aims to help influence the policy agenda, debate key industry topics and unite the financial services industry.
In previous years this has involved a tour of the UK with the Pension Geeks pitching up in different cities in either a bus or camper van to host Q&A sessions with the public on all things pensions. The award recognised the Geek's efforts in converting what had primarily been a physical event into a digital one as the coronavirus pandemic kicked in. The digital event saw over 18,000 people visit the website, 6,000 people took part in live webinars, 1,000 people playing the savings quiz and 140,000 interactions on social media.
Commenting on the Pensions Age Award, Chief Geek, Jonathan Bland said:
"We're delighted to be recognised with this award. The plans we'd developed at the start of last year for Pensions Awareness Week had to be quickly replanned as the seriousness of the pandemic became obvious but we are determined in our savings mission, so we quickly adapted to find the right solution. Hosting the event digitally opened up new opportunities and we actually saw that our virtual event enabled us to reach people in multiple locations around the UK that our roadshows might not have made it to.
"Planning is well underway for this year's event in September – this will be the eighth consecutive year – and with a record number of partners on board, we're looking forward to getting back in the studio once again and reaching as many people as we can, so that they can prepare for a happier future,
Head to: www.pensionawarenessday.com to find out more about this year's event.
Further information
Rachel Parkinson
Pension Geeks
Notes to Editors
About Pensions Geeks:
Pensions Geeks started in 2014. They specialise in creating vibrant and innovative communications on pensions, rewards and financial wellness within workplaces to engage employees and leave them feeling good about their finances.
Pension Geeks deliver workplace communication strategies - creating tools such as video, animation, games, virtual reality, apps, portals and modellers, alongside workplace events. They are dedicated to communicating in a language that is simple and jargon-free, in order to make financial topics accessible to all. More information: www.pensiongeeks.com
In 2021, Pension Geeks was acquired by Aegon UK but remains as an independent business.
About Aegon:
In the UK, Aegon offers retirement, workplace savings and protection solutions to over three million customers. Aegon employs around 2000 people in the UK and together with a further 800 people employed by Atos, we serve the needs of our customers. More information: www.aegon.co.uk
Aegon has grown into an international company, with businesses in the Americas, Europe and Asia. Today, Aegon is one of the world's leading financial services organisations, providing life insurance, pensions and asset management. Aegon's purpose is to hel
Figures correct as of January 2021.