Pension Awareness Day: Tips for boosting engagement
Professional Pensions
Friday, 13 September 2019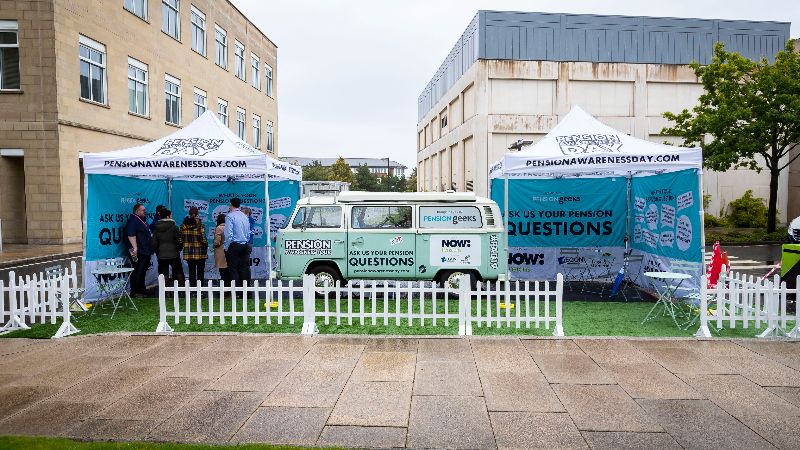 This week, a camper van has been touring the country full of advisers with hopes of getting people talking about their pension. The week-long campaign - created by Pension Geeks and Scottish Widows - comes to an end this Sunday (15 September), on Pension Awareness Day, in Peterborough.
Pension Awareness Day is designed to help members understand their pension pot and what they need to do to be able to retire comfortably. Ahead of Sunday, the pensions industry told PP what needs to be done to drive member engagement.
Keep up initiatives like PAD
Driving initiatives like Pension Awareness Day to ensure members are encouraged to play an active role in their pension and understand the need to save for retirement is vital, says Aegon workplace business managing director Linda Whorlow.
She said:"Many people simply aren't engaging with planning for later life and all too often it falls to the bottom of the to-do list. The reality is that unless individuals actively engage with their pension savings, they are at risk of being entirely unprepared for retirement."
"These activities and initiatives give people the support they need to approach retirement with confidence, which is something we are passionate about."
She added:"Interactive roadshows, workshops or webinars are great ways to engage members with their pension scheme…they create an informal environment making it easy for members to ask questions about their retirement savings."
Close Brothers head of financial education Jeanette Makings said checking your pension pot once or twice a year is appropriate to ensure you know what you will retire with. She said:"If Pension Awareness Day is one of those times then if everyone from employers to providers, to media and government get on board and encourage it, then this will boost the number of people checking their pension."
However, AHC chief consulting officer Karen Partridge said while"...anything that raises awareness of the importance of saving to the general public is a good thing...", she said initiatives like this"...tend to be limited in their effectiveness..." due to high levels of inertia.
"Initiatives may make people realise that saving more for the future is something they should be doing, but without the ability to do something about that at the point of realisation, their inclination to do anything about that realisation will be limited."
Get the full picture
Aegon revealed a key to ensuring members have an accurate idea of what they need to be doing in order to retire comfortably is understanding the whole picture and checking their state pension age and their state pension entitlement.
This will help work out how much they need to save separately to maintain their current lifestyle after working life.
Makings agreed savers need to be aware of what they are currently saving and what their employer is contributing to their pension. She said because pension contributions do not appear on bank statements,"...it's easy for savers to forget about them...".
She noted:"As pension contributions are taken automatically from employees' salaries and deposited with the pension provider, with the corresponding employer contributions, it's easy to forget that this money belongs to the employee and is part of the savings plans.
"So whatever opportunity there is to remind people about this valuable savings plan, the better," she added.
Personalise communication
Communication with members should be personalised as much as possible, Whorlow said.
She noted:"Messaging about a pension scheme is often difficult to get across, particularly for younger members who may find it hard to see the value of saving into a pension when their income is being pulled in all directions."
"For successful communication, it is crucial that messaging is personalised to the audience that it is speaking to."
Partridge agreed communication with the member is key, noting:"Remember your member. You can't 'unknow' what you know about pensions and the member has none of that background to apply, so make sure your communications are clear and straightforward in language they will understand."
She added:"Make it personal - communication is much better received when it addresses someone by name and speaks to their circumstances."
Expand AE to all workers and boost contributions
Some industry experts have called on the government to expand AE to include those working in the gig economy, who currently miss out on the benefits, and to increase minimum contribution levels to ensure savers can retire comfortably.
Research by The House Crowd revealed almost half of savers had never reviewed the amount they have saved in their pension pots, while 31% did not know what AE was.
Founder Frazer Fearnhead said:"There needs to be a concerted effort by the government to educate people on the AE scheme." He added,"There also needs to be better education in general on alternative saving options."
Makings added,"AE has had a really positive impact on the pension savings landscape in the UK. But there's still a long way to go to close the gap and there is no room for complacency as the minimum contribution levels are unlikely to provide a sufficient pension for a comfortable retirement for most people.
"Employers can play a key role in helping their workers to understand the value of this benefit and to encourage continuous engagement."
She noted the industry can help savers by offering retirement planning calculations and access to financial education to help them"...see the benefits of being more proactive with their retirement savings plan...".
This article was written by Holly Roach for Professional Pensions and was legally licensed through the NewsCred publisher network. Please direct all licensing questions to legal@newscred.com.