Pandemic causes people to re-evaluate their financial resilience
Aegon Press Team
Wednesday, 18 November 2020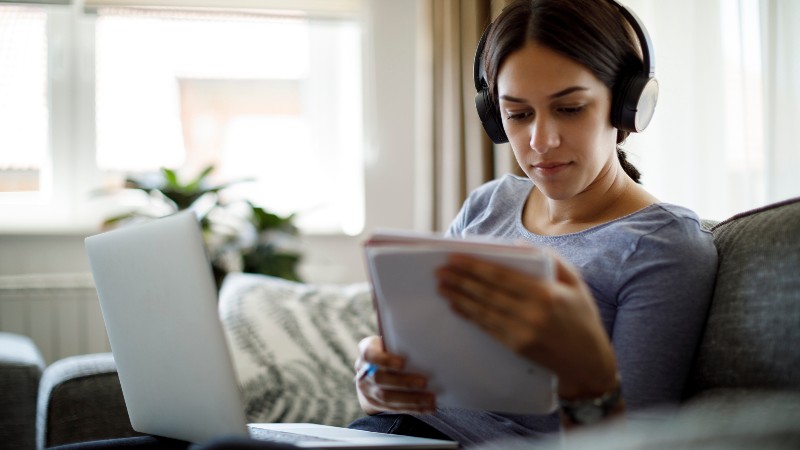 37% of people in the UK more likely to build up a rainy-day fund as a result of pandemic
Over half (55%) would be unable to fund more than 3 months of expenses, with a quarter (24%) of those unprepared for any financial emergency
Londoners most likely to change saving behaviour, with those in Edinburgh least likely
The average rainy-day fund will last 8 months
1 in 4 in UK 'just getting by' financially
According to research from Aegon, the general financial uncertainty created by the coronavirus pandemic has resulted in over a third (37%) of UK savers acknowledging they're under prepared for a financial emergency and have started to build a rainy day fund.
However, while many admitted their need to build a bigger financial cushion, the findings highlighted wide geographical differences across the UK. In Edinburgh, only a quarter (24%) of people said the pandemic has prompted them to build up funds for a financial emergency, half the number of those living in London (47%). The cities at the foot of the table reflect mixed fortunes, for some like Edinburgh, a significant savings pot means less of a need to save, but for others it should act as a wake up call.
Rainy day funds help people cope with life's unforeseen events and play an important role for short- and long-term planning. The general rule is that people should build a financial cushion, with three months of living expenses regarded as a good starting point.
Unfortunately, a quarter (24%) of people in the UK would struggle straight away with no rainy-day fund to fall back and almost a third (31%) would run out of money within 3 months. At the other end of the scale, a fifth (21%) of people have more than a year's worth of savings in their rainy-day fund, with the average lasting 8 months.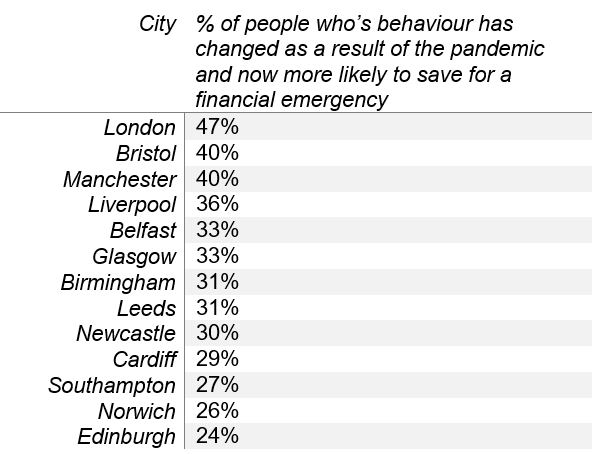 Having a cash buffer is particularly important for those approaching or in retirement, helping to protect their pension savings during volatile market conditions. However, with over a quarter of over 55s having no rainy-day fund, there is a danger that dipping into retirement savings at a time when the value has fallen, will deplete their funds more quickly, should there be further falls in stock markets. Having access to emergency cash funds can help tide them over while markets recover
Unfortunately, a lack of savings or a savings pot that has already run dry means the immediate priority 1 in 4 people is simply 'just getting by'. The stark reality is that the longer the coronavirus crisis continues, the more people will find themselves in that predicament, underlining the real need of safety net savings.
Manage your money using the jam jar approach
Jam jar saving is a simple way to organise your money, prioritising spending and saving. To work effectively you need a clear picture of what you have and your expenditure, so you can set yourself targets and identify how much you can afford to save.
At the beginning of each month, work out how much you need to spend and include your pension contributions. Anything that is left over should be swiped into an easily accessible emergency savings fund, such as a cash ISA. Better still set up an automatic regular payment.
Set yourself a target for the emergency fund, three months living expenses is generally regarded as a sufficient financial cushion. When the emergency jar is full, start a new jar for medium to longer term savings, such as topping up your pension, but make sure you maintain the amount of emergency savings.
Kate Smith, Head of Pensions at Aegon commented:
"Our research highlights the contrast in UK's financial health between the financial 'haves' and 'have nots' and an individual's ability to manage their money. While the economic outlook has prompted many to begin building a rainy day fund for the first time, others have been exposed as being perilously under prepared.
"If we can learn one thing financially from the pandemic, it's the importance of financial resilience and have access to emergency savings.
"It is particularly concerning that for 1 in 4 their financial priority is 'just getting by'. Budgeting and saving for a rainy-day play such an important part in people's financial planning and it's important they get into the savings habit and then prioritise different savings pots. The concept of 'jam jar savings' or active saving not only builds up financial resilience but is a vital component of financial wellbeing."
5 money management tips
1. Budget, plan and track your spending
Assess your spending, plan your goals and set a budget to meet those goals. Ensure you have the best deals on all of your expenses such as utilities, phone contracts and car insurance. The information you gather at this stage will help you get started but it should be reviewed on a regular basis to ensure you stay on track.
2. If you can, save
Savings are essential to building financial resilience. If you are already saving, review and check that you are saving in the most efficient way for your circumstances.
3. Avoid borrowing if you can
Borrowing is ok if used for the right reasons and as long as the repayments can be met. Avoid short-term, high interest borrowing if possible as this can often just push someone further into debt.
4. Long-term planning
Get in the regular habit of paying into a pension – easy to do in the workplace – and think about tipping any excess savings into your pension.
5. Prepare for the unexpected
Preparing for the unexpected could come in the shape of a savings pot or rainy-day fund. Make sure you save enough and keep it in an accessible savings fund or account
References
*Opinium surveyed 2,000 adults between 23 Oct - 26 Oct 2020
Further information
Neil Cameron
PR Manager
Aegon UK
Notes to Editors
In the UK, Aegon offers retirement, workplace savings and protection solutions to over three million customers. Aegon employs around 2000 people in the UK and together with a further 800 people employed by Atos, we serve the needs of our customers. More information: aegon.co.uk
As an international life insurance, pensions and asset management group based in The Hague, Aegon has businesses in over twenty markets in the Americas, Europe and Asia. Aegon companies employ approximately 26,000 people and have millions of customers across the globe. Further information: aegon.com
Figures correct as of November 2019