£300,000 pension pot required to maintain lifestyle
Aegon Press Team
Wednesday, 3 January 2018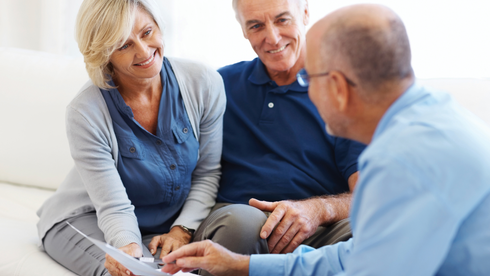 Auto-enrolment review estimated 12 million people under saving, perhaps under estimating the sums required to generate an income in retirement
New analysis from Aegon has found that people on average earnings require a pension pot of £301,500 to maintain their current lifestyle in retirement.
The government's auto-enrolment review* published just before Christmas highlighted that to maintain their lifestyle into retirement, individuals need to aim for a target percentage of income from their pre-retirement years. The review highlighted that those on average earnings of £27,000, should be targeting an income equivalent to two thirds of their working age income - £18,000 a year or £1,500 a month.
This means an average earner entitled to the full state pension of £691 a month would need another £809 a month from private and workplace pensions to meet the target. Aegon's analysis of current annuity rates found that at age 65, an individual in good health would need a pension fund of £301,500** to buy a guaranteed income for life of £808 per month, increasing with inflation.
| Pre-retirement earnings | Percentage to maintain lifestyle | Target retirement income | Monthly income needed on top of full state pension | Amount needed to buy this at age 65 |
| --- | --- | --- | --- | --- |
| £13,000 | 80% | £10,400 | £175 | £65,300 |
| £27,000 | 67% | £18,000 | £809 | £301,500 |
| £56,000 | 50% | £28,000 | £1642 | £612,700 |
The equivalent retirement pot required for those on earnings of £13,000 and £56,000 is £65,300 and £612,700 respectively, reflecting the different percentages required to maintain working age lifestyle.
Commenting on the figures, Steven Cameron Pensions Director at Aegon said: "The auto-enrolment review identified that there are 12 million people under saving. It's perhaps not surprising that people are under saving when you see how much generating an annual income of £18,000 costs. The amount is so high because life expectancies have grown significantly in recent decades and long term interest rates, on which annuities are based are currently very low. All these figures assume that people will be able to top up their income with the full state pension of £8,300 per year, but it's important to check what you're actually due as many people will receive less.
"While automatic enrolment is helping plug the pension gap for employees, many of us face a shortfall which won't go away on its own. The earlier you take steps to put a bit more aside, the better, and a good New Year's Resolution would be to ask your employer if they'd be prepared to match any increase you make with an increased employer contribution.
"Previously, many people planned their retirement around when their state pension would start and used their retirement fund at that age to buy a regular income for life. The pension freedoms introduced in 2015 have proved hugely popular and many individuals are dipping into their pensions, or even cashing them in entirely from as early as age 55, long before they reach state pension age. While this is an attractive option for those who can afford it, the more that's taken earlier, the less is left to maintain lifestyle in later years of retirement."
Notes to editors
*Figure 4.15 on replacement rates - https://www.gov.uk/government/uploads/system/uploads/attachment_data/file/668657/automatic-enrolment-review-2017-analytical-report.pdf
**These figures assume state pension age is 65 (it will increase gradually to 68 in future years) and that the individual will buy a single life annuity payable monthly in advance with no guaranteed period, increasing in line with inflation. The annuity rate used is the average of that offered by the three most competitive annuity providers from the Money Advice Service annuity rate tables on 21 December for someone in good health.
Further information
Jonathan Henderson
Head of PR
Aegon UK
jonathan.henderson@aegon.co.uk
Tel: 0131 549 3578
Mob: 07972 404 252
Neil Cameron
PR Manager
Aegon UK
Tel: 0131 549 3393
Mob: 07972 403 757
Stephanie Melrose
PR Manager
Aegon UK
Tel: 0131 549 6743
Mob: 07740 897 621
Teamspirit Public Relations
Tel: 0207 360 7877
Contacts: Nick Albrow
Email: nalbrow@teamspiritpr.com
Notes to Editors
In the UK, Aegon offers retirement, workplace savings and protection solutions to around two million customers and employs approximately 3,450 staff. More information: www.aegon.co.uk
As an international life insurance, pensions and asset management company based in The Hague, Aegon has businesses in over twenty five markets in the Americas, Europe and Asia. Aegon companies employ over 28,000 people and have millions of customers across the globe. Further information: www.aegon.com
The value of an investment can fall as well as rise and is not guaranteed. You may get back less than the amount originally invested
Protection policies don't have any cash-in value. Protection cover will cease if contribution payments are stopped.