Opting out of a workplace pension could cost you £542k
Aegon Press Team
Wednesday, 6 March 2019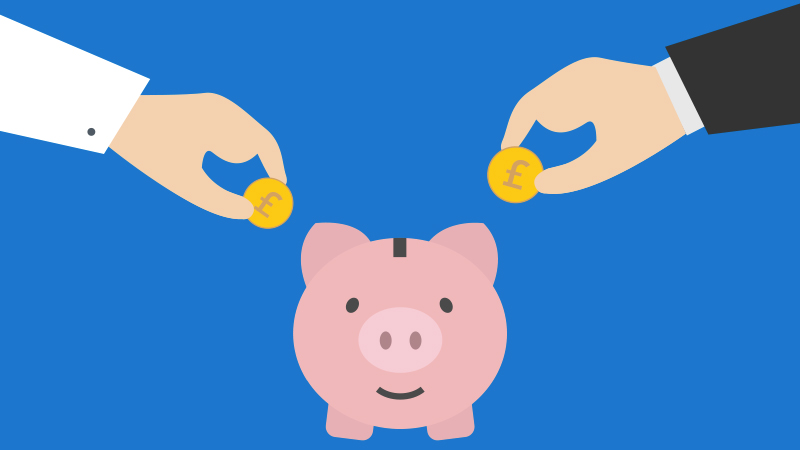 Auto enrolment minimum contributions are increasing for the second year in a row in April 2019 from 5% to 8%.
A 22 year old joining a workplace scheme could be £542k* worse off when they reach state pension age if they opt out next month and never rejoin.
As auto-enrolment minimum contributions are set to rise from 5% to 8% in April, Aegon analysis shows the cost of opting out of a workplace pension scheme
Since its introduction in 2012, over 10 million people have been automatically enrolled into a workplace pension**. Upon launch, the total minimum contribution level was set at 2% remaining at this level until April 2018 when it was increased to 5%. From 6th April, this will rise further to a level of 8%, incorporating a 4% employee contribution, 3% employer contribution and government tax relief topping this up by 1%.
However, although employees will benefit from an increase in 'free money' in the form of higher employers' contribution and government bonus, there are still some employees who will choose to opt-out out of their workplace pension. Government figures show around 9% of employees opted-out of their workplace pension for the financial year 2016/2017*** and whilst the rises in minimum contributions levels have not led to significant increases in opt out rates, those who do choose to withdraw stand to lose out considerably over the course of their working life.
A 22 year old joining a workplace pension scheme in April will currently receive their state pension at the age of 68 in 2065. Aegon analysis finds that this employee, joining the scheme on UK average earnings, will lose out on a fund of £542k by 2065 if they opt out of the scheme. As well as personal contributions, this fund would include their employers' contributions, government bonus and investment returns.
Kate Smith, Head of Pensions at Aegon, comments:
"Whilst retirement may seem distant for many young workers and is often pushed to the back of minds, choosing to opt out of a workplace pension can be a costly mistake. Immediate priorities such as saving for a house deposit will inevitably be the focus for those starting on the career ladder. However, young employees should not choose to forgo their pension contributions as they could stand to lose out on a significant pension pot if they fail to rejoin.
"From April 6th, an individual contributing £40 a month from take-home pay into their pension will receive a £10 bonus from the government, assuming 20% tax relief, and £30 from their employer. This brings the total amount going into their pension to £80 and the decision to opt out effectively means throwing away these benefits.
"Workplace pensions are beginning to turn around the UK's savings habits. For many employees, it is their main means of savings for retirement and we should applaud the role that auto-enrolment has played in this. However, for people to achieve the level of retirement income they aspire to they need to save more.
"The rise in minimum contribution levels for auto-enrolment is another step in the right direction for increasing long-term savings, but individuals need to understand that contributing just the minimum amount is likely to leave them with a shortfall in retirement."
References
*Aegon's calculations are based on a 22 year old missing out on 46 years of workplace pension savings (£541,875). The following inputs and assumptions are used for the calculations:
| | |
| --- | --- |
| Inputs and Assumptions | |
| Average earnings | £27,404 |
| A-E Offset 2019/20 | £6,136 |
| Assumed future earnings growth (%) | 3.4% |
| Assumed future investment growth (%) (5% investment growth reduced to 4.25% to allow for a charge of 0.75% per annum) | 4.25% |
| Assumed future growth in offset for a-e | 2.5% |
| Assumed contribution rate from April 2022 | 8% |
| Assumed date A-E offset ends | April 2025 |
**TPR, Automatic enrolment declaration of compliance: monthly report February 2019.
https://www.thepensionsregulator.gov.uk/-/media/thepensionsregulator/files/import/pdf/automatic-enrolment-declaration-of-compliance-monthly-report.ashx
***DWP, Automatic Enrolment evaluation report 2018, December 2018, p.57, https://assets.publishing.service.gov.uk/government/uploads/system/uploads/attachment_data/file/764964/Automatic_Enrolment_Evaluation_Report_2018.pdf
Further information
Samuel Woods
PR Assistant
Aegon UK
Tel: 0131 549 3987
Notes to Editors
In the UK, Aegon offers retirement, workplace savings and protection solutions to more than three million customers and employs more than 3,000 staff. More information:

aegon.co.uk
As an international life insurance, pensions and asset management company based in The Hague, Aegon has businesses in over twenty markets in the Americas, Europe and Asia. Aegon companies employ over 25,000 people and have millions of customers across the globe. Further information:

aegon.com
Aegon is a brand name of Scottish Equitable plc. Scottish Equitable plc, registered office: Edinburgh Park, Edinburgh EH12 9SE. Registered in Scotland (No. 144517). Authorised by the Prudential Regulation Authority and regulated by the Financial Conduct Authority and the Prudential Regulation Authority. Financial Services Register number 165548. An Aegon company.www.aegon.co.uk
© 2019 Aegon UK plc.