More than 450 Aegon employees in Edinburgh have received life-saving training
Aegon Press Team
Thursday, 26 September 2019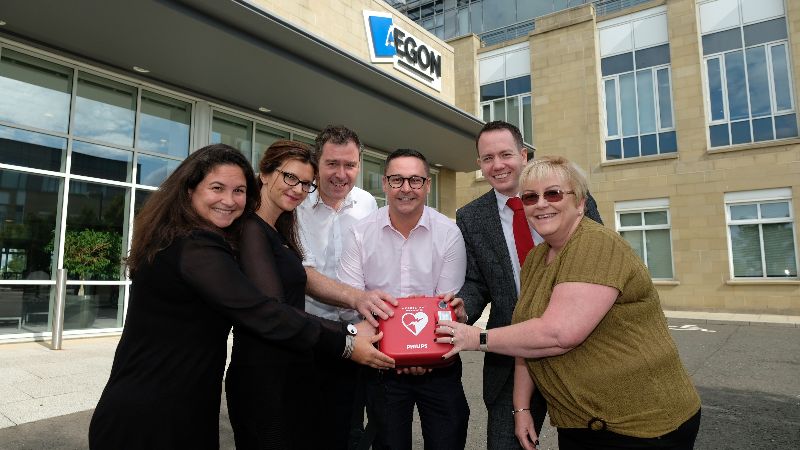 More than 450 Aegon employees in Edinburgh have learned lifesaving skills since 2013.
The British Heart Foundation (BHF) Heartstart UK course was delivered to employees by Sam Grieve, a Scottish Ambulance Service trainer, supported by a team of volunteers from BHF.
The training is designed to teach members of the public what to do in a life-threatening emergency. It focuses on emergency life support (ELS) skills that can help to keep someone alive until professional help arrives.
Aegon has offered Heartstart training to employees in Edinburgh since 2013. These include colleagues from AGT and Kames. In addition the business is looking to roll this out to as many other locations as possible.
Dougy Grant, a managing director and sponsor of Aegon UK's Workplace Wellbeing programme comments:
"As a business we are committed to ensuring our staff have the skills they need to help in a medical emergency in the workplace, at home and anywhere in between. We are delighted that so many of our employees are keen to learn lifesaving skills that can really make a difference. We've supported the Heartstart initiative for several years now and receive nothing but positive feedback from those who attend the training.
"We hope people will never need to put these skills into practice but now should the need arise they are prepared to do what they can to help."
Aegon is also equipped with defibrillators in the Edinburgh office, as well as units, or access to them, at all our other locations. Training on the use of the defibrillators is now incorporated into the First Aid at Work course, which is carried out by all Aegon appointed First Aiders.
Feedback on the training has been very positive.
Graeme Majury, a Regulatory Risk Manager at Aegon: "The training has given me the confidence to assist in any such situation should it occur. It's heartening to know you can really help someone if they need it."
Michael Crowe, senior solicitor at Kames Capital, says:""Very well run course and I would recommend to everyone. It provides a basic training on how to save lives and, viewed in that context, it was two hours of my life very well spent!"
Stephanie Melrose, PR Manager at Aegon: "The training was great. It was hands on and actually good fun. Having had a scare with my own son choking, I found that particular section of the training really helpful and reassuring. I've always worried about the 'what ifs' in that situation, but this training has given me the confidence to put what I know into practice should something like that ever happen again."
Ross Bradley, Head of Investment Support, Kames Capital, says: "For me it was the realisation when I drove past a road traffic accident that just happened in front of me, that I realised I had no clue on how to do the basic life-saving skills, and by luck later that week I saw that Aegon was offering the Heartstart training, so I jumped at the chance – training was excellent and gave me the basic knowledge that I didn't have before."
Further information
Stephanie Melrose
PR Manager
Aegon UK
Tel: 0131 549 6743
Mob: 07740897621
Notes to Editors
As with all investments, the value can fall as well as rise and isn't guaranteed. Customers could get back less than originally invested.
In the UK, Aegon offers retirement, workplace savings and protection solutions to over three million customers. Aegon employs around 2000 people in the UK and together with a further 800 people employed by Atos, we serve the needs of our customers. More information:

aegon.co.uk
As an international life insurance, pensions and asset management group based in The Hague, Aegon has businesses in over twenty five markets in the Americas, Europe and Asia. Aegon companies employ over 28,000 people and have millions of customers across the globe. Further information:

aegon.com
*Figures correct as of August 2019