Lurking inflation causing concern with consumers
Aegon Press Team
Monday, 12 July 2021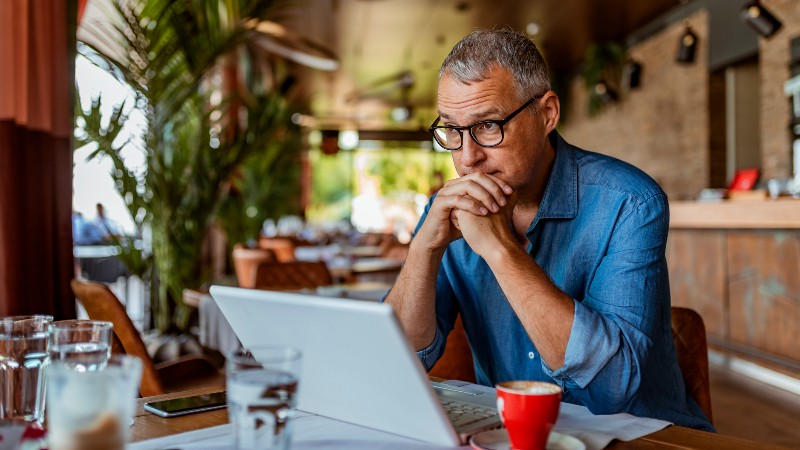 Lurking inflation causing concern with consumers – those with memories of the 1970s more than twice as likely to think about it.
The return of inflation is preying on people's minds with 70% concerned about how they'd be impacted by a rise and 82% expecting it to rise further in 2021
Older generations almost twice as likely to think about inflation
Three quarters (73%) are concerned about inflation eroding their savings, rising to 82% among over 65s
But worryingly, only one in four (24%) see rising inflation as a prompt to invest in stockmarket
According to research* carried out by Aegon, the threat of inflation is beginning to prey on people's minds, with 70% of people harbouring concerns about the affect of rising prices on them personally.
When asked whether they take an interest in inflation levels, those aged over 65 were the most likely to say yes (66%). In fact, they were almost twice as likely as those aged 18-34 to do so (34%). This is likely due to a combination of memories of the 1970s when inflation reached double figures, peaking at nearly 25%**, and also the number of older people on fixed incomes more susceptible to inflation.
The easing of lockdown restrictions and more spending opportunities has triggered a steady rise in inflation, with data from ONS showing consumer prices (CPI) jumping since the start of the year. New inflation figures are due this week but in the latest figures to May, the rate increased for the third successive month. At 2.1% it has already exceeded the Bank of England's target.
The risk to cash savings
While increasing inflation will be noticeable on the day to day purchases of goods and services, a spike in inflation is also setting alarm bells ringing for cash savers.
Three quarters (73%) of those in the survey are worried about inflation eroding the value of their savings. Again, this was the highest among the over 65s where 82% were worried.
When asked to consider the impact of inflation in a number of situations, from receiving a pay rise to taking out a mortgage, the rate of interest paid on savings accounts was top of mind with 67% of people.
With high inflation people will notice a dramatic decrease in their purchasing power over time and with interest failing to keep up with inflation, money left sitting in a savings account will also be impacted. Aegon's analysis below highlights that even with inflation of 2%, £100 will become worth £93 within five years on a savings account paying 0.5% interest.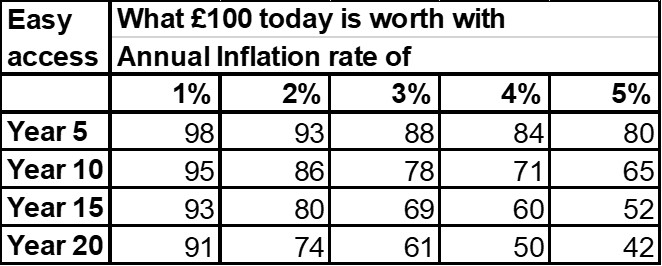 Table shows how the purchasing power of savings left sitting in a savings account paying 0.5% a year in interest will decrease over time at different rates of inflation.
The solution
While inflation can't be completely avoided, its impact on savings and long term finances can be minimised by planning and developing an investment strategy which invests some savings in investments likely to provide real or above inflation growth.
However, worryingly, less than 1 in 4 people said that they factor inflation into decisions around investing in the stock market. In the 35 to 54 age group, this fell to just 17%.
Steven Cameron, Pensions Director at Aegon, said:
"Over time, inflation eats into consumer's purchasing power by reducing the value of savings as prices go up, something cash savers need to be particularly mindful of. Keeping money in the bank typically earns interest, but if the interest rate is lower that inflation, you're effectively losing money. Interest rates are currently at historic lows, just scraping above zero, meaning any amount of inflation raises challenges.
"With inflation having been low for many years, it's been easy to forget the damaging impact of high inflation and what it means for our savings. But, as can be seen from the survey, inflation is now grabbing the attention of consumers, raising concerns.
"Those who are most at risk from an increase in inflation are people with large amounts in cash savings, particularly if these are unlikely to be needed short-term. People might want to take the opportunity to look at the option of investing some of their savings rather than keeping unnecessarily large amounts in cash, as this provides a more realistic chance of earning a real, above inflation rate of return."
References
*The 969 respondents who took part in this study were recruited through Aegon's customer and consumer panels. Fieldwork was undertaken in June 2021
** https://www.macrotrends.net/countries/GBR/united-kingdom/inflation-rate-cpi
Notes to Editors
In the UK, Aegon offers retirement, workplace savings and protection solutions to over three million customers. Aegon employs around 2000 people in the UK and together with a further 800 people employed by Atos, we serve the needs of our customers. More information: www.aegon.co.uk
Aegon's roots go back more than 175 years – to the first half of the nineteenth century. Since then, Aegon has grown into an international company, with businesses in the Americas, Europe and Asia. Today, Aegon is one of the world's leading financial services organisations, providing life insurance, pensions and asset management. Aegon's purpose is to help people achieve a lifetime of financial security. More information on www.aegon.com
Figures correct, January 2021