Key adviser takeaways from FCA's platform market study
Steven Cameron, Pensions Director
Wednesday, 27 March 2019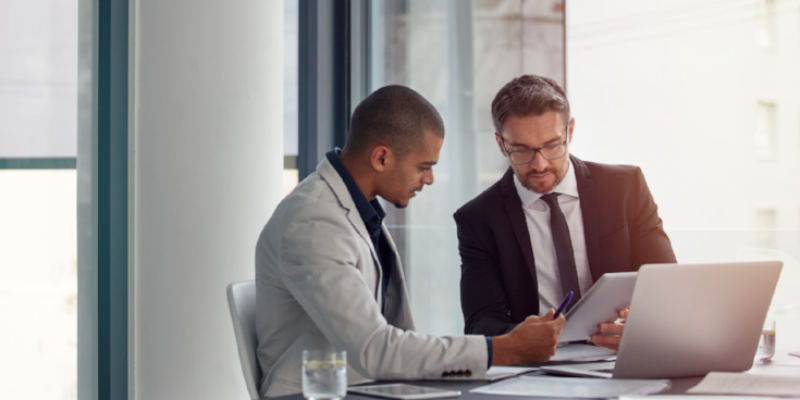 For intermediaries only
After 18 months of very detailed analysis, the FCA has now published its Investment Platform Market Study final report.
The key message I take from the report is that the FCA has found the platform market is working well and offering value for money to the growing number of savers and investors using platforms.
Last year's interim report was also positive, but identified a number of areas of concern, many of which related to non-advised customers. The FCA has since been investigating these and in most areas is now satisfied with the way the market is operating and isn't planning to introduce new remedies. There are, however, two areas where it's consulting further – in specie transfers and platform exit fees.
In this article I'll focus on the aspects of the study which are most relevant to advisers.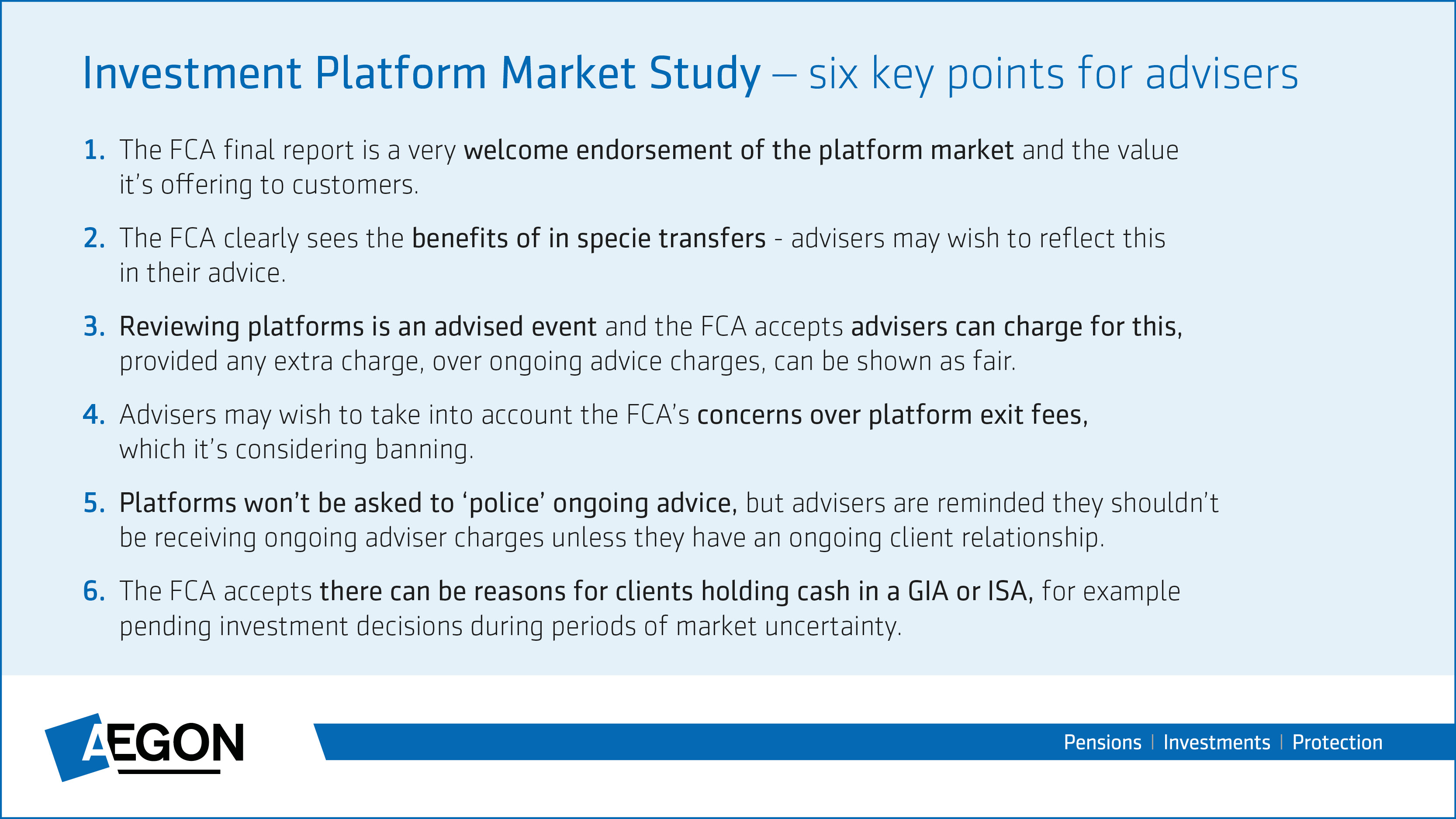 The growing platform market
The FCA recognises the platform market is fast growing. That's why it wanted to investigate it thoroughly. The fact that it hasn't seen the need to introduce regulatory remedies is a huge endorsement of the market and should give advisers further confidence in using platforms for both new and existing customers.
Shopping around
The FCA believes the platform market could make it easier for advisers and consumers to shop around, to compare costs and within this to understand interest rates and charges on cash holdings.
However, it's making no new disclosure rules here, reflecting improvements already underway as a result of MiFID II and because of an industry initiative looking at various aspects of disclosure, including charge labelling. The FCA will review progress in 2020/21.
Platform switching
The FCA has concerns over the time, complexity and cost involved for advisers and direct customers when switching between platforms. It believes this can discourage or remove the financial benefits of switching for certain customers and as a result restrict wider market competition which could drive improved value across the market.
In terms of the process involved in switching, the FCA has welcomed the industry-led STAR initiative (which we support) and hopes this will lead to improvements, speeding up the process and also improving communications to customers. It will review progress later this year and if necessary again in 2021. A speedier and clearer process should be good news for advisers as well as their clients.

The FCA also wants to make 'in specie' transfers more readily available, pointing to the benefits this approach has over cash transfers in avoiding being out of market or generating a tax charge. It's consulting on three aspects:
Offering all clients the option of an in-specie transfer if the same investment fund is available on the ceding and receiving platform.
Requiring the ceding platform to request the fund manager converts to the share class available on the new platform, provided this doesn't contravene prospectus terms.
Requiring the receiving platform to offer the customer access to any discounted share classes available to them.
Delivering on these objectives will require support from a range of industry players including fund managers. And while there may be times where cash transfers are more appropriate, making in specie transfers available to all will offer advisers more choice when advising customers on switching. Advisers may wish to build this into their advice processes where available now, rather than waiting for an implementation expected in July 2020. This likely future requirement may also prompt more platforms to allow conversions from bundled to clean share classes for advisers wishing to move to separate adviser charging or fees.
The interim report questioned why advisers don't more regularly switch existing clients to new platforms and also raised questions over whether it was appropriate to charge over and above ongoing advice charges when they did. In line with our lobbying, the final report accepts that advisers are entitled to charge for a review of platforms, noting this is an advised event requiring a suitability report covering the main changes to services. There are no new rules but a reminder that advisers must be able to demonstrate that charges on top of ongoing advice charges are fair.
The third platform switching aspect under discussion is the potential to cap or ban platform exit fees for new customers. The consultation paper includes discussion questions on how to define these, the scope of firms not within the FCA definition but offering similar services, and also whether a cap or ban would be best, with the FCA clear it currently favours a ban. If it decides to proceed with changes, it will consult later on draft rule changes. This is a clear indication that the FCA doesn't like exit fees on platforms, and advisers may wish to take this into account immediately.
Orphan clients - monitoring the ongoing provision of advice
The most controversial aspect of the interim report was the proposal that platforms would need to police if customers paying adviser charges were still receiving advice. The suggestion was platforms would contact customers paying ongoing adviser charges if there had been no platform activity for 12 months. Unless the customer confirmed they were receiving ongoing advice, the platform would switch off adviser charges and inform the FCA. We argued strongly that this wasn't the platform's role and contravened the underlying approach of the Retail Distribution Review which made clear that adviser charging was something agreed between adviser and client. We're particularly pleased that the final report accepts this and won't require platforms to carry out explicit checks. Instead, it reminds advisers that they must not take ongoing advice fees if they no longer have a relationship with the client, and to make the platform aware.

The interim report questioned if advised platforms offered appropriate support to orphan customers, noting that services can be reduced and charges increased when the client becomes unattached from their adviser. The FCA is now satisfied that advised platforms can continue to be appropriate for orphans, and specifically calls out the benefit of giving them options and help to find a new adviser. It also accepts that advisers reduce client servicing costs for platforms, meaning it may be reasonable to charge orphans more, but the FCA will be checking platforms to make sure any increased charges are fair.
Cash holdings
The interim report was concerned some customers, particularly non-advised, were holding overly high amounts in cash and that platforms were making significant profits from reduced interest or platform charges. The final report expects improvements in disclosures of interest rates and charges. The FCA found most cash on platform was in pension wrappers and it's looking at this through other reviews. For example, the Retirement Outcomes Review is consulting on new warnings and prompts for non-advised customers in drawdown invested predominantly in cash. But it has no significant concerns for cash holdings in GIA or ISA, as the data suggests such customers are engaged and are likely to have made a conscious decision to hold this cash. We welcome this – in times of market uncertainty, there can be very good reasons for advisers recommending clients hold cash on platform - ready to invest quickly when market conditions allow.
Inducements
The interim report caused some controversy by suggesting that some services offered by platforms to advisers might be against inducement rules. The final report steps back from this and concludes that platforms and advisers have a good understanding of inducement rules, but reminds firms to consider these.
Model portfolio labels
The FCA has concerns over the labels used by model portfolios, and the lack of consistency. It isn't making changes here but will look at the ability to compare model portfolios within its review of the effectiveness of the Financial Advice Market Review (FAMR) and the Retail Distribution Review later in 2019. We believe the objectives behind FAMR to close the advice gap were good, but it hasn't delivered its potential in practice. We're already setting out what we believe the FCA should cover here and see this as a positive opportunity for the advice market.
Conclusion
After a very thorough review of the platform market, the FCA has given it a largely clean bill of health with only two focused areas being consulted on further. It has decided not to progress some interventions which we believed weren't needed or potentially harmful to advisers. And the key area of focus, improving switching, should benefit advisers and clients alike.