Introducing the new Risk-Managed Portfolios
Aegon Investment Team
Tuesday, 21 July 2020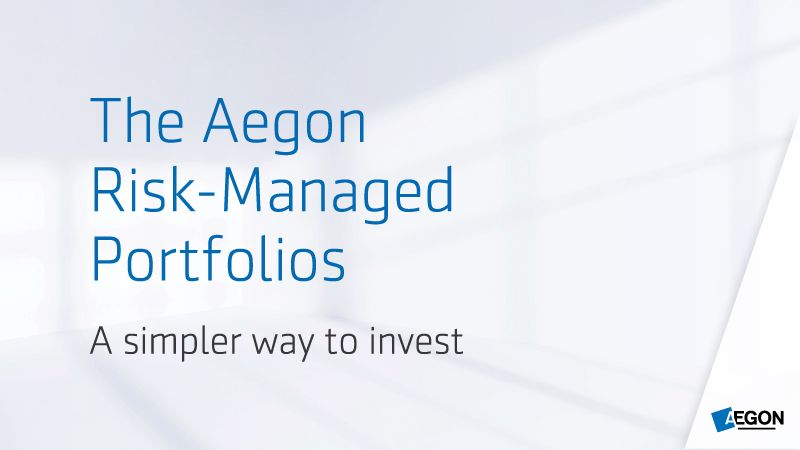 For customers only
We're delighted to announce the launch of our new Risk-Managed Portfolios. This is the first Aegon fund range available to pension, individual savings account (ISA) and general investment account (GIA) investors, meaning you can hold the same investment strategy in your pension as in your savings accounts. The range, which comprises of six multi-asset funds is available to Aegon Retirement Choices and Aegon Platform investors.
With an ongoing charges figure (OCF) fixed at 0.25% a year1, the range is designed to meet the needs of customers looking for a simple and value-focused means to grow their savings over the long-term. Each of the funds is managed to a different risk and return profile to reflect different investor needs.
We have more than 35 years' experience managing multi-asset portfolios for pension investors. And as at July 2020, we manage over £19.7 billion in multi-asset portfolios for over 1.1 million customers. However, the launch represents a new chapter for our investment capabilities that includes funds which can be held in a pension, ISA or GIA account.
The Risk-Managed portfolios are managed by Richard Whitehall, Head of Portfolio Management at Aegon who, alongside his team, works with Morningstar¹, award-winning investment specialists, to determine the optimal mix of investments for each fund. The portfolios' underlying investments are predominantly provided by BlackRock.3
The funds are designed to make investing easier by offering a whole investment portfolio in a single fund. They also come with governance built in to check the funds are performing as they should.
We believe the portfolios make a valuable addition to the wide range of investment options we offer.
There's no guarantee portfolio objectives will be met. The value of investments may go down as well as up and investors may get back less than they invest. If you are unsure if a particular fund, or switching funds is right for you, please speak to a financial adviser. Link Fund Solutions Limited (LF) is the authorised corporate director of the LF Aegon Risk-Managed Funds. This means they're responsible for the operation of the funds in accordance with the regulations.
Find out more on the Risk-Managed Portfolios.
Aegon Retirement Choices investor
Or contact your financial adviser.
1A platform service fee and transaction costs, plus financial advice charges (where applicable), will also apply.
2 Morningstar refers to the Morningstar Investment Management group which includes Morningstar Investment Management Europe Limited, an FCA regulated firm, which is the entity providing the advice.
3Asset allocation input provider and underlying fund managers can change.