How workplace financial wellbeing policies can help employees
Aegon Content Team
Friday, 11 February 2022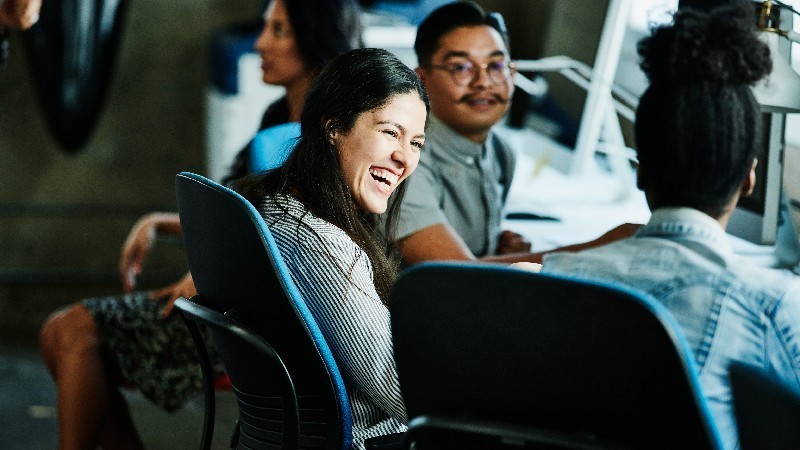 For employers only
3 minute read
Money worries and poor mental health often go hand in hand and can affect our ability to work.1 As employers, you can help your employees by making financial wellbeing core to your support framework – especially as current research shows that 29% of working-age people, with mental health problems, have been financially impacted since the pandemic.2
As most of us have some type of debt, which isn't necessarily always a bad thing (think mortgages for example), we've outlined some practical guidance for you to consider implementing in your workplace. You can also share this guidance with your employees, to help them handle their repayments.
Financial wellbeing in the workplace – managing debt 
Our research found that having the ability to manage debt can help improve our financial wellbeing.3
Financial wellbeing is feeling in control of our financial future and building a positive relationship with money. From our research, financial wellbeing strategies for debt include.3  
Keeping debt at a level we can comfortably pay, with our essential needs in mind.
Using long-term financial planning to manage and repay debt.
Thinking about how we see our future self living and making better decisions now to achieve that. 
Building a rainy day (freedom) fund to help pay for unexpected expenses.
Encourage your employees to read our Financial Wellbeing Index and to try our financial wellbeing tool and picture your best life tool.
Practical steps for employers
With these debt strategies in mind, you can begin building a financial wellbeing policy for your employees (recommended by the Chartered Institute of Personnel and Development) by following these four simple steps:
1. Signpost free, reliable services
Financial advisers have the knowledge, experience and the qualifications to help clients make plans for their future. Receiving help from a financial adviser, or workplace scheme adviser, can create peace of mind by removing the hassle and worry of managing personal finances.4
You can also tell your workforce about free, confidential and independent money and debt advice from the government's Money and Pensions Service. 
2. Make employee benefits easy to see and access
Highlight what your employee benefit package offers. Make debt advice and other financial support as easy, and stigma-free, to access as a company gym membership. 
3. Make it normal to talk about money worries at work
Begin a dialogue with employees and line managers about financial challenges and opportunities they face.
4. Go the extra mile 
Commit to paying the Real Living Wage.
Support in-work career progression.
Look at ways to improve and expand your benefits package.
Offer learning opportunities to teach employees financial education.
Offer payroll savings schemes. 
Scammers target those in debt – employers are a vital shield
You're well placed to take a wide and active role in protecting your employees' financial wellbeing. You have: 
Employees' trust when it comes to recommending free debt advice services like StepChange and the Money and Pension Service.
A communication and benefits framework to slot in financial education.
A route to teach large numbers of people.
Benefits platforms and other workplace tools to make it easier for employees to implement change.
Group protection policies, including mental health counselling and assistance that can help manage debts. 
Your employees can also visit our Keeping you safe hub, which provides handy online security tips. 
Next steps
To help you put this into motion, follow this checklist to help employees beat problem debt and improve their financial wellbeing:
Actively provide guidance and practical tools on how to manage financial wellbeing.
Signpost to debt and other financial advice services.
Embed positive money business practices, like paying for work expenses such as accommodation and travel upfront.
Train managers and HR staff on the causes and consequences of money worries.
Support employees struggling with their mental health and/or finances via good benefits schemes.5
Supporting the financial wellbeing of employees, including debt, is a win-win for both employers and employees. With better strategies to deal with debt, employees could regain a sense of self-worth and are likely to feel less stress and a greater ability to achieve and enjoy their job.
For more articles like this, visit our Employer Perspectives article hub.
Sources:
1. Debt and Mental Health: The Facts. Data source, Money and Mental Health Policy Institute, 2019. 
2. Closing the Gap. Data source, The final report of the Mental Health and Income Commission, February 2021.
3. How you can improve your financial wellbeing, page 32, 34, 38, 46. Data source, Aegon, Financial Wellbeing research carried out in August - September 2020, 10,466 respondents. Flipbook first published March 2021.
4. Why seek financial advice? Data source, Aegon UK, July 2019, 2000 respondents.
5. Money and Mental Health Problems: Breaking the Link, Money and Mental Health Policy Institute.