How will the coronavirus affect my company pension?
Nick Dixon, Aegon Investment Director
Wednesday, 17 June 2020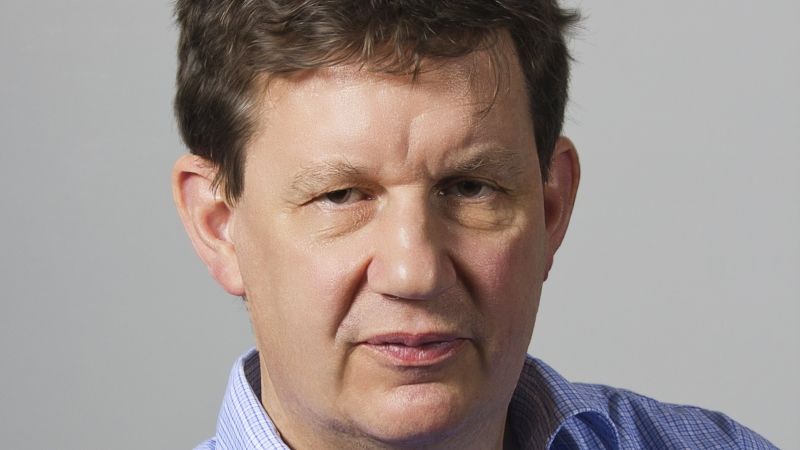 You may have seen news of financial markets falling worldwide. The coronavirus pandemic caused riskier types of investment like equities (company shares) to fall significantly in February and March this year. For example, over the three months to the end of April 2020, the FTSE All-Share (the UK's main market index) fell by almost -19%. We realise this is a concern as it has affected many people's pension savings.
However, most pension scheme members (over 90%[i]) are invested in their company's pension scheme default fund, so there's a good chance you are too, although you should check. If so, it's unlikely that you'll have experienced such a severe fall, especially if you're close to retirement. This is due to the design of pension scheme defaults.
It's also important to understand that, while markets have fallen in recent months, pensions are designed as long-term investments, and longer-term returns remain positive for most types of investment, with ups and downs along the way. However, past performance is no guide to future performance and it's very difficult to predict future returns.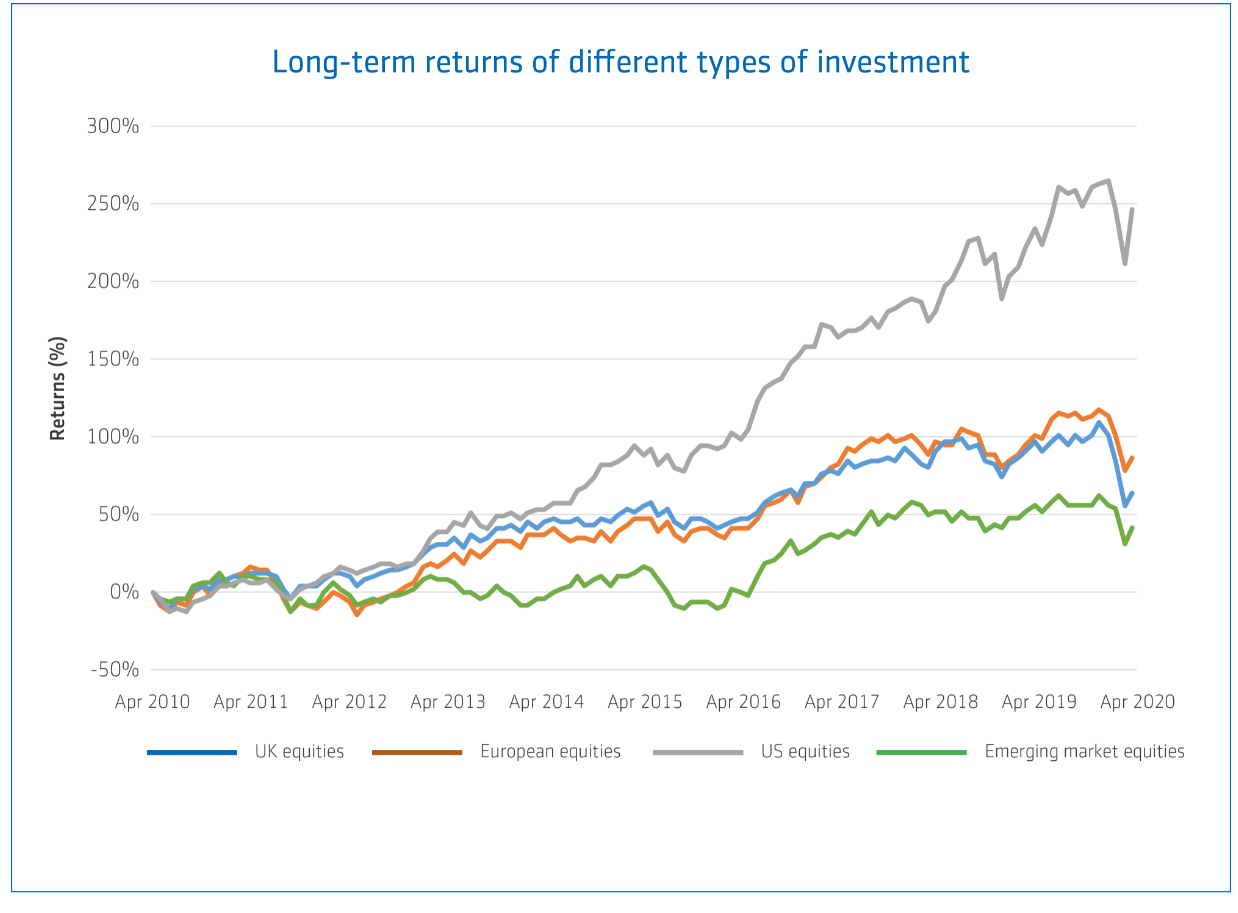 Source: Financial Express, produced by Aegon. Total returns for a selection of major market indices over 10 years ending 30 April 2020. Indices used were FTSE All Share (UK equities), FTSE World Europe ex UK (European equities), FTSE S&P 500 (US equities) and FTSE Emerging (emerging markets equities). You can't invest in these indices so the figures are for illustration only. They don't take account of charges. Past performance is no guide to future performance.
What is a pension scheme default?
A pension scheme default is a fund chosen by employers or trustees for pension scheme members who don't select their own fund. Anyone who doesn't choose an alternative fund, is automatically invested in the scheme default. Default funds are designed to grow members' pension pots when they're younger by investing in a mix of assets, including riskier assets such as equities. They then seek to prepare savings for retirement as it approaches by gradually changing the mix of investments, often into less risky assets, such as bonds and cash. You should bear in mind there's no guarantee they will achieve these objectives.
What if I am a long way from retirement?
While you're still some way off retirement, your default fund aims to build up your pension savings. This means you're likely to be invested in a mix of investments, with most in global equities (company shares) which have good growth potential but carry a greater level of risk. You'll probably also have some investments held in lower-risk bonds (loans to governments or companies) with lower growth potential and lower risk.
If we look at this sort of investment strategy using a mixed investment sector average as an example[ii], most tended to fall by around -8% in three months to 30 April 2020. While this is significant, it's important to remember that you still have a long way to go before you retire. As you've seen from the first chart above, markets will typically go up and down over the course of your working life. The important thing is that your pension pot still has time to recover before you'll need to use it.
The other thing to remember is that you and your employer will most likely be paying monthly contributions into your company pension. Your contributions will buy more shares at this time because they've fallen in value and are therefore cheaper. This means when markets recover, these contributions could help boost your retirement fund value.
What if I'm close to retirement?
If you're close to retirement, your savings are likely to either be moving into, or already in, lower-risk assets. What your scheme default moves into will depend on the outcome it's targeting. If you don't know this, you should look at the factsheet for your fund to find out, which you can find by logging in to your account.
Those aiming to buy an annuity
If you're aiming to buy an annuity, your investments will gradually move into long gilts (bonds issued by the UK government) and/or corporate bonds (bonds issued by companies) and cash as retirement approaches. We looked at the performance of a typical annuity retirement mix[iii] over the three months to 30 April 2020 and there had actually been an increase in value of almost 8% as long gilts rose. Depending on how close to retirement you are, there's a good chance that your fund value may have increased in value over this period, although there's no guarantee.
These funds are, however, designed for those who intend to buy an annuity at retirement. They're not designed for long-term investment as returns may not keep pace with inflation over time.
Those intending to remain invested (sometimes called flexible or drawdown target)
If you're in a scheme default that's targeting a flexible outcome, it's likely to be gradually moving into lower-risk investments in the final years before your retirement date. However, it may also include some higher-risk investments, such as equities, to help provide you with continued potential for investment growth.
At retirement it will most likely be invested in a more cautious investment mix, and these sorts of funds tended to fall by between -3% and -8% on average[iv] over the three months to 30 April 2020. These losses are likely to be near the lower end of this range for those investors at retirement and near the higher end for those farther away from retirement who may hold a greater proportion of riskier investments.
Designed to manage risk and return throughout your working life
Below you can see an illustration of the experiences of a typical pension investor in the growth and retirement phases (targeting either an annuity or flexible outcome) - the light blue bars show returns from 1 February to 30 April, which includes the period when markets were worst affected by the coronavirus, and dark blue bars show longer term returns (over five years, including the first four months of this year).
As we'd expect, those further away from retirement will have seen bigger losses recently, while those at retirement are likely to have experienced smaller falls and even gains depending on the retirement outcome they're targeting. In all situations however, over five years their savings have grown in these examples, despite the recent falls, although this is just an illustration and your experience may have been different.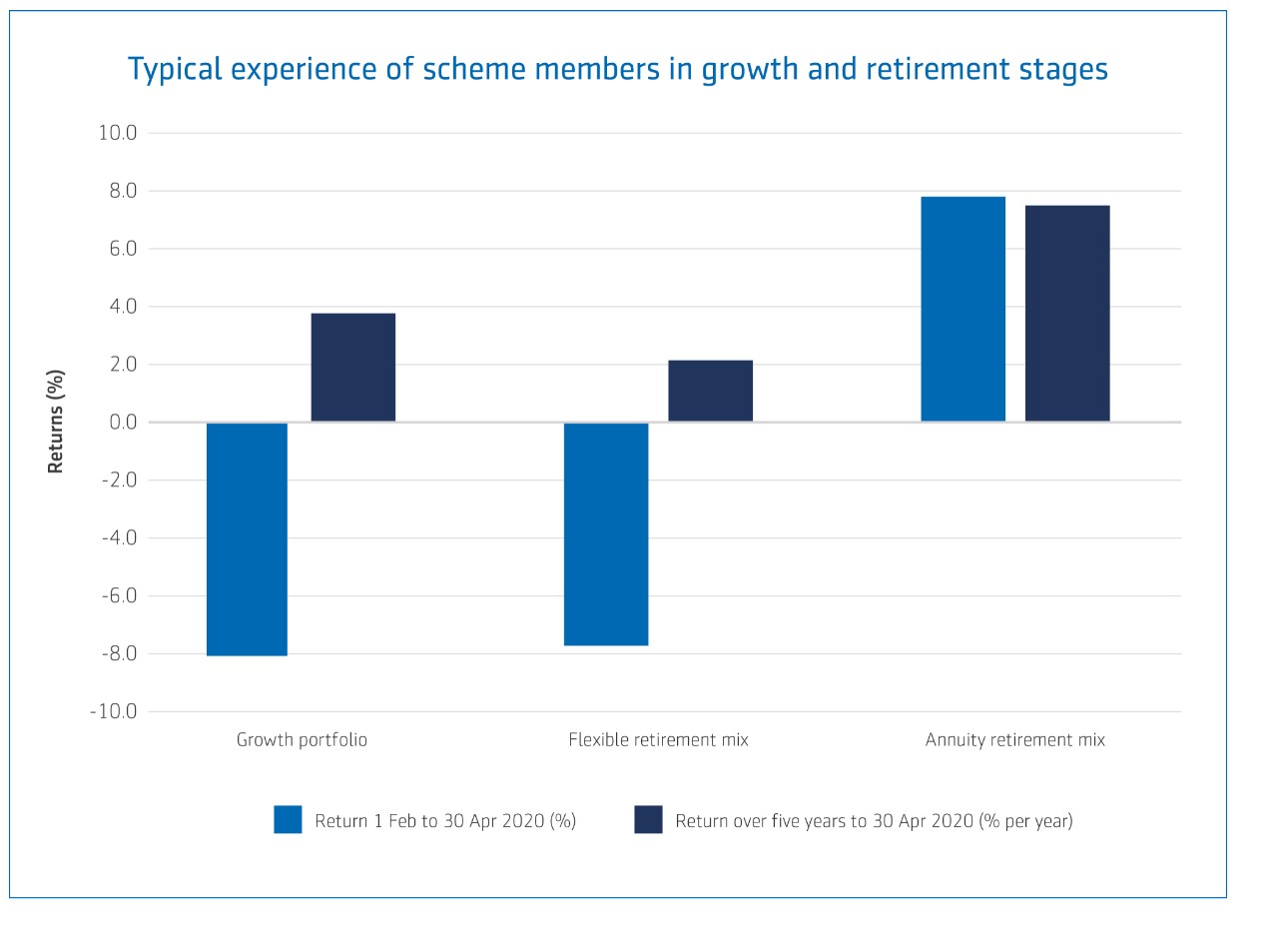 Source: Financial Express, produced by Aegon. Returns are in £s sterling net of charges for the periods shown. Five-year returns are yearly. We've used sector averages for the Growth portfolio and Flexible retirement mixes (see footnotes ii and iv). For the Annuity retirement mix we used indices minus a fund charge of 0.2% (see footnote iii). This is for illustrative purposes only. Past performance is no guide to future performance.
What if I'm not invested in my pension scheme default?
If you're not in your pension default fund, the effect on your pension will depend on the funds you're invested in, in particular the proportion in higher-risk assets like equities. Recent events have shown the benefits of having a well-diversified portfolio.
If you're getting close to retirement, you may want to take particular care as your savings will have less time to recover before you need to use them. If you're taking income this may make it even harder for your savings to recover. At times like these it may be better to supplement your income from cash savings if you have them.
What should I do?
Whichever fund you're invested in, decisions on switching, transferring and retiring should be taken carefully in times of significant market volatility like this. These decisions are best taken in conjunction with a financial adviser if you have one. If you don't, you can find one on the Money Advice Service website. To see how your company pension investments have performed, and what they're designed to offer, please take a look at the latest fund factsheet which you can find by logging in to your account.
Situations like this strengthen our belief in the benefits of diversification. And the more flexible you can be around when you take your benefits and how much you dip into your savings, the better. At some point markets will revert to a form of equilibrium again. Although it's difficult to predict when this will happen, those who resist the urge to panic may start to see some reward for their patience.
To find out more about the impact of coronavirus on savings, and how we're supporting our customers at this time, please go to our dedicated Coronavirus website.
We wish you all the very best of health for you and your families.
Important information
The value of investments can go down as well as up and isn't guaranteed. Past performance is no guide to future performance. The final value of your pension pot may be less than you and your employer have paid in. Figures are for illustrative purposes only, the performance of your fund may be quite different.
The information in this article is based on opinion, not fact. It shouldn't be taken as recommendations or advice.
[i] DC trust: pension return data 2019 – 2020, The Pensions Regulator. DC stands for Defined Contribution pensions where investors can choose which fund to invest their contributions in.
[ii] We used the ABI Mixed Investment 40-85% Shares sector average to simulate a typical default fund in the growth stage.
[iii] We used indices for this example, a mix of the FTSE Actuaries UK Conventional Gilts Over 15 Years Index and LIBOR GBP 1 Week Index of 75% and 25% respectively, minus a 0.2% a year charge.
[iv] We used the ABI Mixed Investment 0-35% Shares sector average and the ABI Mixed Investment 20-60% Shares sector average to simulate the higher and lower figures given in this range.