How to keep a remote team engaged in any industry
Aegon Content Team
Monday, 26 April 2021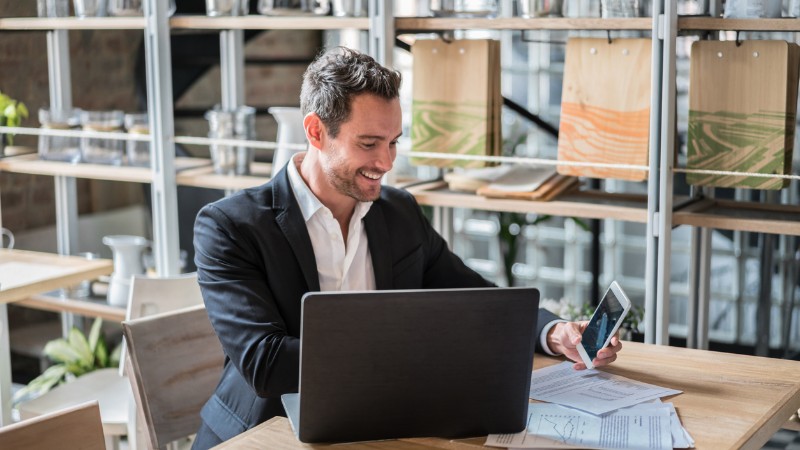 For employers only
Remote working used to be the exception rather than the norm. In recent times the pandemic has moved many industries online, so it's now more important than ever to make sure you keep your employees engaged with the business and their colleagues.
In fact, two in five (41%) workers in the EMEA region see the ability to work remotely as a pre-requisite for their job. Two thirds (64%) of those surveyed said their organisation is realising the benefits of being allowed to work remotely, and they don't anticipate going back to the way they worked before1.
Yet there are pros and cons to working remotely and one of the biggest difficulties is how to make sure your people remain engaged and feel like they're working together as a team, rather than being individuals who happen to work for the same company. So, here we outline five of the best ways to help make sure your team is fully engaged.
1. Work isn't all about work
This sounds obvious, but when you no longer have staff in a single office or workplace, that point can get lost in the physical distance between people. They can't have a chat with someone at the water cooler or go out for lunch together for an hour. So, make sure you create a way that your staff can have social downtime in their workday.
This could be by using TikTok or Instagram, depending on your social media policy, to allow your staff to connect, create and have some fun, or you could create a Netflix watching party one evening. Remember though, some staff are less inclined to want to be social butterflies, so make sure people know this isn't a requirement, because being told to have fun takes all the fun out of it.
2. Make sure employees feel listened to
You'll know which employees are most forthright in their views and happy to come up with suggestions, questions or queries in front of others. But some people are uncomfortable with an audience and prefer to speak to you one-to-one. So, make sure you give each person the time they need with you in the way that works best for them.
To ensure staff know you have heard their comments, try to act on anything that needs action within a reasonable timeframe. Any delay could lead to them thinking they are being ignored. Communication is key in any environment, but especially when people are working remotely.
3. Keep virtual meetings as short as possible
Just like an in-person group meeting, there is a point at which people switch off and are no longer listening or contributing. This is harder to gauge when you are online, but is equally important to judge. There will be times when the meeting needs to go on longer, but when you can, keep it short.
Be friendly, professional, but brief. Spending endless hours in online meetings is the quickest way to get to burnout in your team.
4. Use asynchronous video to communicate
Chances are, you might not have heard of the term 'asynchronous communication'. In a work context, the concept is about communicating and moving things forward without the requirement for people to be together at the same time.
In the age of Zoom, Teams and Google Meet, we're all intensely aware of the need to turn up for scheduled meetings to discuss a specific project or just have a catch up. But using video that you can send to everyone at the same time – and have them access it when it suits them – makes a lot of sense. It means people don't have to interrupt their workflow to catch up and can digest the content in their own time. Video communication specialists Prezi recommend the use of asynchronous video to work alongside other asynchronous work communication methods such as Slack and Microsoft Teams.
5. Do what you might have done in the office to engage staff
If staff are working remotely, there's no chance for the boss to buy everyone coffee or bring donuts to the office for everyone to share. But that doesn't mean you can't do something similar for them.
This could be as simple as arranging a delivery of cake to your employees from a bakery near their homes ready for a company tea-break, or getting involved with a virtual tiny campfire with all of the relevant items being delivered in advance ready for the team to take part at a set time.
Alternatively, send them something as a care package either as a one-off or on a regular basis. Companies such as Office Pantry or Wellbox offer these services.
Spending time to do things to keep your staff engaged when working remotely will help to build rapport between employees and help them feel part of the team, which ultimately should boost morale.
For more articles like this visit our Employer Perspectives article hub.
1 Remote Working No Longer a Perk, But Management Practices Need To Adapt to Manage 'Out of Sight' Employees – 2,850 EMEA respondents June to July 2020.