How to have a lavish Christmas on a budget
Aegon Content Team
Tuesday, 16 November 2021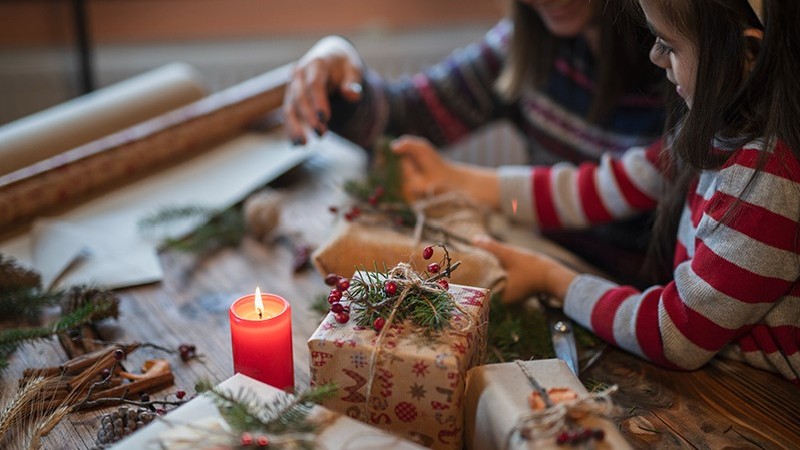 For customers
Christmas, for many, is one of the happiest times of the year. So much so, it can be easy to get carried away and spend money you don't have. Research by YouGov shows that in 2019, the year before the pandemic, the average person's festive cost added up to £1,116.1
This time last year, 41% of over-indebted and 42% of financially distressed UK adults said Christmas 2020 would increase their debt, compared to 15% of the general population who felt the same.2
Even if you do have money to spare at Christmas, there are additional ethical and ecological reasons to spend less. Every Christmas, UK households buy and dispose of six to eight million real Christmas trees.3 In addition, the total amount of food waste produced in the UK hits record highs over the festive period.
With expense and waste in mind, here are a few tips to help you have a lavish Christmas on a budget.
Remember the true meaning of Christmas
Christmas is about time spent with loved ones, not unnecessary presents. So set present limits, whether that's a certain number of gifts per person or a maximum spend. You could do secret Santa among a group of friends or family, so you only buy one gift each. Spending time together and organising activities instead of giving physical items is another option – a walk in nature, breakfast in bed or taking on a few of your partners' chores for example.  
Embrace minimalist living and reduce the amount you buy
A lot of us are already drowning in clutter, so really think about whether you and your loved ones need more 'things'. Putting cash into an investment or savings account could be worth a lot more to the recipient than yet more unwanted consumer goods. 
Or, simply asking friends and family what they would like for Christmas removes the risk of an unused or unwanted gift.
Try shopping local and looking for eco-friendly options 
Instead of the usual high street fare, buy thoughtful gifts from ethical, eco-friendly or local retailers, that have been produced sustainably.
Shopping local has many benefits, which includes supporting the local community, finding quirky and meaningful gifts, and being convenient – after all, it is on your doorstep. If your neighborhood has a Sunday Market, maybe now is a good time to check that out. Not only can you pick up gifts, but it will also make a lovely family outing. 
Get crafty with fun Christmas activities
If you have kids, you can get them involved and keep them busy while also saving money. You could have a go at making your own: 
DIY Christmas decorations and tree ornaments
Wrapping paper with unbleached or recycled paper and poster paints or material ribbons
Homemade Christmas crackers (using leftover kitchen roll tubes and wrapping paper, and you can easily add cracker snaps for the full effect)
Mince pies, iced biscuits, and Christmas cake
Table centrepiece or a wreath from foraged holly and pinecones
Framed photo collages to give as gifts   
Consider buying food in advance 
Buying food items in advance when you see a good deal and freezing and/or storing it could also help you avoid food shortages nearer to Christmas – and mean you potentially get a cheaper deal.
Avoid wasting food and money by planning how much food you actually expect to be eaten and just buying that, rather than impulse buying everything that looks tasty in the supermarket.  
Rethink how you send Christmas cards
Send e-Christmas cards or personal videos instead of physical cards – plus, this helps to cut down on waste. Sending out e-cards will also cut down on the costs of stamps, an expense that you might have not even considered.
Make use of vouchers and pre-Christmas sales 
In addition, collect coupons and vouchers to save money — there are extensions you can add to your web browser that search for money-off codes on every website you visit. 
Take advantage of pre-Christmas sales, such as Black Friday, to get the best prices on items you need. 
Plan ahead for next year
Buy heavily discounted sale items in January, from Christmas decorations to the next year's presents. Start a monthly savings pot for next Christmas so you can shoulder the cost more easily and avoid getting into debt the following year.  
There's huge pressure to have a 'perfect Christmas', however, you can still have a fantastic festive season with a Christmas budget. This way, you can go into the new year with your finances in good shape, without the festive hangover.
Sources: 
1 The average Brit spends £1,116 at Christmas? Data source, YouGov, 2019.  
2Covid-19 and the cost of Christmas 2020. Data source, YouGov, December 2020.
3Recycle or replant your tree for a greener Christmas. Data source, Department for Environment, Food and Rural Affairs, January 2020.