How to be more financially resilient
Aegon Content Team
Monday, 3 May 2021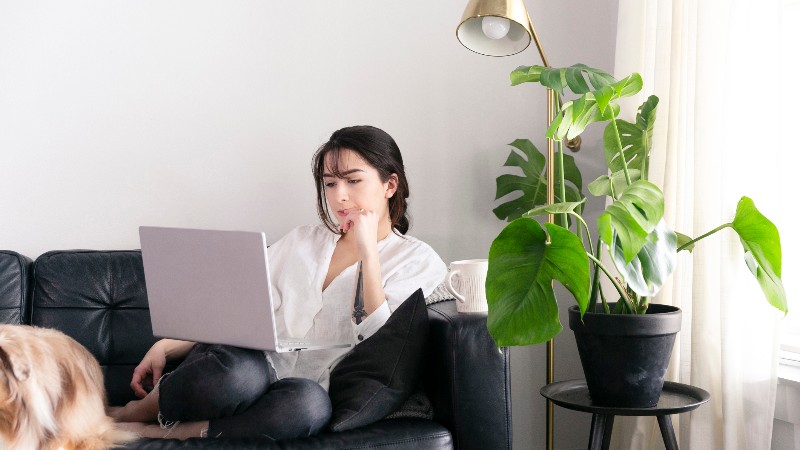 For customers
We all know money can't buy happiness, but who doesn't want to feel a bit more financially secure in life?
Resilience is the ability to bounce back from setbacks, adapting to and withstanding the ups and downs of life. When it comes to our finances – especially with all the uncertainty right now – this can be easier said than done. But it IS possible with a little know how.
Many people will have felt the effects of not having a financial cushion to fall back on recently. Our research found that four in 10 of us have less than £100 left at the end of the month1 and according to the Office National Statistics (ONS) around half of all families had no savings at all – or less than £1,500 in savings at the start of the pandemic2.
You might be wondering what a financial safety net really looks like. How much should you have behind you? And when you have the savings, where should you put them, so they work hardest for you? Let us break down how you could become more financially resilient. Remember, this article is not financial advice.
Work out your income and outgoings
The first thing to do is sit down with your bank statement (paper or online) and work out your income and outgoings. Ok, it's maybe not as exciting as sitting down to that hotly anticipated TV series you had on your list – but let's face it – the short time it'll take you to do this could save you some real financial heartache down the line. Your future self will thank you.
Take a look at what's paid into your account from your employer – or what you pay yourself each month if you're self-employed. This allows you not to overstretch yourself as it's the amount of income you have available to cover your outgoings each month.
Next, look at your outgoings and categorise them into essentials and non-essentials. Essentials will include things like your mortgage or rental payments, your electricity, gas and water bills, council tax – anything that you've no control over and have to pay for each month, no matter what happens.
Food and groceries will come into this category as you have to eat, but you do have some control over this because you're able to choose what you eat and which brands you buy. So, you may be able to reduce this cost by making different choices. This could potentially allow you to free up some extra money to put into your savings pot.
Non-essentials include those small luxuries such as takeaways, magazine or app subscriptions, gym memberships or on-demand streaming services. These are the things you could live without if you had to. They're often also items that you pay for but don't use – a gym membership is a classic example (for when they're open). We're by no means suggesting cutting these little luxuries out completely – everyone needs enjoyment and fun. But by categorising how much you spend, you'll be able to make more mindful choices, as well as having a clearer picture of how to reduce outgoings in any possible times of hardship.
Try to put three to six months' income aside
Our research found that a third of households don't have any emergency savings, which increases exposure to financial difficulties if the worst should happen1. A guiding principle the Money Advice Service recommends, is to put a minimum of three months' worth of income aside. This would help provide yourself with the financial resiliency you would need if you lost your job, or your hours were reduced.
For example, if your income is £1,500 per month and your outgoings are £750 then over a period of three months you would ideally need savings of a minimum of £2,250 to tide you over. Once you get there, you could try to double this amount if you're aiming to put six months' income aside for an extra buffer.
To determine exactly how much this would amount to for you, you need to understand your income and outgoings so you've a target to work towards that would give you financial flexibility and time to get a new job if you weren't working for a period of time. For many of us, this amount might seem initially overwhelming – the key is to save what you can based on your own personal circumstances. Getting into a regular savings habit can help.
Build your emergency savings pot
So, once you know what your income and outgoings are and where you can afford to save money, you'll be able to work out how to set that money aside.
You could then think about putting it somewhere that'll give you the best return. To make sure you can access these savings instantly, you could consider a cash account. Do your research. Price comparison sites can help you compare interest rates at a glance.
Consider investing additional savings you might build up
Once you've built up this pot, any additional savings you've available could be invested – but bear in mind that the value of an investment, and any income you take from it, can fall as well as rise and isn't guaranteed. You could get back less than has been paid in.
We recommend you speak to a financial adviser before making any significant decisions. These professionals can make sure you make the best investment choice which reflects your risk appetite. You can find a financial adviser through the Money Advice Service. A financial adviser is likely to charge for their service and should provide details of their charges upfront.
You could also use an ISA allowance which gives you tax-free interest. You can currently put up to £20,000 into an ISA each tax year – as of the tax year 2021-223. The value of any tax benefits will depend on your individual circumstances.
What if you have no savings?
Having little to no savings doesn't mean you can't protect yourself if you happen to become ill or get injured. Income protection insurance can help provide you with a replacement income if you can't work due to illness or injury.
While you'll be eligible to receive Statutory Sick Pay (SSP) if you're employed, this is only available for up to 28 weeks, paying £96.35 a week4. Would this be enough to cover all your outgoings and financial responsibilities? Even if your employer provides a higher level of sick pay in addition to SSP, income protection insurance could stop you having to dip into savings to cover your outgoings if you're unable to work for a longer period. If you're self-employed, you won't be eligible to receive SSP, so income protection insurance could help provide you with a financial safety net to see you through.
Again, speak to an adviser who can review your personal circumstances and help you make a plan if the unforeseen happens.
Even if you have no savings just now, it's not too late to create a financial plan. By putting a plan in place, it can help you consider your long-term savings plan, financial goals and how to achieve financial wellbeing.
The key takeaway? Save what you can
We never like to think about the worst happening to us or our loved ones, but there's always a chance something could go wrong. One way to limit the impact is to be prepared and having a financial safety net – no matter what that looks like – can help take the sting out of any challenges you might have in the future. Our financial wellbeing flipbook provides useful hints and tips to help you improve your financial situation.
For more articles like this visit our Customer Perspectives hub.
Sources:
1How you can improve your financial wellbeing, page 23 and 38. Data source, Aegon, Financial Wellbeing research carried out in August - September 2020, 10,000 respondents. Flipbook first published March 2021.
2Family Resources Survey Financial Year 2019-2020. Data source, Office National Statistics, Department for Work and Pensions, March 2021.
3ISAs and other tax-efficient ways to save or invest. Data source, Money Advice Service, April 2021.
4Statutory Sick Pay (SSP). Data source, GOV.UK, April 2021.