How seeking financial advice can boost your broader financial wellbeing
Aegon Press Team
Wednesday, 4 August 2021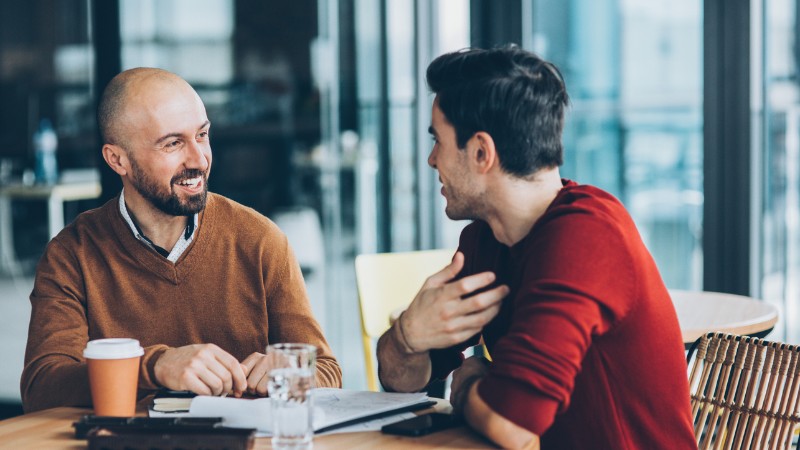 People with an adviser are four times more likely than those without one to have high levels of financial wellbeing
Aegon suggests people discuss with their advisers what makes them happy and gives them purpose to identify meaningful financial goals
Major new study from pensions and investment company Aegon UK identifies the impact of financial advice on financial wellbeing and recommends exploring your money mindset with your adviser.
The report reveals that just 10% of people who have never had any financial advice are fortunate to combine healthy finances and a positive money mindset, compared to 44% of those who have an ongoing relationship with a financial adviser and 23% who have occasionally used a financial adviser.
The report highlights that the biggest boost from having an adviser was on the 'money' aspects of financial wellbeing such as having an emergency fund and making smarter longer-term decisions. It also identified there was an impact on the 'mindset' aspect of financial wellbeing which includes knowing what gives people joy and purpose in life or having a meaningful picture of and connection to their future selves.
Advised clients report healthy finances
The report found that the average advised client reported nearly three times as much in pension savings at £246,000 compared to £95,000 for non-advised people. This pattern was repeated across a range of other finances with advised clients reporting total non-pension savings of £65,000 versus £32,000, and lower unsecured debt at £3,700 versus £6,400.
Financial wellbeing an emerging topic among advisers
The research also highlighted that advised clients score better on the mindset aspect of financial wellbeing. For example, just 9% of those without an adviser have a financial plan that stretches over 10 years, compared to 34% of advised clients. This is one of the reasons why 44% of those with an adviser said they had a concrete picture of their future selves compared to 29% of the population as a whole.
Many advisers now try to establish what really motivates their clients in order to build financial plans that enable them to achieve meaningful goals in life. 79% of those with an adviser say they have a clear sense of what gives them joy or purpose, which can significantly influence how people prioritise their finances, compared to 68% without.
Advisers can also help people feel good about the money they have rather than worrying about what others have. With a personalised financial plan, it's easier to determine whether you are making the progress towards your goals and this is partly why just 11% of advised clients say that they frequently compare their finances to those who are better off than they are versus 17% of non-advised.
At the moment, financial wellbeing is a relatively new topic and advisers are still finding ways to incorporate this thinking into their discussions with clients. Aegon expects the positive differences for those with an adviser will grow in the coming years.
Steven Cameron, Pensions Director at Aegon comments:
"Financial advice can make a significant difference to your future financial wellbeing.
"Advisers have always been very focused on making sure they can boost their clients' wealth. But the boost to mindset, while less well recognised, can be just as important to financial wellbeing. There is a growing awareness of the benefits of incorporating financial wellbeing into financial advice processes among financial advisers and planners.
"It's important for all of us to think about our relationship with money, our vision of our future self and most importantly what makes us happy in life. Discussing this with an adviser can make sure you are managing your finances not just to have 'more money' but to allow you to give your future self the happiness, joy and purpose you want in retirement."
5 things to help with your money mindset
1. What makes you truly happy?
Think about the experiences that gives you joy and purpose, in the past, now and in the future.
2. Do you have a clear image of what your future self is like?
With the help of your adviser try to create a concrete picture of your future self so you have something to visualise and aim for. Your future is not just a number on a pension statement or bank balance.
3. Who do you measure yourself against?
Consider any social comparisons you make and adapt them to more realistic and healthy financial role models.
4. Does your long-term plan reflect your purpose and your future self?
With support from your financial adviser, create financial plans with your ambitions for joy, purpose and future self in mind.
5. Get your family involved
The more information a financial adviser has about your wider family situation the better the advice and solutions will be. Get the rest of your family thinking about their purpose and future self from a young age and you will all be more likely to achieve your financial wellbeing goals.
Aegon's Financial Wellbeing Index
Aegon's Financial Wellbeing Index analyses financial wellbeing across the UK assessing both peoples' financial position and their money mindset. Based on data from 10,000 respondents and more than 1.3 million data points, Aegon's Financial Wellbeing Index places a greater focus on long-term financial matters than previous studies in this area.
The index is comprised of 5 sections on money and 5 sections on mindset. In each section respondents were asked a series of questions, the answers to which gave them a possible score of 0-10. In total there were 100 points available and each section was given an equal weighting. Where people lived and the average earnings in their area were taken into account to adjust for regional disparities in earnings and to enable Aegon to draw conclusions about the wellbeing of people in different locations.

References
* The Financial Wellbeing Index was based on a representative survey of 10,000 people across a range of sectors, company sizes and job roles, carried out by Aegon UK.
References
* The Financial Wellbeing Index was based on a representative survey of 10,000 people across a range of sectors, company sizes and job roles, carried out by Aegon UK.
Further information
Stephanie Melrose
PR Manager
Aegon UK
Mob: 07740897621
Notes to Editors
In the UK, Aegon offers retirement, workplace savings and protection solutions to over three million customers. Aegon employs around 2000 people in the UK and together with a further 800 people employed by Atos, we serve the needs of our customers. More information: www.aegon.co.uk
Aegon's roots go back more than 175 years – to the first half of the nineteenth century. Since then, Aegon has grown into an international company, with businesses in the Americas, Europe and Asia. Today, Aegon is one of the world's leading financial services organisations, providing life insurance, pensions and asset management. Aegon's purpose is to help people achieve a lifetime of financial security. More information on www.aegon.com
Figures correct as of January 2021.