Get your younger employees engaged with their pension
Aegon Content Team
Wednesday, 27 January 2021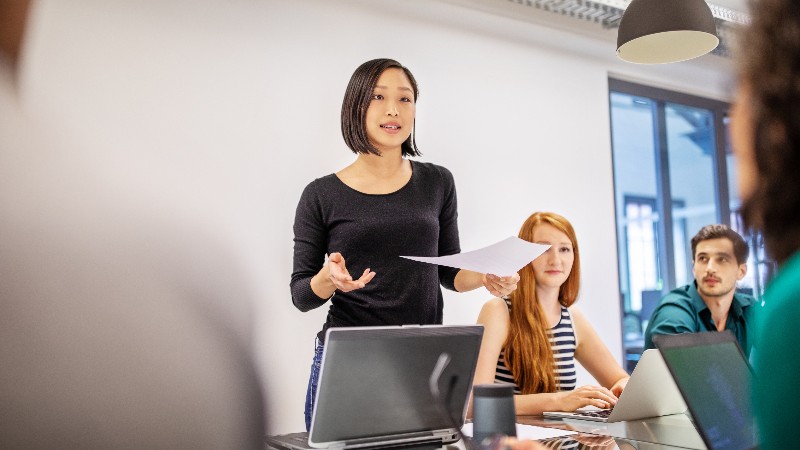 For employers only
When decisions or actions need to be made about something that's a long way into the future, and not affecting us right now, we often take the path of least resistance and put it off to another day. For some of us that day never comes, or simply comes too late to do anything meaningful about it.
The same could be true when thinking about your younger employees and their approach to retirement – both the decisions and planning around it and of course the saving that's required.
Young people often ignore retirement, because let's face it, it seems so far away and there's often other equally pressing priorities to contend with. Getting on the property ladder, paying off student debt – or even saving for next year's holiday.
This often comes at the cost of setting money aside for a future that seems distant. Some might never have been taught the importance of planning ahead for future financial security or how to do it.
Getting less experienced members of your workplace scheme thinking about their retirement years might feel like a daunting challenge – but by working to engage them – you could help improve their overall future financial wellbeing. After all, you make a significant financial contribution into their workplace pension, so it's important everyone is aware of the benefits of what they're receiving.
Provide basic pension and broader financial education
A lack of knowledge often contributes to a lack of engagement in planning for retirement. However, employers can help plug this gap to help younger employees build the knowledge they need to become more engaged in their workplace pensions. It all starts with a more robust understanding of how planning ahead is crucial for building a financially secure future.  
If you work with a financial adviser, invite them to come in and talk to your employees about your workplace scheme and the benefits it offers. They especially need to understand how your employer contributions and the potential for matching contributions can boost their retirement savings and help them reach their goals without any extra personal effort. Often, it's a case of bringing the benefit to life that helps people understand it better.
Information around your workplace pensions should be communicated to employees during not only their induction process, but at regular times throughout their employment. It could include a simple pension pack, printed or online that explains everything clearly and points employees to sources of more information for support.
Remember, advisers can help with so much more than just retirement. Employees also need to know that they can balance saving for the future with saving for more immediate needs so they don't just become disenfranchised.
If employees can reach out for help with money management, debt and borrowing and insurance – on top of building their retirement knowledge – this could help bring a better sense of financial wellbeing to them, which in turn could help reduce any looming financial stress. 
Make it easy to contribute 
As you'll know, auto enrolment has made it easier for the majority of UK workers to be part of a workplace pension. Under the Pensions Act 2008, every employer in the UK must put certain staff into a pension scheme and contribute towards it. 
However, employees could build more robust retirement savings if they are able to afford to make additional contributions. By making those contributions directly from their pay cheque means they're likely to not miss the money as much and could save in a tax efficient way. We'd recommend they speak to a financial adviser before making any changes – they can find one through the Money Advice Service.
Double check your payroll arrangements to make sure your business has the systems in place to allow employees to contribute to their pension accounts by salary sacrifice or net pay. Work with your adviser and payroll team to understand the ways in which you could offer your employees different ways to contribute. 
Consider providing more than the minimum amount
Younger employees are likely to get more engaged with their pension schemes when they understand that if they don't, they might be giving up 'free money'.
UK employers are required to make minimum contributions to their workplace pension schemes –  but by contributing more than the required amount – you could be offering a really attractive benefit. If this is something you already offer, make noise about it. It's likely to be a significant financial investment.
If you offer matching contributions – check that that all your scheme's members understand that with matching contributions available, when they don't contribute enough to earn the full match, they might be missing out.
Where and when you should talk about pensions
At a time where many people and business are under extra pressure – Reaching out in the right place and at the right time is key.
Take small steps at first, little and often is better at least initially when it comes to engaging younger employees with financial topics to keep it top of mind. Once you've established regular communications, think about hosting special virtual awareness events – this could be where you bring in financial advisers for education to host webinars.
If you have all colleagues normally on one or more permanent sites, once they return to the office you could use posters and other tangible materials to highlight the pension benefits on offer, or even advertise events. For colleagues permanently out on the road or permanent home workers – video calls or even pre-recorded videos can work well.
One thing to remember is to try to avoid running pension awareness events during the summer holidays or in December, as most people will have other things on their minds at these times.
If there's something you're asking them to do by a certain date – start to tell them about it early. Giving time and space to consider and make decisions is important.
As an employer you're in a powerful and trusted position to help improve the knowledge and longer-term financial position of the younger members of your workforce.
By starting earlier, younger employees have more time to save and build their pensions for a more financially secure retirement. From recruitment to retirement – early education, long-term planning and regular actions will help your employees on the path to a hopefully brighter future. Everyone benefits!
A solid plan for your financial future is an important part of financial wellbeing.
Learn more about the importance of achieving healthy financial wellbeing.