Financial optimism higher among those who've received a coronavirus vaccination
Aegon Press Team
Wednesday, 21 April 2021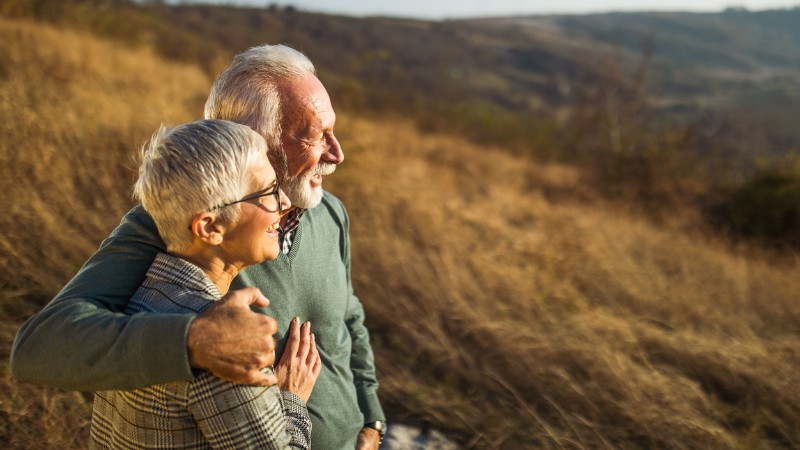 48% of those who've received a vaccination believe now is a good time to invest, versus 39% who haven't
Just 23% of those who've received a vaccine are worried about their financial situation versus 30% who haven't
Proportion of population that are optimistic about their finances at its highest level since the start of the pandemic
Aegon's Health and Wealth Tracker*, which has been running since the start of the pandemic, has found that those who've received a coronavirus vaccine have also received an injection of optimism when it comes to their investments. 48% of those who've been vaccinated believe now is a good time to invest in their pension, versus 39% who have not.
Those who'd been vaccinated were also less likely to be concerned about their financial situation, with just 23% reporting concerns versus 30% of the broader population.

The March 2021 Health and Wealth Tracker was the twelfth set of research Aegon has run and over the last year it has collected responses from nearly 18,000 people. The latest figures showed that people are more optimistic about their health and wealth than at any time since the start of the pandemic.
Across the population as whole just 34% of people say they are concerned about their health today, versus 47% in March 2020. Similarly, just 25% are concerned about their financial situation compared to 39% a year ago. 12% of people said they would increase their pension contributions in the next six months, up from 7% a year ago.
While less worried about their personal circumstances, there has been only a modest improvement in sentiment towards the economy as a whole with 79% saying they were concerned about the outlook, down just 4% from 83% in March 2020.
Commenting on the findings, Steven Cameron, Pensions Director at Aegon said:
"The vaccine programme appears to have given many people a sense that the end of the pandemic may now be on the horizon. This is particularly true for those who've now benefited from the roll out in action and received a vaccine and a level of protection against the virus. This also appears to have provided an injection of financial optimism, both about now being a good time to invest and also about their financial situation as a whole.
"While optimism levels are particularly high among those who've received a vaccine, there have been big improvements in sentiment on nearly every measure since last March and even since December. With fewer people worried about their finances and their health, we could be on track for a bumper summer of spending if life returns to anything near normal in the coming months."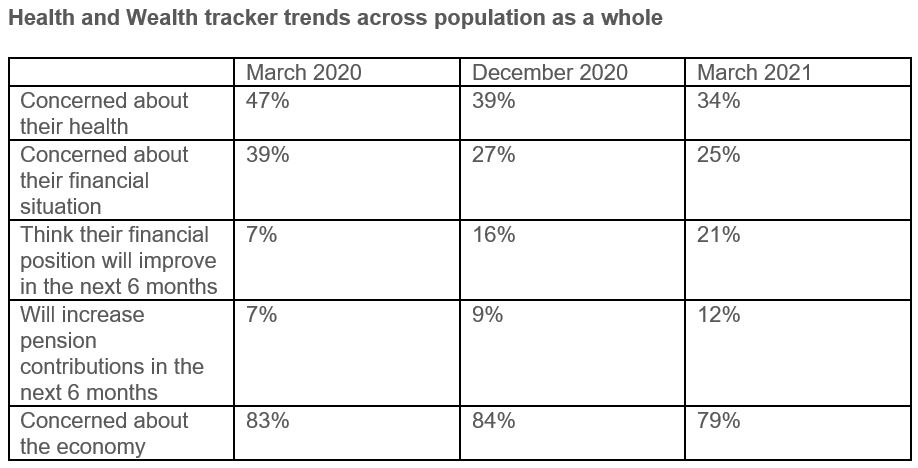 References
*Research undertaken monthly among Aegon's customer panel since March 2020. 17,920 responses in total. 1,315 responses in March 2021.
Further information
Jonathan Henderson
Head of PR
Aegon UK
Jonathan.Henderson@aegon.co.uk
Notes to Editors
In the UK, Aegon offers retirement, workplace savings and protection solutions to over three million customers. Aegon employs around 2,000 people in the UK and together with a further 800 people employed by Atos, we serve the needs of our customers. More information: www.aegon.co.uk
Aegon's roots go back more than 175 years – to the first half of the nineteenth century. Since then, Aegon has grown into an international company, with businesses in the Americas, Europe and Asia. Today, Aegon is one of the world's leading financial services organisations, providing life insurance, pensions and asset management. Aegon's purpose is to help people achieve a lifetime of financial security. More information on www.aegon.com
Figures correct, January 2021