Does the 'Santa rally' really exist?
Aegon Investment Team
Wednesday, 18 December 2019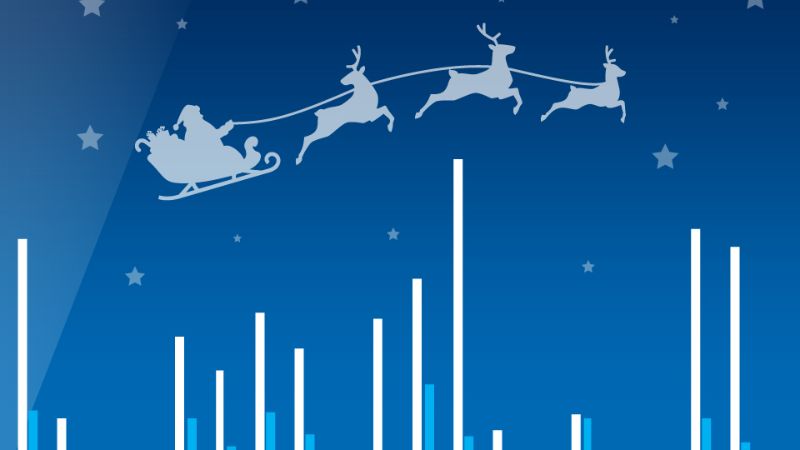 This communication is for intermediaries only. It mustn't be distributed to, or relied on by, customers.
December is often the most wonderful time of the year for investors. The 'Santa rally' describes a festive upswing in stock market performance in the month of December. The FTSE 100 has had positive returns in 25 of the last 30 Decembers, beating the annual monthly average 77% of the time, and averaging a jolly 2.3%.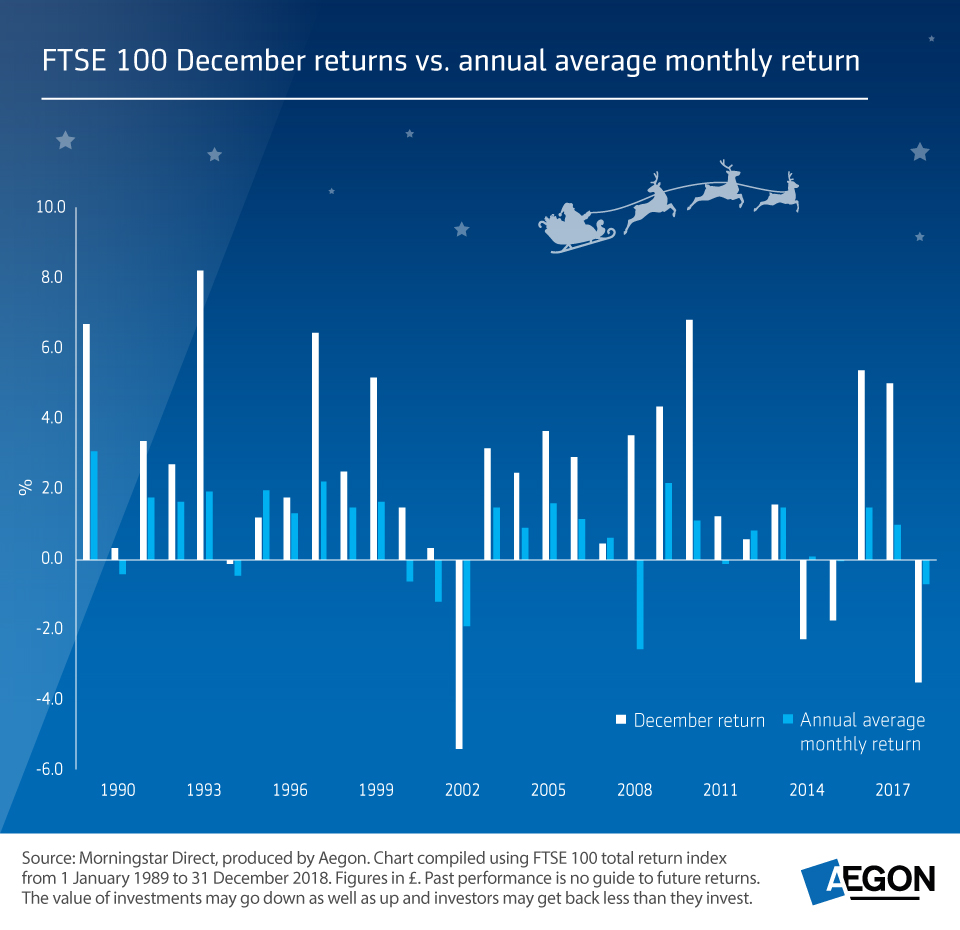 Why, in what is typically a quiet time for companies reporting their results, does this phenomenon happen? Clearly, festive magic is at play. As Santa's sleigh circumnavigates the globe, a trail of magic dust falls on the world's stock markets. Or does it?
Sadly, the Santa rally is not consistent across markets. Looking at the longest periods for which we have data*, there are clear signs of Santa magic in the US and Europe, both beating the annual monthly average 63% of the time; but the average performance is less pronounced than the UK. Japan has enjoyed some very merry Decembers, beating the average 81% of the time, while emerging markets have only done so only 56% of the time. Knowing that Santa doesn't favour one nation over another, the magic dust theory may have holes...
Wise men and women attribute the upswing to fund managers exploiting the quieter holiday period to readjust their portfolios - buoyed by festive optimism and good cheer, large volumes of stock are traded. This might explain why the rally is less evident in some markets that don't celebrate Christmas to the same extent as the West.
Will Santa come to town this year?
While the FTSE 100 enjoyed a record high at the end of 2017 with a 5% rise in December, the 2018 Santa rally was conspicuous by its absence. December 2018 cemented the worst year for the FTSE 100 since 2008; and in the US, December recorded the biggest monthly loss for the S&P 500 since February 2009. Such humbug performance was attributed to concerns of economic slowdown, US interest rate hikes, and wavering US China trade negotiations.
So will it be good tidings or another lump of coal this year?
Tim Orton, Managing Director at Aegon, notes: "The market concerns in 2018 are still very much at play – trade tension, slowing economies, and Brexit with this year's addition of an election – the outcome of which will undoubtedly impact the FTSE 100's performance in December.
"However, we believe investors have over-reacted to the heightened uncertainty in the UK. Santa therefore may favour UK assets and, here at least, the festive mood may well prevail. Conversely, after an extended period of fairytale performance in the US market, Santa may worry about valuation risk and could clip back his US exposure.
"While this December may be volatile, both we and Santa must take a long-term view to invest successfully. Even if Santa fails to make an appearance this December, investors shouldn't let it dampen their festive spirits."
Past performance is no guide to future returns. The value of investments may go down as well as up and investors may get back less than they invest.
*Source: Morningstar Direct, figures to end December 2018. Data for FTSE 100 from 1 January 1986, S&P 500 from 1 December 1984, Euro Stoxx 50 from 1 January 1987, Nikkei 225 Average from 1 September 2003, and MSCI Emerging Markets from 1 January 2001.