Crypto boom may have affected young people's perceptions of investment risk
Aegon Press Team
Wednesday, 10 November 2021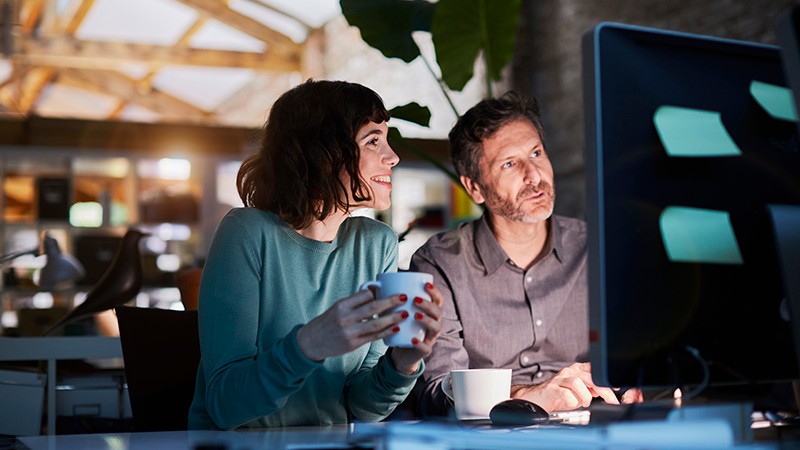 Proportion of people expecting an annual investment return over 10% significantly higher among 18-34 year olds
However, younger groups are only marginally more willing to accept volatility in their investments
Nearly half of 18-34 year olds hold some kind alternative investment, with 22% owning cryptocurrencies
New research* from pension and investment provider Aegon highlights that younger people have higher expectations regarding investment returns. Across the age groups people thought an annual investment return of just under 6% was reasonable. However, among 18-34 year-olds this figure was notably higher with 19% expecting returns above 10%, including 7% who thought annual returns of 15% or more were reasonable.
People's expectations about investment returns fell with age and just 6% of over 65s expected returns above 10%. In part these figures may reflect investment time horizons between younger and older savers. For example, in pension savings, young savers should be invested in growth assets while older savers approaching or in retirement will typically be looking to reduce volatility which limits likely returns.
However, another possible explanation is the recent trend towards cryptocurrencies and the online trading boom** that followed the start of the pandemic. The research found that nearly half of younger people (47%) held alternative investments, which included 22% who had invested in cryptocurrencies. Returns on many cryptocurrencies and so-called 'meme-stocks' have been dramatic, but have often been accompanied by significant volatility too with the FCA warning*** that anyone investing in this way must be prepared to lose all their money. Among 35 plus age groups no more than 20% of respondents held alternative investments.
Aegon's research suggests younger investors may have unrealistic expectations regarding mainstream investments and should go in with their eyes open to the possibility of extreme volatility and potential total loss of savings when investing in high risk assets.
Interestingly, while young people expected higher returns, they were only marginally more willing to accept losses than older generations. Across the population, 49% of people said they would accept losses of between 1-5% in the value of their investments each year in return for long-term gains. However, only 14% said they were willing to accept an annual loss of 10% or more and just 16% of those aged 18-34 said they were willing to accept such a fall, suggesting that loss aversion is fairly equal across the generations.
Steven Cameron, Pensions Director at Aegon said:
"Interest in cryptocurrencies has increased dramatically in recent years. However, for every individual who has made a profit, there are many who have lost money due to the frequent big swings, both up and down, which many of these assets have experienced. Our research suggests that younger people expect higher investment returns than older generations, and this may be a result of almost half of 18-34 year olds holding some kind of alternative investment. We'd strongly encourage people to take advice or at least do some careful homework before making any investment and consider how much risk they can afford to take on. The FCA's warning that anyone investing in cryptocurrencies should be willing to lose all their money was stark and people need to differentiate money they can afford to lose from the money that will be the basis of their life savings."
References
*Aegon consumer panel research among +1000 UK adults August 2021
**https://www.ft.com/content/630c225a-5b78-4eef-aecf-f5a4c95276d1  
***https://www.fca.org.uk/news/news-stories/fca-warns-consumers-risks-investments-advertising-high-returns-based-cryptoassets
Further information
Jonathan Henderson
Head of PR
Aegon UK
jonathan.henderson@aegon.co.uk
Notes to Editors
In the UK, Aegon offers retirement, workplace savings and protection solutions to over three million customers. Aegon employs around 2000 people in the UK and together with a further 800 people employed by Atos, we serve the needs of our customers. More information: www.aegon.co.uk
Aegon's roots go back more than 175 years – to the first half of the nineteenth century. Since then, Aegon has grown into an international company, with businesses in the Americas, Europe and Asia. Today, Aegon is one of the world's leading financial services organisations, providing life insurance, pensions and asset management. Aegon's purpose is to help people achieve a lifetime of financial security. More information on www.aegon.com
Figures correct, January 2021