Coronavirus: what investors need to know
Invesco
Monday, 18 May 2020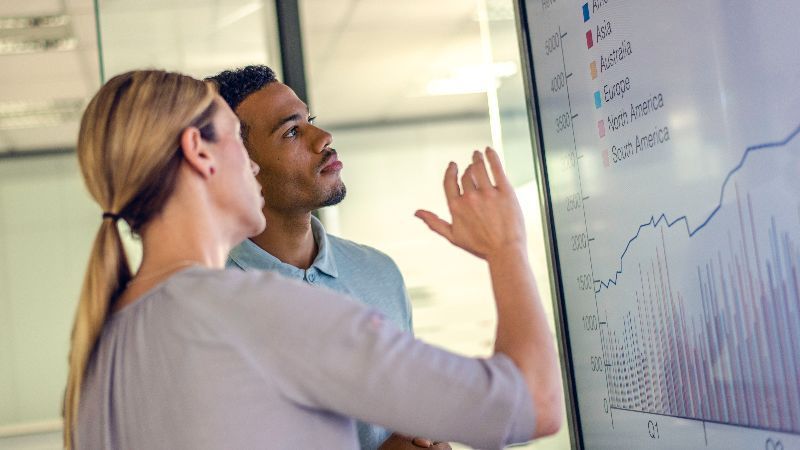 For intermediaries only
In this article from Invesco, they take a look at investing over the long term in the context of previous market disruptions.
Over the past few months, fear of the impact of COVID-19 on the global economy has significantly impacted financial markets, forcing some of the biggest falls since the Global Financial Crisis in 2008/09.
Market reaction
Investors initially began reacting to the coronavirus spread in late February, with a sharp equity sell-off and a rush towards less risky assets, such as government bonds and gold.
Key drivers of market movements included:
A slowdown of economic activity as entire countries went into 'shutdown', leading to fears of a global recession
Falling consumption, which has damaged many businesses, resulting in profit warnings, cancelled dividends and rising unemployment
A dramatic fall in the oil price due to a continued, steady supply of oil, despite a considerable drop in demand
Concerns that key central banks, such as the US Federal Reserve and the Bank of England, are running out of influence, since interest rates are already close to zero for many
Scientific data suggesting that the COVID-19 crisis is still far from over, and will continue to affect economies and financial markets for some time
In response, key central banks announced emergency stimulus plans, governments pledged fiscal support and the US equity market 'circuit breaker' (a brief pause in trading to halt a large-scale sell-off) was triggered on several occasions.
The impact of these interventions has been limited but, while volatility still remains, markets have bounced back from the year-to-date lows posted in late March (as at 1 May 2020). Meanwhile in China, markets seem to be staging a recovery, as coronavirus-related restrictions are slowly lifted.
What to consider?
Volatility has always been a feature of the stock market. Sometimes falls can be very sudden, with billions of pounds quickly wiped off the value of shares.
When you are invested, such events can be very unnerving, but it is important to remember that historically the market has always recovered, delivering strong long-term returns regardless. The below chart shows how, from 31 December 1985 to 31 December 2019 (before the most recent bout of volatility), global equities would have grown by over 2,000% and global bonds by nearly 900%. Of course, please remember that past performance is not a guide to future returns.
Global equities and bonds index performance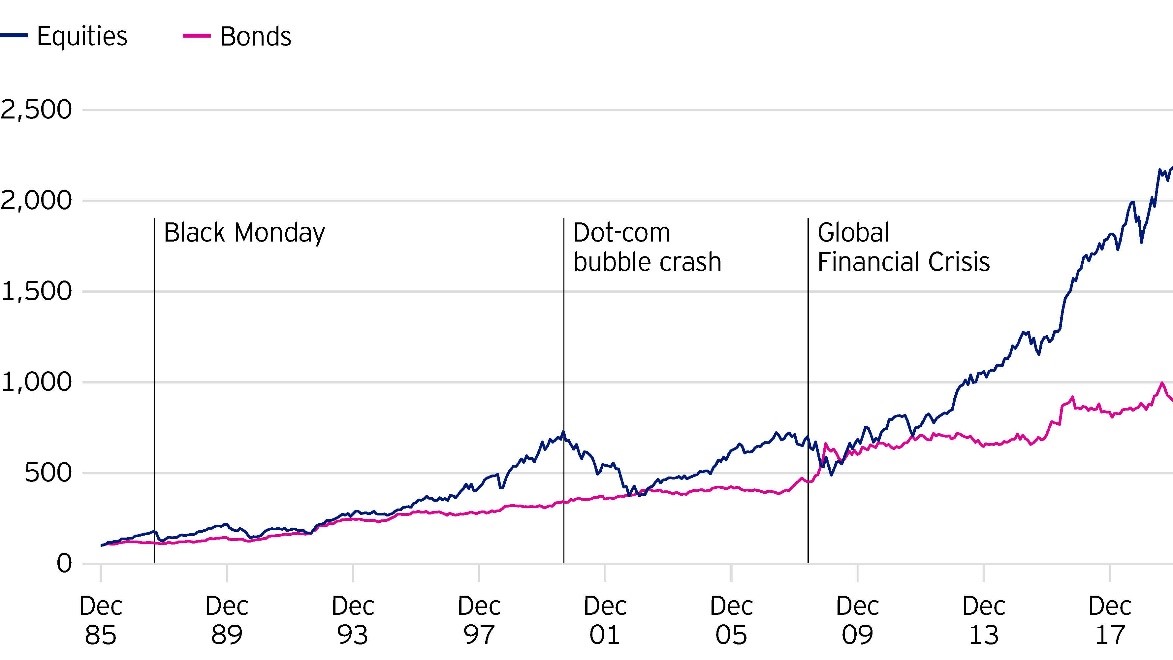 Past performance is not a guide to future returns.
Source: Datastream, as at 31 December 2019. Equities = MSCI World Equity Index. Bonds = BofA Merrill Lynch Global Government Bond Index. Rebased to 100 on 31 December 1985. All performance is total return in sterling terms.
Times of uncertainty are precisely when market rallies can be most powerful. Some of the biggest market rises have occurred when markets have been at their most volatile, with sudden items of positive news sparking substantial bounce backs. It is therefore important for investors to remain patient. If you react during a market drop by selling off your investments, you are in effect locking in those losses.
In the meantime, at Invesco, we have always believed that successful investing requires a long-term approach, and that positive action can be taken by active fund managers when stock markets are low. We might be able to take advantage of times like these to buy into quality companies, the shares of which are selling far cheaper than previously. For our funds, opportunities such as these can form the foundations for long-term returns.
Speak to a financial adviser
If you are unsure of what you to do with your investments, we recommend speaking to a financial adviser before making any decisions. If you don't have one, you can find details of your nearest financial adviser via the Money Advice Service.
Investment risks
The value of investments and any income will fluctuate (this may partly be the result of exchange-rate fluctuations) and investors may not get back the full amount invested.
Important information
Where individuals or the business have expressed opinions, they are based on current market conditions, they may differ from those of other investment professionals and are subject to change without notice.
This document is marketing material and is not intended as a recommendation to invest in any particular asset class, security or strategy. Regulatory requirements that require impartiality of investment/investment strategy recommendations are therefore not applicable nor are any prohibitions to trade before publication. The information provided is for illustrative purposes only, it should not be relied upon as recommendations to buy or sell securities.
Issued by Invesco Asset Management Limited, Perpetual Park, Perpetual Park Drive, Henley-on-Thames, Oxfordshire RG9 1HH, UK. Authorised and regulated by the Financial Conduct Authority.
Aegon is not responsible for the content and accuracy of news articles licensed from other publishers. We might not share the views of the author.