Choosing your path in retirement
Aegon Content Team
Wednesday, 5 May 2021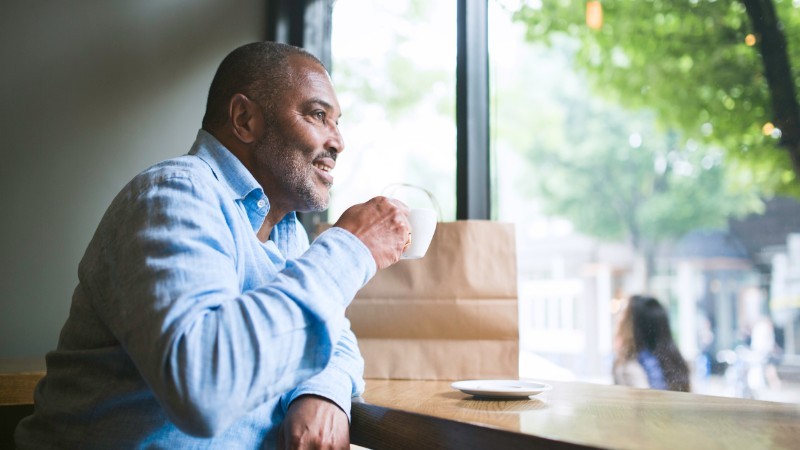 For customers
The traditional view of retirement has been to stop work and spend more time on leisure pursuits such as travel, gardening or recreational activities, but times are changing.
As we stay fitter and healthier into later life, the idea that you'd want to stop working altogether at age 55 or older (as the state pension age could change) is becoming less appealing – which has led to an increase in the number of people looking at creating their own business.
It's little wonder given how long we could be in retirement. The latest official figures from the ONS show that life expectancy at birth between 2017 and 2019 for men is 79.4 years and for women 83.1 years1, which would mean a man retiring at 55 would, on average, live another 24.4 years. A woman retiring the same age would live another 28.1 years.
For some, the first time they have enough money to consider starting their own business is when they reach retirement. Having access to pension savings they've built up during their years of work and the ability to take 25% of that money tax-free2 – not only provides the opportunity to set up a new business, but the desire to carry on working on your own terms. Starting your own business can make that pension stretch further, so why not make the most of it whilst you're still young and fit enough.
However, there are a number of things you might want to think about if you want to make the most of a new business in later life. Read on for some tips and inspiration about becoming an entrepreneur in retirement but the following shouldn't be taken as advice.
This article is for information only. All references to taxation are based on our understanding of current taxation law and HMRC practice, which may change. The value of any tax relief will depend on individual circumstances.
1. Choose something you love to do
If you're in a position where you're financially secure – having built up a pension and savings throughout your working life – then you could choose something you love to do as a business. That way, you're fulfilling a passion and it may not even feel like work at all.
You'll know what interests you most. This could be anything from garden design to renting a room in your house through Airbnb. If you have specialist skills, such as accounting or IT, you could offer those services on your own terms. No matter what your field, you should think about creating a solid business plan. This is so you have a clear idea of what you want to achieve from your business and how much time you want to devote to it, so you give yourself the best chance of success.
You should also do some research on your business idea, look at the market for competition and consider getting professional help and support to get your idea up and running.
2. Consider how you would set up your business
If you want to keep things informal, then setting up as a sole trader and sending a self-assessment tax return to HMRC where you declare your income could be the best way. But if you're likely to take on any liability with your business, such as completing other people's accounts, then you may want to set up a limited company.
The benefit of this is that any liability you face will be limited to the assets held within that business. But it does come with extra costs as you would need to pay an accountant to deal with your company accounts for you. Typically, a small business would be looking at £500 a year for the accounts to be completed and submitted to Companies House, but it would depend on your current circumstances3.
You can find out everything you need to know about setting up a limited company and whether it's the right option for you at the GOV.UK website. This a complex area and we recommend you get advice from an accountant or tax adviser.
3. Don't put all your eggs in one basket
While it's tempting to think your retirement business will give you enough to top-up or even delay you taking your pension, you can't leave anything to chance. So, make sure you're always putting something aside to boost your savings whether your business takes off or not.
This applies no matter what stage of your retirement journey you're at. If you're still employed and putting savings aside – whether in an employer pension through auto-enrollment or just into an Individual Savings Account (ISA) – make sure you're using your tax benefits to full effect. You'll receive at least a 20% tax rebate on your own pension contributions, depending on how much you earn4, and you can take a tax-free income from your ISA. You should double check the withdrawal terms of your ISA in case there are any hidden fees5. For many people, a combination of the two works well to keep saving and to provide extra income in retirement.
This information is based on our understanding of current taxation law and HMRC practice, which may change. The value of any tax benefits will depend on individual circumstances.
4. Keep a close eye on your pension pots and other savings
Putting the money aside is only one part of the equation. Once you've done that, you need to keep a watch on how that money is performing to make sure you have enough money to live on – whether your retirement business is a success or not.
It can be difficult to do this yourself even if you're an experienced investor, so it would be wise to use a financial adviser to ensure your savings are working hard enough to achieve your retirement aims.
Thanks to the pension freedom rules, if you wanted to take more of your pension as a lump sum to give a new business a kick-start, you can do this – but be very aware of the tax consequences of doing so.
An adviser can give you the assistance you need to make sure you balance the desire to boost your business with the need to keep your retirement income flowing until any income from the business is generated.
A consideration here, is ensuring you have enough income to meet your needs.
5. Put some of your new business earnings towards your retirement
Many people don't realise that even if you've started taking some of the money from your pension, there's nothing to stop you putting more money into a pension. Providing you're under 75 and resident in the UK, you can continue to benefit from tax relief on pension contributions6. The value of any tax relief will depend on your individual circumstances.
Be aware though, that if you have taken benefits under the pension freedom rules, you may be restricted to the amount of pension contributions that can be made under what's known as the money purchase annual allowance (MPAA). This restricts contributions to defined contribution plans such as personal pensions to £4,000 each tax year7. There are also recycling rules to be aware of where a tax-free lump sum is taken and then used to fund further pension contributions8.
Working into retirement is a lifestyle decision for around 10.5% of over 65s according to the latest official figures9. And there's every reason to consider this if you aren't yet ready to give up work completely, or you have always dreamed of making a hobby pay. Just be sure you use any pension and savings you've built up wisely to keep all of your retirement plans – no matter what they look like – on track.
Get help if you need it
If you're in any doubt, we recommend you speak to a financial adviser. You can find a financial adviser through the Money Advice Service. A financial adviser is likely to charge for their service and should provide details of their charges upfront.
Remember you can also access free impartial guidance on your retirement options if you are over 50 from Pension Wise.
Sources:
1. National life tables – life expectancy in the UK: 2017 to 2019. Data Source, ONS, April 2021.
2. Tax when you get a pension. Data source, GOV.UK, April, 2021.
3. How much does an accountant cost in the UK? Data source, Accountantcosts.co.uk, 19 April 2021.
4. Tax on your private pension contributions. Data source, GOV.UK, April, 2021.
5. Individual Savings Accounts (ISA). Data sources, GOV.UK, April, 2021.
6. Options for using your pension pot. Data source, the Money Advice Service, April, 2021.
7. Money Purchase Annual Allowance (MPAA). Data source, the Money Advice Service, April, 2021.
8. Pension recycling. Data source, Gov.UK, April, 2021.
9. Employment Rate 65+ People. Source, ONS, April 2021.