Can where you live affect your financial wellbeing?
Aegon Content Team
Tuesday, 18 December 2018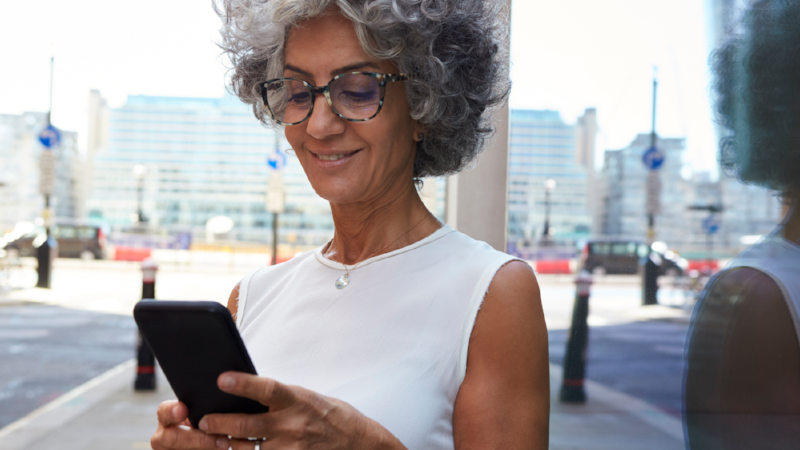 Not everyone knows that where you live can make a real difference to your chances of prosperity and wellbeing.
There's quite a regional disparity in everything from wages to house prices and even health, not to mention the difference in weather from traditional wet and windy Scotland to sunny and warm Eastbourne.
Research firm YouGov interviewed 2,000 workers throughout the UK in a study commissioned by Aegon to assess their financial wellbeing on a range of topics such as day-to-day spending and how prepared they are financially for the future. Do you always pay your bills on time? Would an unexpected bill rock the boat? How are people coping with longer term needs such as retirement saving? Or do they simply have the financial freedom to enjoy life?
How does your financial wellbeing score?
You may think that someone with a higher income and wealth would naturally have better financial wellbeing, but this isn't necessarily the case. How individuals evaluate their financial situation depends on many other factors including personal liabilities, level of spending and how well prepared they are financially for later in life. Everyone who took part in our survey was in employment, so the lowest scores were well above zero and no-one got 100. It's a sad fact of life that – all too often – as your income goes up, so does your expenditure to match it and sometimes the spending can get out of control.
Our financial wellbeing report found that a huge number of people have real money worries, but the results weren't all doom and gloom with nearly half of employees saying that they have some money left over at the end of the month.
Related: Find our your financial wellbeing score with our quiz
Does financial wellbeing relate to where you live?
When it comes to regional variation, the difference isn't massive. The average for most of the UK's regions clustered around 50, including Scotland at 50 and the South West England at 51.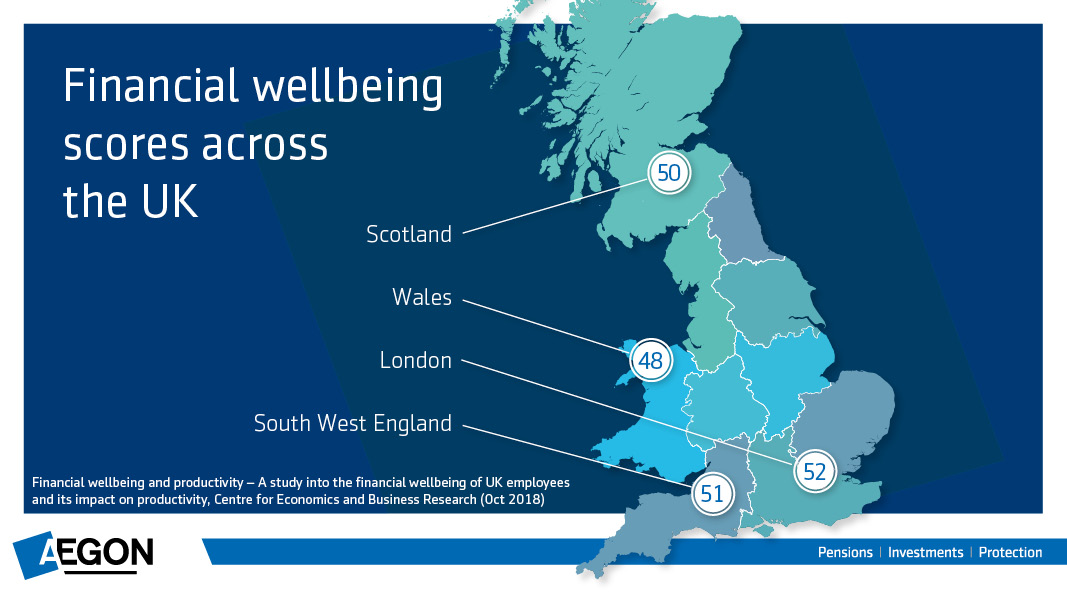 In our survey, London workers, despite high rents and fares than other parts of the country, had the highest average financial wellbeing scores at 52 while the lowest score was in Wales at 48.
Tellingly, ONS statistics show that the City of London tops the regional list for average [median] earnings at £1054, nearly double the average [median] weekly wage in Cardiff at £529 and Glasgow at £573.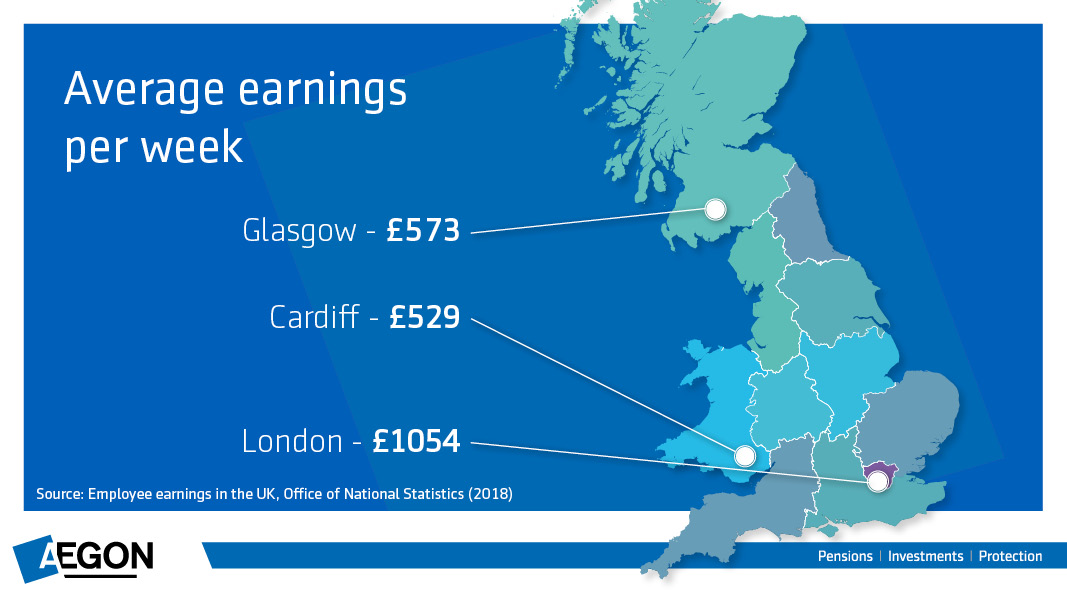 London workers who are fortunate enough to own their own home are cushioned by an average house value of £468,544 (Nationwide House Price Index September 2018) but in turn face higher commuting costs.
And many people in London on good wages struggle with high rents, while many young people scrimp and save for years before they have enough saved for a deposit on a property. This is less of a struggle in Scotland and Wales where the average home costs a more affordable £149,161 and £154,881 respectively.
Does financial wellbeing lead to happiness?
Financial wellbeing may also have a bearing on personal wellbeing. People living in Wales not only have a lower income than in the rest of the UK but also report low levels of happiness. Interestingly, a larger proportion of people in Wales reported both low levels of life satisfaction but also very high levels of life satisfaction, suggesting greater disparity in life satisfaction in Wales compared with the UK overall according to ONS statistics.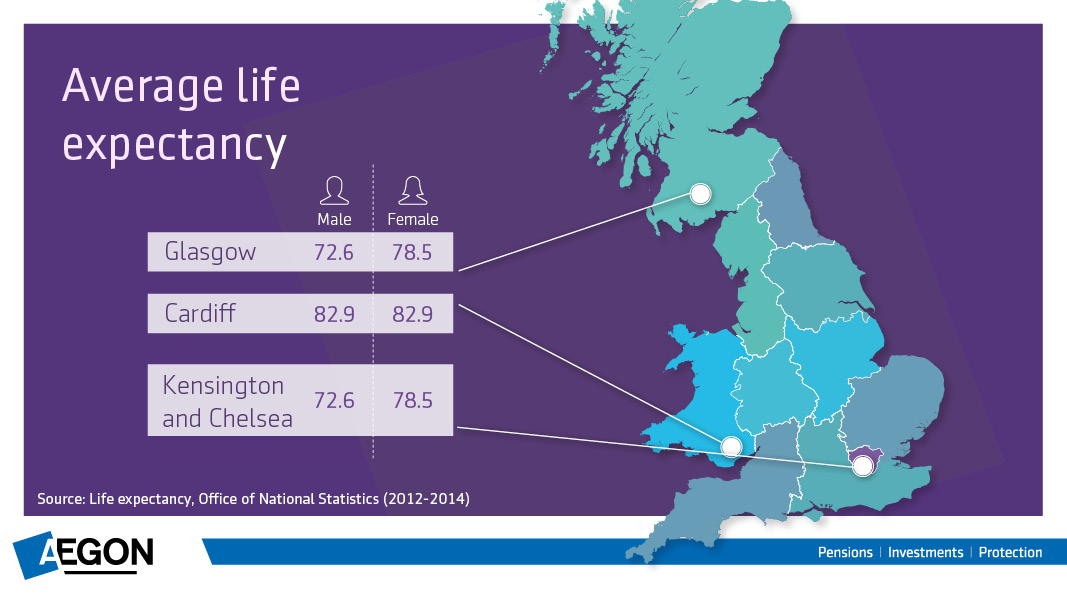 Regional disparities can also make a big difference in how long you are likely to live. According to Office for National Statistics male life expectancy at birth is highest for newborn baby boys in Kensington and Chelsea (83.3 years) and lowest in Glasgow City (72.6 years) while Cardiff baby boys could hope to live to 78.2 on average.
Females living in Kensington and Chelsea have one of the highest life expectancies in the country at 86.4 years while Glasgow City (78.5 years) has the lowest. Cardiff at 82.9 years sits somewhere in between.
Related: Steps to a better financial wellbeing
While it goes without saying that you can't go back in time and choose where to be born, you can improve your financial wellbeing with a few simple steps - regular saving, budgeting and wise investments.