Can embracing ESG improve scheme engagement?
Hilkka Komulainen, Head of Responsible Investment
Tuesday, 14 June 2022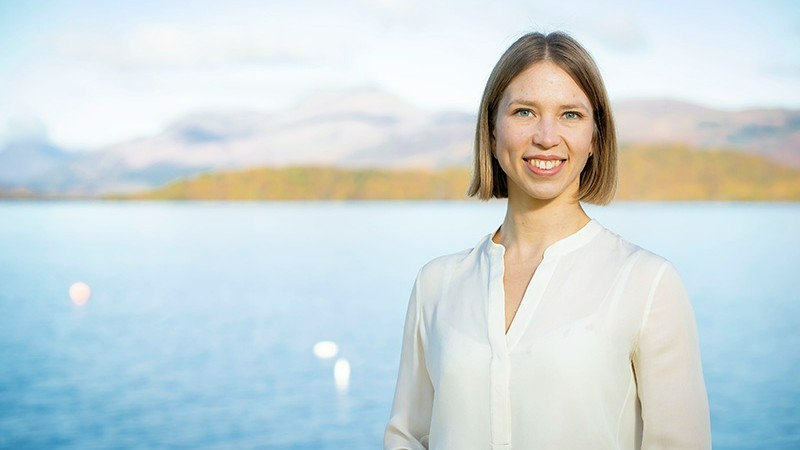 For employers
In our recent survey of around 10,000 UK residents, we found that most pension investors clearly care deeply about the environment and the future of our planet. The research also suggests that the more someone's investments are helping to address the climate emergency, the more likely they are to be engaged with their pension and happy about their investments. However, too many scheme members remain unaware of how and where they're invested – we're committed to working with employers to help address this.
With over £40 trillion1 of global investment, pension funds are becoming an increasingly important tool in the fight against the world's urgent climate emergency. This is being driven by growing demand from pension scheme members and regulatory change, making environmental, social and governance (ESG) criteria increasingly influential for pension investments.
Our research shows this developing situation offers an opportunity to encourage a more meaningful connection between employees and their workplace pension savings. And it also provides a chance to improve their financial wellbeing.
To make the most of this, it's vital that we offer the support that's needed to help employees understand the role their savings can play in supporting a fairer, more sustainable society. By doing so we could improve scheme engagement in the process.
Our findings
Our nationally representative study canvasses 'real world' views to understand the factors that impact financial wellbeing. The latest research2 has given us a lot to digest with regards to the growing importance of responsible investment.
We found that ESG issues are a concern for the majority. 72% of UK residents are concerned about environmental issues, 61% worry about inequality, and 65% have concerns about poor corporate governance practice. But while 80% recycle and 47% avoid single-use plastics, only 9% think of their pension savings as a way of supporting a more sustainable and inclusive society.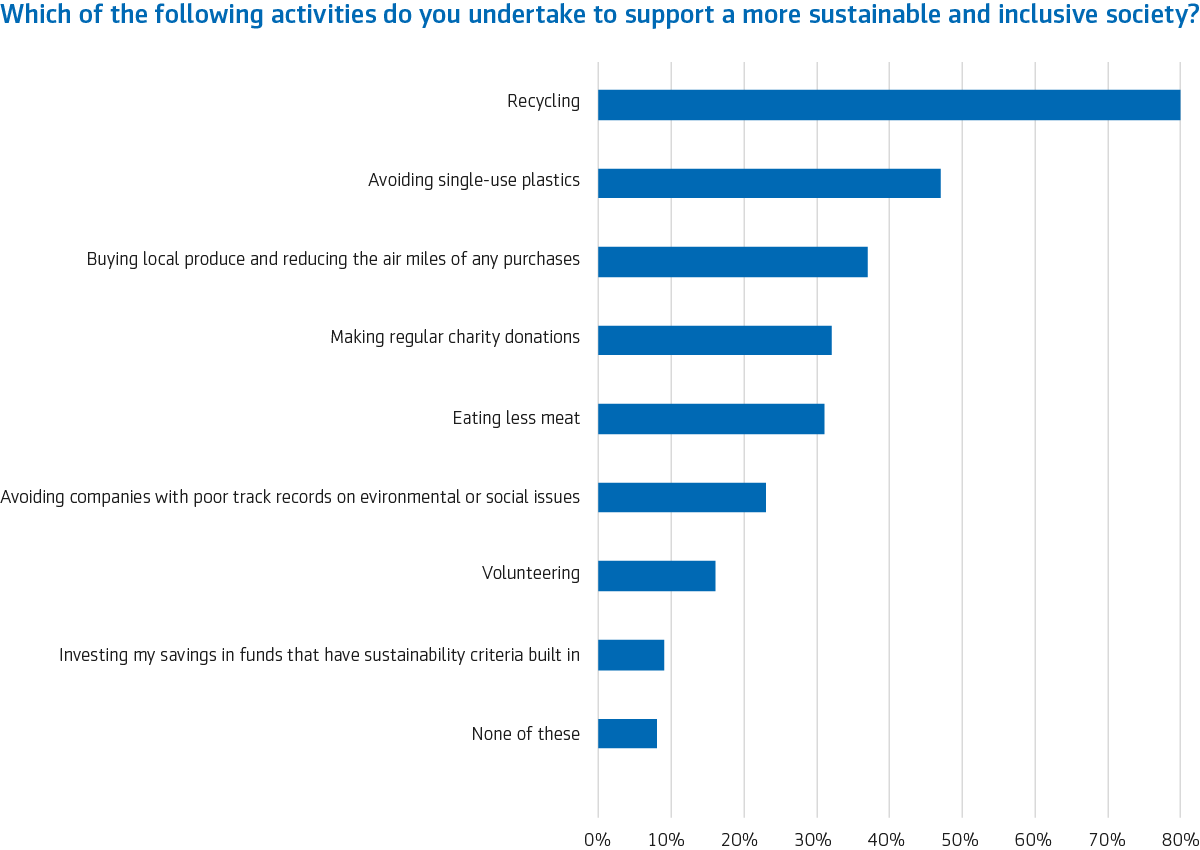 The intent of investors doesn't match their choices
Our research also revealed a mismatch between people's intent to invest sustainably and their actual choices. 57% believed some of their savings should be invested sustainably – whereas in reality, only 31% did so. Significantly, 50% didn't know how their savings were invested, and 32% were unsure about how they wanted to invest.
People often act differently to their stated beliefs – and out of line with their behaviour in other walks of life – when it comes to their pension savings. This is possibly through a lack of awareness, a lack of confidence about how to change or choose investments, or because pension saving simply doesn't feel as present and pressing as near-term priorities.
When we look closer at the people whose investments do consider sustainability criteria, 55% feel 'joy or gratification' and 62% feel a sense of 'purpose' – a feeling that they're contributing to something meaningful – as a result. The more exposure to investments that consider sustainability criteria someone has, the more likely they are to feel happy about their savings. 77% of those who invest all of their savings sustainably feel 'joy' or 'purpose' as a result.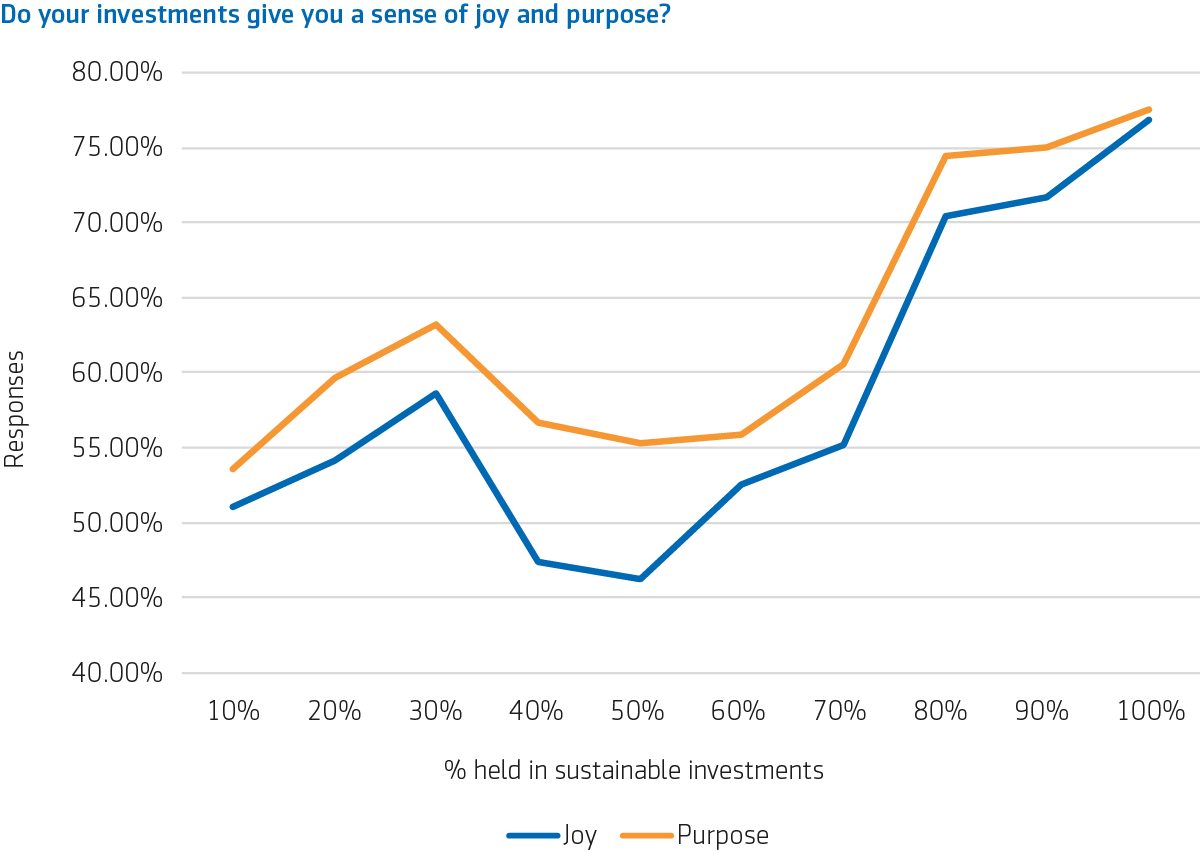 The impact on scheme engagement
What's really exciting about our research is that it suggests that helping employees understand the sustainable role their savings can play could in turn improve scheme engagement – something that many pension schemes have long struggled with. Of course, this could be challenging, but there are actions you can take as an employer, and that we can take as a pension provider, to help.
Help your employees visualise their savings
We know that visualising long-term, abstract ideas such as pension investing can be a struggle, so starting with how your employees feel and act today should help to bridge that gap. It's easy to go down a rabbit hole of ESG information to address this – avoid doing so if you can. Instead, we need people to think about their savings alongside near-term choices like recycling and eating less meat. When approaching the topic with employees, we as an industry should start with 'did you know your savings can support your beliefs?' – and not 'let me tell you how it works'.
Navigating the jargon
55% of people aren't aware of, or don't understand the terms 'responsible investment', 'sustainable investment' or 'ESG investing'. Jargon around ESG investing should improve, as initiatives like the UK government's new sustainable disclosure regulations (SDR) will mean funds' sustainable credentials are described and categorised with more consistency. In the meantime, we need to be vigilant and ensure that any communications with scheme members use clear and consistent language.
Communicating default fund changes
It also seems likely that many employees aren't aware of changes that are happening to default funds. This includes initiatives like our commitment to net zero carbon emissions for default funds by 2050, and to halving emissions between 2019 and 2030. As part of this, we will have moved over £15 billion of default savings into strategies that consider ESG factors by Summer 2022. Clear communication of any fund changes to your employees will help to establish the connection between their savings and supporting sustainability and social issues.
Debunk the myths of sustainable investing
From our research, we found that 35% of people say they'd accept a lower return from sustainable investments – indicating a belief that you must sacrifice returns to invest in line with your beliefs. This goes against the now-mainstream industry thinking that sustainable investing leads to more robust risk management and should help generate good long-term returns. While there are of course no guarantees of this, it's something worth highlighting to your employees to help debunk any myths that responsible investing might negatively impact returns.  
A positive outlook
Over the long-term, helping people invest in a way that aligns with their beliefs should mean that societal inequality and climate-related risks are more adequately considered as we transition towards a more carbon-light society. The actions we're collectively taking will have an even greater impact if we can also improve engagement with scheme members – and our research suggests that the opportunity is there to do so.
Find out more about our commitment to supporting responsible investment, and how we can help employers communicate these vital issues on our Responsible investing hub.
Sources:
1Pension markets in focus 2021. Data source, OECD. November 2021
2 Aegon's research conducted with 10,021 UK residents by Aegon's Centre for Behavioural Research. August and September, 2021. The joy and purpose findings/chart is based on the views of a subset of around 3,000 investors who said they held a proportion of their savings in sustainable investments.