Annual Review of Expenses 2018 – Pension & Life funds
Aegon Investment Team
Thursday, 10 May 2018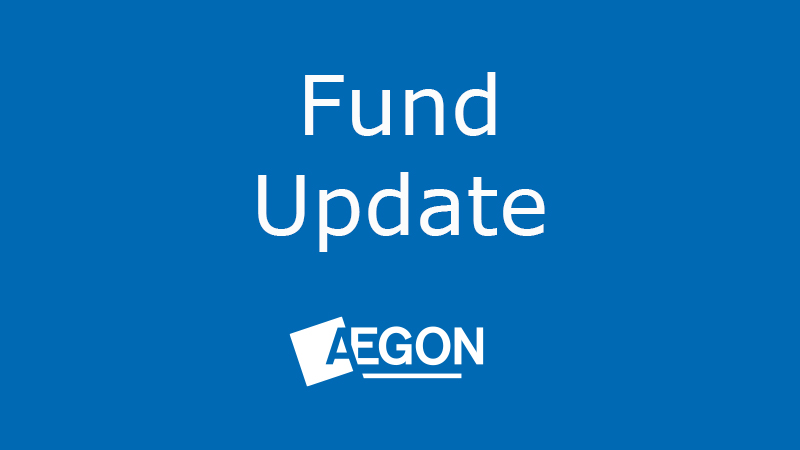 We regularly review the additional expenses for all of our funds as part of our commitment to provide a clear indication of costs to our customers.
What are additional expenses?
Additional expenses are the day-to-day costs associated with the administration and management of the underlying assets of the funds, for example, bank charges and safe custody fees. These are in addition to the annual management charge (AMC) and Aegon's Product Charge. Together, they form part of the Total Fund Charge. The tables show only the AMC and additional expenses. We have no control over the majority of these additional expenses.
As a result of this review, the charges for a number of our funds are changing. You can see exactly which additional charges are changing in the table below. They are split out into separate tables for Pension funds and Life funds.
Why are they changing?
The review looks at all expenses/fees that were incurred by the underlying funds throughout the previous year and expenses that are expected going forward, and then compares this with the amount we are currently disclosing for the fund.
We do this to be clear with our customers about our additional charges. When we review our charges, if there is a significant difference between the amount we currently show and the amount we have moved to, we will change the amount we show (after rounding to the nearest 0.05%).
This approach allows us to disclose an understandable figure to our customers.
The changes in more detail:
Pension funds
Pension funds

| Mnemonic (fund identifier) | Fund name | Old total (AMC plus additional expenses) (%) | New total (AMC plus additional expenses) (%) | Change (%) |
| --- | --- | --- | --- | --- |
| FSQ | Aegon Fundsmith Equity | 1.10 | 1.05 | -0.05 |
| ARF | Aegon Mercer Absolute Return Fixed Income | 0.66 | 0.89 | +0.23 |
| MED | Aegon Mercer Active Emerging Market Debt | 0.91 | 0.90 | -0.01 |
| MAE | Aegon Mercer Active Emerging Market Equity | 1.00 | 0.95 | -0.05 |
| MAG | Aegon Mercer Active Global Equity | 0.72 | 0.70 | -0.02 |
| MLV | Aegon Mercer Active Global Low Volatility Equity | 0.79 | 0.77 | -0.02 |
| MGS | Aegon Mercer Active Global Small Cap Equity | 0.96 | 0.93 | -0.03 |
| MAU | Aegon Mercer Active UK Equity | 0.71 | 0.67 | -0.04 |
| MDG | Aegon Mercer Diversified Growth | 0.26 | 0.24 | -0.02 |
| MRP | Aegon Mercer Growth | 0.22 | 0.20 | -0.02 |
| MHG | Aegon Mercer High Growth | 0.21 | 0.19 | -0.02 |
| MMG | Aegon Mercer Moderate Growth | 0.22 | 0.20 | -0.02 |
| MPE | Aegon Mercer Passive Emerging Markets Equity | 0.22 | 0.23 | +0.01 |
| MOF | Aegon Mercer Passive Over 15 Year UK Gilt | 0.05 | 0.03 | -0.02 |
| MGF | Aegon Mercer Passive Over 5 Year UK Index-Linked Gilt | 0.05 | 0.03 | -0.02 |
| MPO | Aegon Mercer Passive Overseas Equity | 0.05 | 0.04 | -0.01 |
| MPC | Aegon Mercer Passive UK Corporate Bond | 0.04 | 0.03 | -0.01 |
| MPU | Aegon Mercer Passive UK Equity | 0.05 | 0.03 | -0.02 |
| MAA | Aegon Mercer Target Annuity | 0.22 | 0.20 | -0.02 |
| MCR | Aegon Mercer Target Cash | 0.22 | 0.20 | -0.02 |
| MTD | Aegon Mercer Target Drawdown | 0.22 | 0.20 | -0.02 |
| SPB | Balanced Plus Select Portfolio | 0.65 | 0.60 | -0.05 |
| CSR | Cautious Select Portfolio | 0.55 | 0.50 | -0.05 |
| ESP | European Equity Select Portfolio | 0.75 | 0.80 | +0.05 |
| GSP | Global Emerging Markets Equity Select Portfolio | 0.85 | 0.90 | +0.05 |
| NSP | North American Equity Select Portfolio | 0.70 | 0.75 | +0.05 |
| PSP | Property Select Portfolio | 0.85 | 1.00 | +0.15 |
| ACA | Scottish Equitable Aberdeen Multi-Manager Cautious Managed Portfolio | 1.55 | 1.65 | +0.10 |
| ACN | Scottish Equitable Aberdeen Multi-Manager Constellation Portfolio | 1.95 | 1.80 | -0.15 |
| IED | Scottish Equitable Absolute Insight Emerging Markets Debt | 1.20 | 1.00 | -0.20 |
| XIA | Scottish Equitable Absolute Insight Equity Market Neutral | 1.05 | 0.85 | -0.20 |
| ABR | Scottish Equitable Allianz Emerging Markets Equity | 1.10 | 1.15 | +0.05 |
| D1R | Scottish Equitable Allium Multi-Asset DRP III | 0.25 | 0.30 | +0.05 |
| D3R | Scottish Equitable Allium Multi-Asset DRP VII | 0.25 | 0.30 | +0.05 |
| D4R | Scottish Equitable Allium Multi-Asset DRP VIII | 0.30 | 0.45 | +0.15 |
| IGN | Scottish Equitable Argonaut European Alpha | 1.10 | 1.35 | 0.25 |
| XAZ | Scottish Equitable Artemis Global Growth | 0.90 | 0.85 | -0.05 |
| BGD | Scottish Equitable Baillie Gifford Diversified Growth | 0.80 | 0.75 | -0.05 |
| CHE | Scottish Equitable BlackRock Aquila Currency Hedged Global Equity | 0.10 | 0.15 | +0.05 |
| BRG | Scottish Equitable BlackRock Fixed Income Global Opportunities | 0.60 | 0.70 | +0.10 |
| XME | Scottish Equitable BlackRock US Dynamic | 0.90 | 0.95 | +0.05 |
| CGO | Scottish Equitable Caerus Global Opportunities | 1.20 | 1.40 | +0.20 |
| CIN | Scottish Equitable Caerus Monthly Income | 1.45 | 2.20 | +0.75 |
| COP | Scottish Equitable Cavendish Opportunities | 0.85 | 0.80 | -0.05 |
| EHI | Scottish Equitable EdenTree Higher Income | 0.85 | 0.80 | -0.05 |
| EMD | Scottish Equitable Ethical Managed | 0.05 | 0.00 | -0.05 |
| EML | Scottish Equitable Ethical Managed Lifestyle | 0.05 | 0.00 | -0.05 |
| XFO | Scottish Equitable Fidelity European Opportunities | 1.00 | 0.95 | -0.05 |
| XFD | Scottish Equitable Fidelity Extra Income | 0.85 | 0.80 | -0.05 |
| FAS | Scottish Equitable Fidelity Multi-Asset Strategic | 0.95 | 0.90 | -0.05 |
| XFW | Scottish Equitable Fidelity WealthBuilder | 1.35 | 1.30 | -0.05 |
| GEM | Scottish Equitable Henderson Emerging Markets Opportunities | 1.00 | 1.05 | +0.05 |
| XVA | Scottish Equitable Investec Asia ex Japan | 1.00 | 0.95 | -0.05 |
| JES | Scottish Equitable Jupiter European Special Situations | 1.05 | 1.00 | -0.05 |
| XLE | Scottish Equitable Lazard Emerging Markets | 0.85 | 0.80 | -0.05 |
| XUA | Scottish Equitable Lazard European Alpha | 0.85 | 0.80 | -0.05 |
| XLA | Scottish Equitable Lazard UK Alpha | 0.70 | 0.65 | -0.05 |
| MGG | Scottish Equitable M&G Global Basics | 0.95 | 0.90 | -0.05 |
| MGM | Scottish Equitable M&G Global Emerging Markets | 1.00 | 1.05 | +0.05 |
| MGL | Scottish Equitable M&G Global Leaders | 0.90 | 0.95 | +0.05 |
| MPR | Scottish Equitable M&G Property Portfolio | 1.10 | 1.15 | +0.05 |
| XSG | Scottish Equitable Man GLG Balanced Managed | 0.25 | 0.30 | +0.05 |
| GJA | Scottish Equitable Man GLG Japan Core Alpha | 0.75 | 0.90 | +0.15 |
| GUS | Scottish Equitable Man GLG UK Select | 0.75 | 0.90 | +0.15 |
| NBL | Scottish Equitable Neptune Balanced | 0.80 | 0.85 | +0.05 |
| NEO | Scottish Equitable Neptune European Opportunities | 0.90 | 0.95 | +0.05 |
| NIB | Scottish Equitable Newton International Bond | 0.55 | 0.60 | +0.05 |
| OGB | Scottish Equitable Old Mutual Global Strategic Bond | 0.60 | 0.65 | +0.05 |
| XGP | Scottish Equitable Schroder Global Property Securities | 0.90 | 0.95 | +0.05 |
| CSB | Scottish Equitable Schroder Strategic Credit | 0.65 | 0.70 | +0.05 |
| XSP | Scottish Equitable Schroder UK Corporate Bond | 0.60 | 0.65 | +0.05 |
| XTD | Scottish Equitable Threadneedle American | 0.75 | 0.70 | -0.05 |
| TNE | Scottish Equitable Threadneedle European | 0.70 | 0.65 | -0.05 |
| UMA | Scottish Equitable UBS Multi-Asset Income | 0.85 | 0.90 | +0.05 |
| UKT | Scottish Equitable UK Equity Tactical | 0.05 | 0.10 | +0.05 |
| KSP | UK Equity Select Portfolio | 0.65 | 0.70 | +0.05 |
Life funds
Life funds

| Mnemonic (fund identifier) | Fund name | Old total (AMC plus additional expenses) (%) | New total (AMC plus additional expenses) (%) | Change (%) |
| --- | --- | --- | --- | --- |
| XBS | Scottish Equitable Baillie Gifford 60/40 Worldwide Equity | 0.35 | 0.40 | +0.05 |
| XBG | Scottish Equitable Baillie Gifford Balanced Managed | 0.25 | 0.30 | +0.05 |
| XMR | Scottish Equitable BlackRock Balanced Managed | 0.25 | 0.30 | +0.05 |
| XMU | Scottish Equitable BlackRock UK | 0.90 | 0.95 | +0.05 |
| XBA | Scottish Equitable BlackRock UK Absolute Alpha | 0.90 | 0.95 | +0.05 |
| XME | Scottish Equitable BlackRock US Dynamic | 0.90 | 0.95 | +0.05 |
| XFW | Scottish Equitable Fidelity WealthBuilder | 1.35 | 1.30 | -0.05 |
| GBL | Scottish Equitable Global Fund | 0.10 | 0.00 | -0.10 |
| JPN | Scottish Equitable Japan Fund | 0.25 | 0.15 | -0.10 |
| XLE | Scottish Equitable Lazard Emerging Markets | 0.85 | 0.80 | -0.05 |
| XLA | Scottish Equitable Lazard UK Alpha | 0.70 | 0.65 | -0.05 |
| XSG | Scottish Equitable Man GLG Balanced Managed | 0.25 | 0.30 | +0.05 |
| MIX | Scottish Equitable Mixed | 0.05 | 0.00 | -0.05 |
| XGP | Scottish Equitable Schroder Global Property Securities | 0.90 | 0.95 | +0.05 |
| XST | Scottish Equitable Schroder Tokyo | 1.00 | 0.95 | -0.05 |
| XUB | Scottish Equitable UBS Balanced Managed | 0.25 | 0.30 | +0.05 |
| XUK | Scottish Equitable UK Smaller Companies | 0.15 | 0.05 | -0.10 |
Source: Aegon UK