Aegon UK formally accredited as a Living Wage employer
Aegon Press Team
Monday, 26 July 2021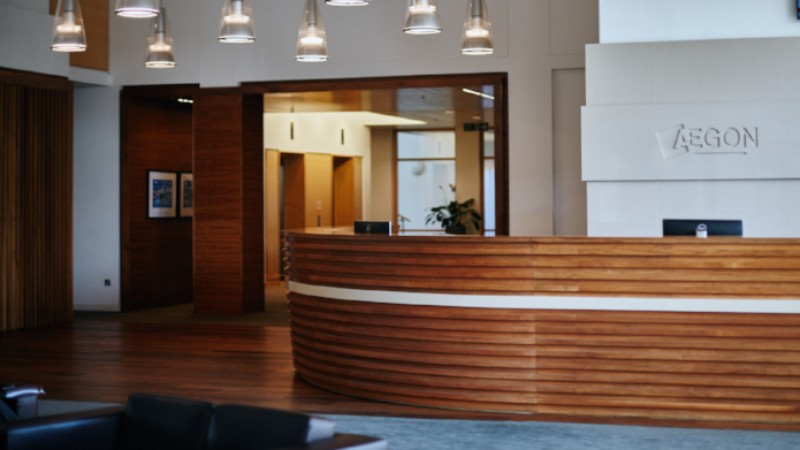 Accreditation will be used to encourage suppliers to follow suit
Aegon has informally adopted the real Living Wage with its workforce for many years but the official accreditation enables Aegon to now go beyond the commitment to its workforce and extend the positive impact to its supply chains. Now, as well as requiring in-scope suppliers of regularly contracted staff to pay the real Living Wage, Aegon is encouraging all of its UK suppliers to adopt the real Living Wage and its non-UK suppliers to identify and adopt an ethical pay standard.
The real Living Wage commitment formalises the fact that everyone working at Aegon receives a minimum hourly wage of at least £9.50 in the UK or £10.85 in London. Both rates are significantly higher than the government minimum for over 23s, which currently stands at £8.91 per hour.
In Scotland, more than 15% of all jobs pay less than the real Living Wage - around 350,000 jobs. Despite this, Aegon has committed to pay the real Living Wage and deliver a fair day's pay for a hard day's work.
The real Living Wage is the only UK wage rate calculated according to the costs of living. This recognition means that Aegon is choosing to pay the real Living Wage on a voluntary basis, recognising the value of their workers and ensuring that a hard day's work receives a fair day's pay.
Mike Holliday-Williams, CEO at Aegon said:
"Aegon is delighted to be recognised as a Living Wage Employer. People are at the heart of the business and make Aegon a great place to work.
"We have been committed to paying all employees the real Living Wage rates informally for many years now. But with this formal accreditation, we will now be able to work with third parties to encourage them to do so as well to ensure more people have a fair and equitable future."
Richard Lochhead, Minister for Just Transition, Employment and Fair Work says:
"It is fantastic to see Aegon UK become formally accredited as a real Living Wage employer. Ensuring staff are fairly remunerated is fundamental to Fair Work and benefits individual workers as well as business – by improving retention and productivity, and reducing recruitment costs. The Scottish Government encourages all employers regardless of size or sector to pay the real Living Wage.
"I congratulate Aegon UK in making this public commitment to Fair Work and I encourage all employers to follow their lead."
Peter Kelly, Director of The Poverty Alliance said:
"Too many workers in Scotland are in the grip of poverty and employers choosing to pay at least the real Living Wage can loosen that grip. Payment of the real Living Wage allows those in work to become more included in society, better meet their everyday needs, and feel that their value and hard work is recognised by their employer. Congratulations to Aegon on their Living Wage commitment, and I hope more organisations follow their lead by becoming Living Wage accredited."
Lynn Anderson, Living Wage Scotland Manager said:
"Aegon joins a growing movement of over 2,000 employers in Scotland who together want to ensure workers earn a wage that meets the cost of living.
"Having paid their own employees the real Living Wage for a long time, the formal process of accreditation meant that Aegon were able broaden their impact by extending the Living Wage commitment to regular workers employed through their supply chain. We hope Aegon's Living Wage accreditation will inspire similar action from other large employers, to recognise the important leadership and influencing role they too could have in growing the Living Wage movement.
"Our Living Wage employer network includes lots of smaller employers as well as other iconic brands like SSE, Standard Life Aberdeen, Barrs, & D.C. Thomson."
Since 2011 the Living Wage movement has delivered a pay rise to more than 45,000 people in Scotland and put more than £240 million extra into the pockets of low paid Scottish workers.
Further information
Stephanie Melrose
PR Manager
Aegon UK
Mob: 07740897621
Notes to Editors
About Aegon:
In the UK, Aegon offers retirement, workplace savings and protection solutions to over three million customers. Aegon employs around 2000 people in the UK and together with a further 800 people employed by Atos, we serve the needs of our customers. More information: www.aegon.co.uk
Aegon's roots go back more than 175 years – to the first half of the nineteenth century. Since then, Aegon has grown into an international company, with businesses in the Americas, Europe and Asia. Today, Aegon is one of the world's leading financial services organisations, providing life insurance, pensions and asset management. Aegon's purpose is to help people achieve a lifetime of financial security. More information on www.aegon.com
Figures correct as of January 2021.
What about the Government's national living wage?
In July 2015 the Chancellor of the Exchequer announced that the UK Government would introduce a compulsory 'national living wage'. It was introduced in April 2016, originally applying for all workers over the age of 25, and, as of April 2021, is currently £8.91 an hour and applies for workers over the age of 23. The rate is different to the Living Wage rates calculated by the Living Wage Foundation. The government rate is based on median earnings while the Living Wage Foundation rates are calculated according to the cost of living in London and the UK.
About the real Living Wage:
The real Living Wage is the only rate calculated according to what people need to make ends meet. It provides a voluntary benchmark for employers that choose to ensure their staff earn a wage that meets the costs and pressures they face in their everyday lives.
The UK Living Wage is currently £9.50 per hour. There is a separate London Living Wage rate of £10.85 per hour.
These figures are announced each year by the Living Wage Foundation. The rates are calculated annually by the Resolution Foundation and overseen by the Living Wage Commission, based on the best available evidence on living standards in London and the UK.
The Living Wage Foundation is the organisation at the heart of the UK movement of businesses, organisations and individuals who campaign for the simple idea that a hard day's work deserves a fair day's pay.
About Living Wage Scotland & The Poverty Alliance:
Living Wage Scotland was established in April 2014 by the Poverty Alliance with the aim of increasing the number of employers in Scotland who are recognised for paying their staff the real Living Wage.
Living Wage Scotland is a partnership with the Living Wage Foundation and is funded by the Scottish Government.
The Poverty Alliance is the national anti-poverty network in Scotland with a long track record in working with individuals and communities affected by poverty to take action, and in providing support to influence policies solutions in Scotland.
Accredited Living Wage employers in Scotland span private, public and third sectors. SMEs make up 75% of the total number of employers and more than half of Scotland's local councils are accredited. Find out more at www.scottishlivingwage.org/accredited