Aegon UK donates supplies to hospitals fighting Covid-19
Aegon Press Team
Wednesday, 24 June 2020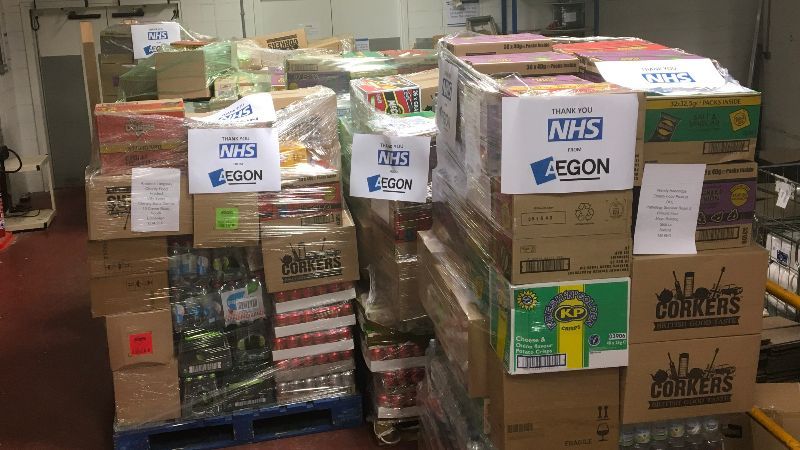 Aegon UK has donated supplies to NHS hospitals across the UK as they continue to fight the coronavirus pandemic.
With the help of Aramark, Aegon's catering and facilities partner, crates of cold drinks, energy drinks, crisps, tray bakes, water, chocolate and hand creams were sent to hospitals in Peterborough, Colchester, Salford, Chelmsford and Edinburgh.
The hospital in Peterborough made a specific request for coffee cups and sugar sachets which was also delivered.
In London, Aegon's local charity partner, the London Air Ambulance Service, took delivery of the goods and shared them with the Royal Hospital London.
Mike Holliday-Williams, CEO, Aegon UK comments:
"The coronavirus pandemic is affecting every part of society and for those of us on the side lines it's easy to feel helpless. But our communities all depend on the work being done in hospitals which is why it's so important that we all do our bit to help where we can.
"We received a few requests from employees in the business to help local NHS hospitals working on the front line. Our charity committee couldn't wait to get stuck into the challenge and contacted the hospitals local to Aegon offices to ask how to help. The message came back clearly that snacks and drinks staff could grab to keep them going during long shifts, and hand cream, would be a huge help.
"Working together with Aramark, supplies were successfully delivered to hospitals in six different cities across the UK."
Lawrence Shirazian, Managing Director, Food Services & Defence Services, Aramark Northern Europe concluded:
"Aramark is proud to support our client Aegon with such an impactful initiative. We have seen extraordinary examples of bravery and sacrifice from healthcare and first responders on the frontline of this pandemic. We are honoured to play our part to support and thank frontline NHS workers for their tireless efforts."
In May Aegon donated £250,000 to various charities to aid the coronavirus relief effort and support the Aegon corporate charity partners.
Some of the hospitals that received the goods directly:
Broomfield Hospital in Chelmsford
Colchester Hospital
Peterborough City Hospital
Salford Royal Hospital
Further information
Stephanie Melrose
PR Manager
Aegon UK
Mob: 07740897621
Notes to Editors
In the UK, Aegon offers retirement, workplace savings and protection solutions to over three million customers. Aegon employs around 2000 people in the UK and together with a further 800 people employed by Atos, we serve the needs of our customers. More information: aegon.co.uk
As an international life insurance, pensions and asset management group based in The Hague, Aegon has businesses in over twenty markets in the Americas, Europe and Asia. Aegon companies employ approximately 26,000 people and have millions of customers across the globe. Further information: aegon.com
Figures correct as of November 2019