Aegon scoops award
Aegon Press Team
Friday, 16 July 2021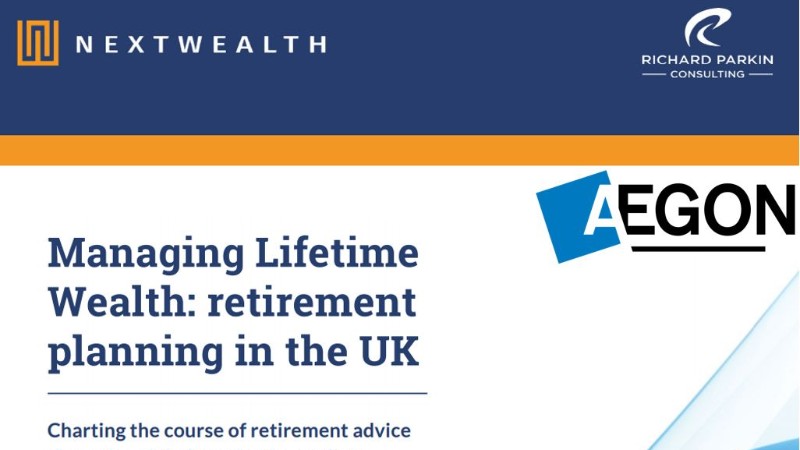 Aegon and NextWealth come out top at Investment Week's Investment Marketing and Innovation Awards
Aegon has recently been recognised as the winners of the Best Market Research category at the Investment Week Investment Marketing and Innovation Awards*.
Best Market Research Award
Aegon were recognised for their work with consultancy NextWealth and Richard Parkin Consulting in producing the Managing Lifetime Wealth: retirement planning in the UK report. The research was designed for financial advisers and was part of the business support Aegon offers through its Advice Makes Sense hub to help the industry make sense of the trends effecting them and their clients. The report which is updated annually is a comprehensive guide to the key factors shaping the retirement advice market, covers client trends, proposition development and the impact of recent regulation.
It was based on research conducted with over 200 financial advisers which was supplemented with in-depth interviews with around a dozen advisers.
The judging panel highlighted that the work shone a light on a topic crucial to advisers and presented it well, and in a way that had benefits for the end clients too.
Commenting on the Award, Andy Manson, Chief Marketing Officer at Aegon said:
"It's great that our work with NextWealth has been recognised with an award. Retirement advice is a rapidly growing area and there's a real appetite from people working in the industry to understand how advisers are approaching the challenges that come with supporting retired clients. We look forward to updating the research next year and we'll continue to build on this success with our Advice Makes Sense hub where we offer business support to advisers with market research, technical content and materials to promote the value of advice."
References
*https://investmentmarketingawards.co.uk/IMAIA/en/page/2021-winners - 'Best use of market research'
Further information
Samuel Woods
PR Officer
Aegon UK
Notes to Editors
In the UK, Aegon offers retirement, workplace savings and protection solutions to over three million customers. Aegon employs around 2000 people in the UK and together with a further 800 people employed by Atos, we serve the needs of our customers. More information: www.aegon.co.uk
Aegon's roots go back more than 175 years – to the first half of the nineteenth century. Since then, Aegon has grown into an international company, with businesses in the Americas, Europe and Asia. Today, Aegon is one of the world's leading financial services organisations, providing life insurance, pensions and asset management. Aegon's purpose is to help people achieve a lifetime of financial security. More information on www.aegon.com
Figures correct, January 2021