Aegon launches video summaries
Aegon Press Team
Wednesday, 16 October 2019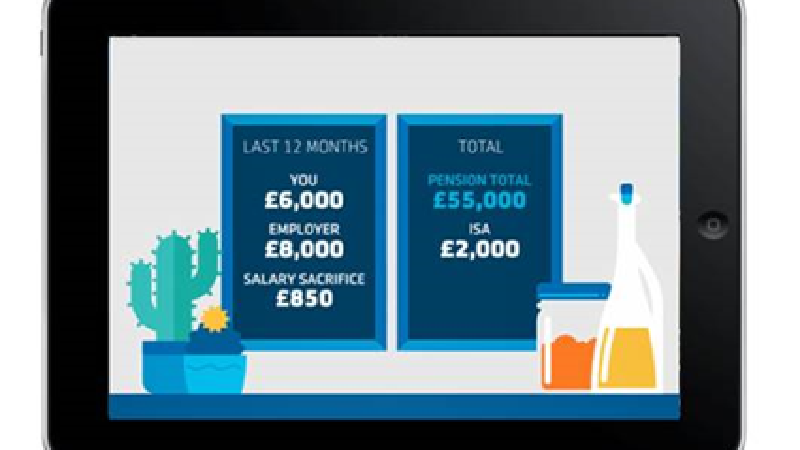 Next generation of pension communication.
More than 3 million personalised unique variations.
Design led by behavioural science to maximise member engagement.
Aegon has transformed the average pension communication and launched personalised, animated video summaries for workplace SIPP members.
Featuring real time pension information, the new 3 minute video summaries provide members with a timely picture of their retirement savings position.
It is available to access online at any time but is also delivered by email ahead of the paper statement that is linked to a member's renewal date. The member just has to sign in to their online account to view the video summary.
The film was built and developed using a matrix of data and gamification techniques. It also uses the latest behavioural science insights to shape the design, language, sounds and features to ensure people are fully engaged.
It contains 10 sections that are completely personal to the member and references lifestyle targets rather than setting retirement goals. These include age, value and investment status. There are more than 3 million unique script and scene variations.
In the final stages of design the video summary was tested with members of the Aegon customer panel in focus groups. They tested the pace, length, detail and calls to action within the video. All feedback received was acted on before final testing with the same group.
Benefits to members
Highly engaging and relevant communication
Exciting visuals, different from standard pension communication
Videos are fully personalised and bring their savings to life
Real time information - letting the member act now
Helps people take control and become engaged which can lead to better retirement planning and outcomes
Provides access to calls to action including checking their goal planner to highlight where they could make changes
Linda Whorlow, Managing Director of workplace business at Aegon, commented:
"We're always on the lookout for creative ways to engage and inspire members when it comes to pensions. Developments like this will help to capture their attention and hopefully motivate them to take their savings for retirement seriously.
"Feedback from real members was fundamental to the design and animation of these video summaries and we hope that they help bring our members' pension savings to life."
"Every member is unique and our personalised video summaries reflect this."
Video summaries in numbers:
3 Age bands
2 Investor types
2 Savings thresholds per age group
14 Variations in types of premium on the chalkboard
20 Retirement ages recorded
900 Names voice over recorded
These figures make a potential 3 million completely unique variations on voice over and scenes playing.
Here are some example video summaries:
Here are some example video summaries:
What people are saying
Elanor Underwood, Compensation and Benefits Manager, Global Payments comments:
"It's a great way for individuals to receive the information they need about their pension. I know a few people here either find their annual pension statement confusing or a little scary so end up filing it away for another day. At least this way it's provided in a really clear and easy to understand format."
Mark Bingham, Partner, Secondsight comments:
"I love the idea of these new video summaries. We know that traditional statements contain too much information and that means many people simply file them away 'just in case'. What people want to know is what is my plan worth? Is there anything that I should consider to make my retirement better? Is there anything I have forgotten? Getting all of that info in a short film is really going to help to demystify pensions and increase engagement."
Graeme McCormick, Senior DC Consultant, Capita Employee Solutions comments:
"The new Aegon video summaries provide scheme members with a clear and concise understanding of their pension arrangements, the very personalised and engaging style of the animation maintains the member's interest, highlights clearly the benefit of their employer's contribution and the tax relief which members often overlook and which forms a significant part of their overall contribution.
"The fund value of their pension and other investments is very clear and, vitally, the member can understand and realistically the kind of lifestyle they will have in retirement and the options they have to make improvements to their lifestyle in retirement by increasing contributions, reviewing investment choices and by consolidating other pensions pots into the plan.
"I feel this is a great and valuable tool encouraging members to be more engaged with their pension planning."
Further information
Stephanie Melrose
PR Manager
Aegon UK
Tel: 0131 549 6743
Mob: 07740897621
Notes to Editors
As with all investments, the value can fall as well as rise and isn't guaranteed. Customers could get back less than originally invested.
In the UK, Aegon offers retirement, workplace savings and protection solutions to over three million customers. Aegon employs around 2000 people in the UK and together with a further 800 people employed by Atos, we serve the needs of our customers. More information:

aegon.co.uk
As an international life insurance, pensions and asset management group based in The Hague, Aegon has businesses in over twenty five markets in the Americas, Europe and Asia. Aegon companies employ over 28,000 people and have millions of customers across the globe. Further information:

aegon.com
*Figures correct as of August 2019