Aegon donates £20,000 to Aegon Breakfast Clubs in Edinburgh
Aegon Press Team
Tuesday, 15 December 2020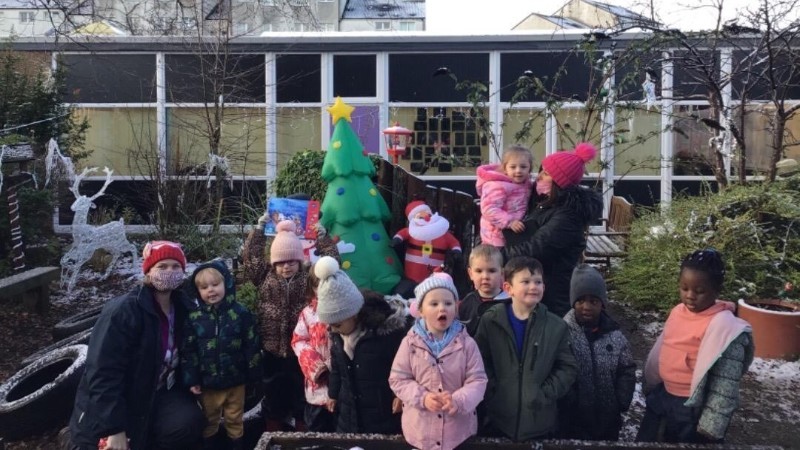 Aegon has donated a total of £20,000 to the Aegon Breakfast Club schools in Edinburgh to replace the annual Christmas children's party.
In recent years Aegon has hosted Christmas parties for the school children at a marquee at its Edinburgh Park office. But due to the ongoing pandemic this will not take place this year, instead each school has received a donation to create their own Christmas festivities or use as they choose.
The five Aegon Breakfast Clubs in Edinburgh - Clovenstone Primary School; Colinton Primary School, Granton Primary School, Sighthill Primary School and Balgreen Primary School – will each receive £4,000 to make Christmas special for the children.
The partnership with the City of Edinburgh Council was established in 2007 to give children a free, healthy and nutritional start to their day.
The breakfast clubs are more than just healthy eating. They help to improve attendance and concentration, as well as social skills and it helps the children to develop good eating habits early on in life. It also helps parents to juggle different work patterns – allowing them to drop their children off earlier and safely at school, knowing that they'll have eaten something before their lessons begin.
Mike Holliday-Williams, CEO at Aegon comments:
"While understandable, it's disappointing for everyone involved that the much-loved school Christmas parties we've hosted for many years have had to be cancelled this year. But we didn't want the children to miss out on the festivities, especially during what has been such a tough year for so many.
"We hope our donation to the local schools will ensure the children can celebrate the end of term before the Christmas holidays and get stocked up on much needed resources to support ongoing learning in the new year."
Plans are already in motion for how the schools want to spend the money, with one school hoping to have a Santa greenhouse and a snow machine so that Santa can visit safely outdoors to give the children their presents and another stocking up on reading books to help children develop a love of reading from a young age.
Jennifer Cairns, Headteacher, Clovenstone Primary School comments:
"We've used the very kind Christmas gift from our friends at Aegon to ensure, despite current circumstances, Christmas is still magical for our fantastic children. Funding has gone to develop a Winter Wonderland in our Courtyard, which each class is visiting for a special treat – like a hot chocolate and a Christmas story – in the three weeks leading up to Christmas. Funding has also meant that each child will receive a Christmas present, and get to enjoy a virtual Christmas show. We've also allocated some of the funding to making up festive food parcels for our families who need support at this time."
Shelagh Dow, Granton Primary School comments:
"Christmas this year was always going to be a challenge but the generous donation from Aegon has helped us make it a special time for the children. We've used the money for a variety of things so that every child benefits. Our courtyard has been transformed into a Winter Wonderland, with the greenhouse lit as Granton's Grotto so Santa can be safe and socially distanced. We also bought a snow machine so it will be snowing when every class visits. We always give every child the gift of a book at Christmas but with Aegon's help this year we've extended this to a gift bag which includes cosy socks and a satsuma. We've also booked an ice cream van to visit the playground next Tuesday and Tricky Ricky's online magic shows."
Marie Dunn, Headteacher, Sighthill Primary School comments:
"We are so grateful to Aegon for the generous funding donation. We've purchased festive Christmas resources, snacks and the Tricky Ricky Magic Show for all pupils to enjoy. We've also used the funds to buy new reading books for our P1-2s. These reading books will allow our children to develop a stronger understanding and awareness of their phonics and develop a love of reading, which will support other aspects of their learning.
"We also plan to purchase play-based learning resources for our P3-4 classes. Due to the children being off for five months, they missed the vital transition work we normally do and the final term of play-based learning they would have had in P2/3. These resources will make a huge difference to ensure we are truly meeting the needs of all our learners and allow them the opportunity to learn through curiosity and creativity to develop a love of lifelong learning."
Christine McKechnie, Strategic Development Officer City of Edinburgh Council comments: "Aegon's valuable sponsorship of CEC primary school breakfast clubs has helped ensure sustainability and consistency of this valuable provision, particularly in parts of the city where levels of need are higher.''
"Our Aegon sponsored schools are enormously grateful for the support that Aegon and their staff provide to the whole school community. We are all a little overwhelmed by Aegon's most recent gesture and would like to thank them for their generosity."
Further information
Stephanie Melrose
PR Manager
Aegon UK
Mob: 07740897621
Notes to Editors
In the UK, Aegon offers retirement, workplace savings and protection solutions to over three million customers. Aegon employs around 2000 people in the UK and together with a further 800 people employed by Atos, we serve the needs of our customers. More information: aegon.co.uk
As an international life insurance, pensions and asset management group based in The Hague, Aegon has businesses in over twenty markets in the Americas, Europe and Asia. Aegon companies employ approximately 26,000 people and have millions of customers across the globe. Further information: aegon.com
Figures correct as of November 2019