Aegon celebrates delivery of employee wellbeing initiatives
Aegon Press Team
Tuesday, 4 February 2020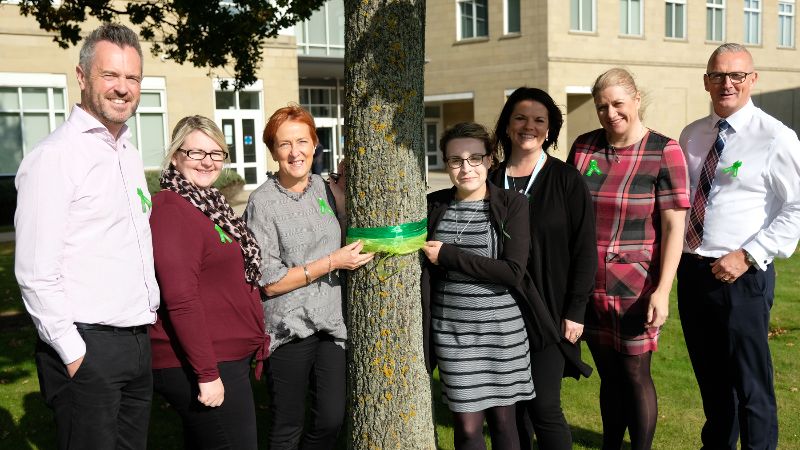 The Aegon UK Wellbeing Group delivered a wealth of new wellbeing approaches and initiatives to support employees in 2019.
From expert education programmes with external suppliers and on site pet therapy, to simple online self-help programmes, activities and articles, the company encouraged employees to proactively adopt self-care strategies for their mind and body, and not be afraid to seek support and advice in the workplace when they need it.
Aegon UK provides life insurance, pensions and asset management to over three million customers and employs 2,000 people in Edinburgh, London, Witham, Peterborough and Salford.
Dougy Grant, a Managing Director and Executive Advocate of Aegon UK's Wellbeing Work stream comments:
"Supporting the mental and physical wellbeing of all our employees – and ensuring that they have access to appropriate support in the workplace – is unquestionably a priority for us.
"By providing a range of proactive, preventative and reactive support, the company has made great strides in breaking down the stigma of mental illness in the workplace.
"Our aim is to offer employees a range of services that will help them feel more valued, supported, motivated, and empowered to take control of their own wellbeing. We believe that this will contribute to a more engaged, productive, and sustainable organisation but more importantly, an open, supportive work environment."
Wellbeing initiatives Aegon delivered in 2019
Established an Aegon Wellbeing Working Group, made up of volunteers committed to ensuring Aegon UK colleagues have access to appropriate physical and mental health support
Provided Mental Health Awareness sessions across sites to more than 400 employees
Ran Mental Health Awareness training sessions for all managers
Trained and supported 27 Mental Health First Aiders across 3 sites (Edinburgh, Witham and Peterborough)
Provided 120 colleagues with Lifesaving Heartstart skills
Created Wellbeing zones in Edinburgh and Witham for colleagues to relax and re-energise
Created an online Wellbeing area for employees to access simple self-help mental and physical wellbeing programmes and activities
Launched Cycle2Work scheme and online Get Active Strava running, cycling and walking community groups
Hundreds of colleagues took part in pet therapy sessions in Edinburgh and Witham
Launched Dr@Hand benefit – providing colleagues with 24/7 unlimited access to private GP appointments online or via phone
Ran expert-led programmes from Axa Health including Stronger Minds - a free and confidential self-referring mental health service
Delivered a calendar of Wellbeing initiatives which recognised and raised awareness of alcohol, breast cancer, bullying, cervical cancer, healthy hearts, mental health, men's health - and free flu jabs
Grant continues: "It's been an educational and inspiring journey for everyone involved. All the initiatives have been very well received across the business and the good work has already continued into 2020. We want to create a work environment that respects inclusion and diversity, where everyone can contribute and be their authentic self.
"By helping people be at their best, we are more likely to be successful as a company. We are determined to embrace diversity in all its forms and to create a workplace where every employee can equally fulfil their potential."
Further information
Stephanie Melrose
PR Manager
Aegon UK
Tel: 0131 549 6743
Mob: 07740897621
Notes to Editors
In the UK, Aegon offers retirement, workplace savings and protection solutions to over three million customers. Aegon employs around 2000 people in the UK and together with a further 800 people employed by Atos, we serve the needs of our customers. More information:

aegon.co.uk
As an international life insurance, pensions and asset management group based in The Hague, Aegon has businesses in over twenty markets in the Americas, Europe and Asia. Aegon companies employ approximately 26,000 people and have millions of customers across the globe. Further information:

aegon.com
Figures correct as of November 2019