Aegon addresses common workplace pension queries in new film
Aegon Press Team
Wednesday, 20 May 2020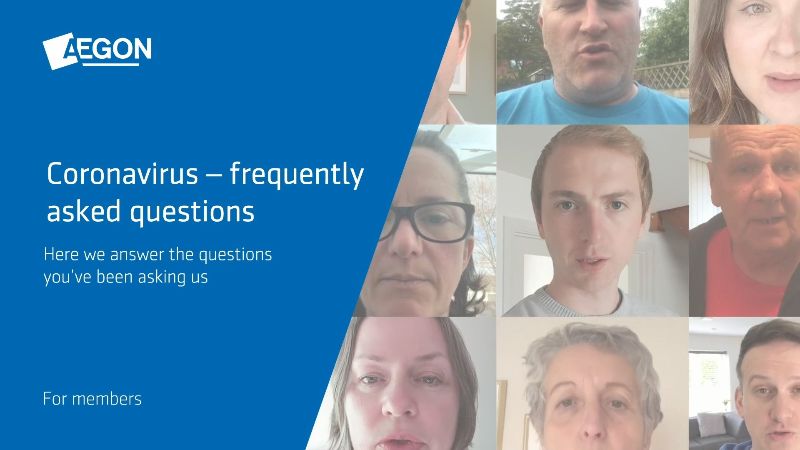 Responding to the needs of employers, Aegon has launched a film to address the common questions from employers and their employees about the impact of coronavirus on their pensions and savings.
The film, created in partnership with Pension Geeks features each question being asked by a person and an expert response being given using webchat along with a voiceover. It's reflective of Aegon's continuous development in rolling out webchat across all its platform propositions, which will be completed by June, to help support customers even more under the circumstances.
The film covers questions such as;
What happens to my workplace pension contributions if I've been furloughed and am on reduced pay?
What happens to my pension if my employer goes bust?
Are investment strategies for default funds being reduced?
Linda Whorlow, Managing Director of workplace business at Aegon, comments:
"Understandably, from the moment the coronavirus started to impact the UK workforce, Aegon received a steady influx of questions from employers and their members about how the situation might impact their finances and their pension plans. Initially we provided most responses to questions through an FAQ section on our website. But we are delighted to say we have brought these questions to life through a film.
There are two versions of the film – one for employers and one for employees. They have been shared through email with all employers with Aegon workplace pensions and are also available on the Aegon website under the scheme health section here https://www.aegon.co.uk/workplace/employers/support-for-employers.html.
Whorlow continues:
"We're always on the lookout for creative ways to support employers and engage and inspire members when it comes to pensions. By presenting responses to their key concerns, we can hopefully help people get all they need to make informed decisions when it comes to their savings and pensions in light of the current situation."
Jonathan Bland, Head Geek at Pension Geeks comments:
"With Covid-19 continuing to impact the lives of everyone, it's absolutely crucial that we do everything we can to help and reassure members and employers with their many questions and concerns they undoubtedly have surrounding their pensions, investments and other money topics.
"The frequently asked questions are just one-way Aegon are leading the way in this type of communication – they are listening to their customers, understanding their needs and taking a pro-active approach to supporting them through these really difficult times."
James Biggs, Partner at Employee Benefits Collective comments:
"I loved watching these videos. Bravo to Aegon for using real people and also considering those who may be hard of hearing with the simulated "live web text chat box". Very typical of Aegon to be on the front foot when it comes to engaging employees. As someone right at the sharp end of employee pension concerns right now, I believe the questions covered were spot on!"
References
Further information
Stephanie Melrose
PR Manager
Aegon UK
Mob: 07740897621
Notes to Editors
In the UK, Aegon offers retirement, workplace savings and protection solutions to over three million customers. Aegon employs around 2000 people in the UK and together with a further 800 people employed by Atos, we serve the needs of our customers. More information: aegon.co.uk
As an international life insurance, pensions and asset management group based in The Hague, Aegon has businesses in over twenty markets in the Americas, Europe and Asia. Aegon companies employ approximately 26,000 people and have millions of customers across the globe. Further information: aegon.com
Figures correct as of November 2019