Advisers pay greater heed to cost in fund assessments
Nick Dixon, Aegon Investment Director
Tuesday, 27 August 2019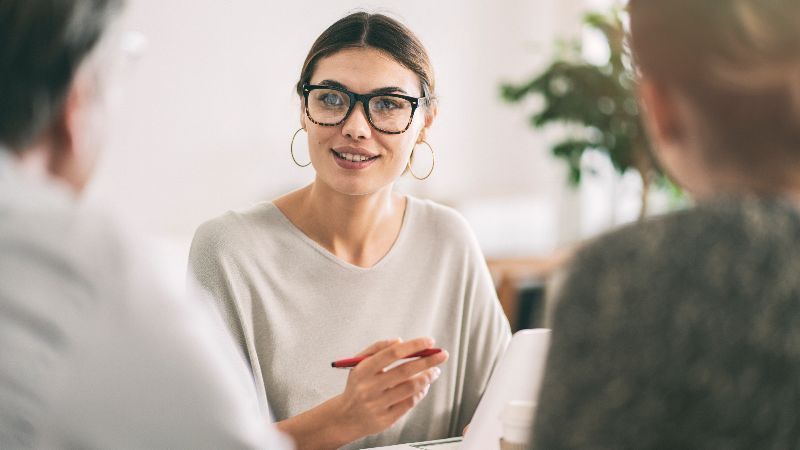 For intermediaries only
Fund costs have been under increasing scrutiny in recent years. The Financial Conduct Authority's (FCA's) Asset Management Market Study questioned the ability of some funds to deliver performance that justified their fees. In addition, customer demand has created downwards pressure on costs across the savings industry – impacting fund charges, platform fees and adviser charges.
Now, recent survey data published in our new report: Aegon Adviser Attitudes Report 2019 – trends in investment strategies and portfolio building, shows that past performance and cost are seen as the greatest indicators of fund quality. And of all the options posed, cost saw the biggest shift in perception compared to two years ago. Our research found that over half of the advisers we asked now place cost in the top three factors that they consider.
Value for money is a key factor that we look at in the creation and monitoring of our own Aegon funds, and it is good to see advisers taking a similar approach to their fund recommendations.
Fund picking focuses on track record and cost
Past performance and cost ranked higher than investment strategy/ethos, investment process, asset allocation/holdings, fund objectives and fund manager credentials. Awards and brand were considered the least important of the options presented.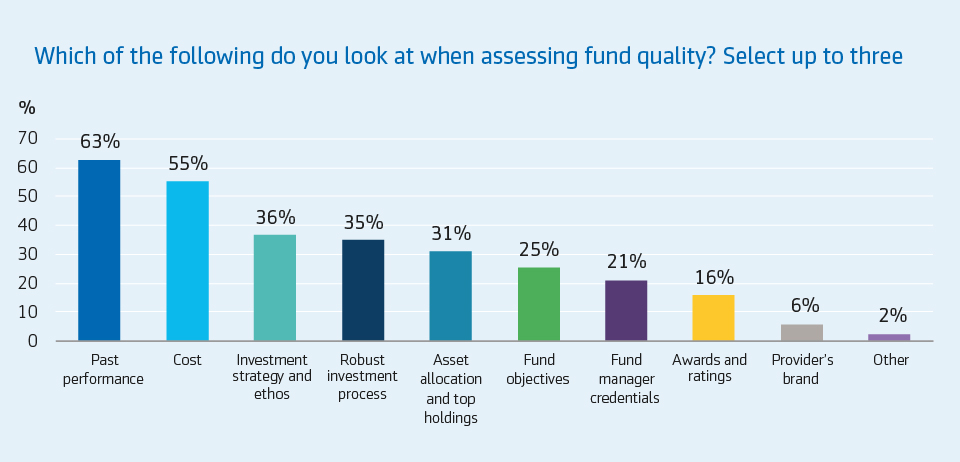 The high figure for past performance shows the importance advisers place on funds demonstrating their credentials over time. Understanding the investment theory and ethos that underpins a fund's strategy is one thing, but it appears that financial advisers value a real-world demonstration of success, albeit recognising that past performance isn't a guarantee of future returns.
One implication of this is that advisers may take time to adopt new funds – waiting for them to build up a performance record over time. This allows time for strategies to become established, but could mean that the market is slow to respond to change or the advent of new approaches.
Advisers who focus on past performance should also be cognisant of any changes to a fund's process, structure or management. Market conditions can also have an impact – a fund that has done well in the protracted bull market of recent years might struggle were market conditions to falter.
Cost has risen up the agenda
Past performance ranked very highly the last time we asked advisers, but I was particularly interested to see cost now becoming such a dominant factor. When we asked advisers the same question in 2017, only 29% placed cost in the top three factors they look at. This result nearly doubled in our 2019 survey, and now sits at 55%.
Since the 2017 survey, the FCA has published its Asset Management Market Study, and advisers appear to be much more conscious of fund costs in its wake. It's likely that the change is also due to increasing downwards pressure on overall fees from clients, which is pushing costs down across the savings industry.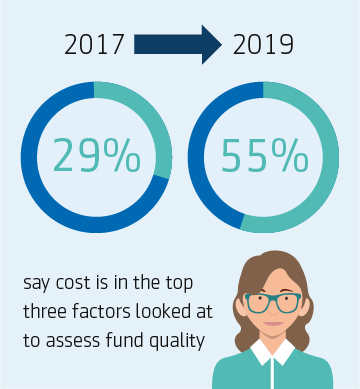 In my view, this focus can only be positive. Prioritising cost doesn't necessarily mean choosing the cheapest fund available, but it does mean that where a fund comes with an additional cost, there is an assessment made that this cost brings with it the prospect of benefit to a level that justifies any additional fee. For example, these benefits might include the potential to improve investment growth or reduce volatility, or might mean that ethical considerations are met.
This is a good basis from which to make fund recommendations. It's a discipline that we follow when designing and reviewing our own in-house funds. While the temptation may be to find a complex solution to complex problems, like growing long-term savings or generating a retirement income, at times this can go beyond what investors really need, and what is really likely to drive additional returns.
In the end, greater cost must be justified by greater potential benefit. If it isn't then a simpler, lower-cost solution may well be the most appropriate answer.
The value of investments may fall as well as rise. Investors may get back less than they originally invest.
Research conducted by Opinium. Based on surveys of over 250 financial advisers, 21 – 27 June 2019, and 25 February - 1 March 2019.