Adviser views and predictions on asset class performance
Aegon Press Team
Monday, 10 December 2018
Advisers expect the top three performing assets to be US equities (22%), emerging market equities (15%) and UK equities (14%)
The worst performing assets over the next year are expected to be cash (24%), gilts (19%) and corporate bonds (8%)
Research highlights that views differ depending on the average size of investment pot
A high proportion (22%) of advisers said they don't know which asset class they expect to generate the best returns over the next year
Research by Aegon, carried out among over 200 financial advisers highlights adviser's views on the asset classes they expect to perform best and worst for clients over the next 12 months. This research comes as investors face having to navigate a complex range of factors including trade tension and growth concerns, with many questioning if the longest bull market in history could be coming to an end.
UK equity funds have seen record outflows since the Referendum in June 2016 but despite this, a high number (14%) of advisers put this asset in their predicted top three best performing asset classes. Similarly, despite recent falls, US equities (22%) and emerging market equities (15%) were also ranked highly by advisers.
While cash may be viewed by some as a safe haven during times of volatility, research shows that advisers expect cash (24%) to be the worst performing asset over the next year. Gilts are ranked in second place (19%) as the asset class advisers predict will perform the worse, with corporate bonds in third place (8%).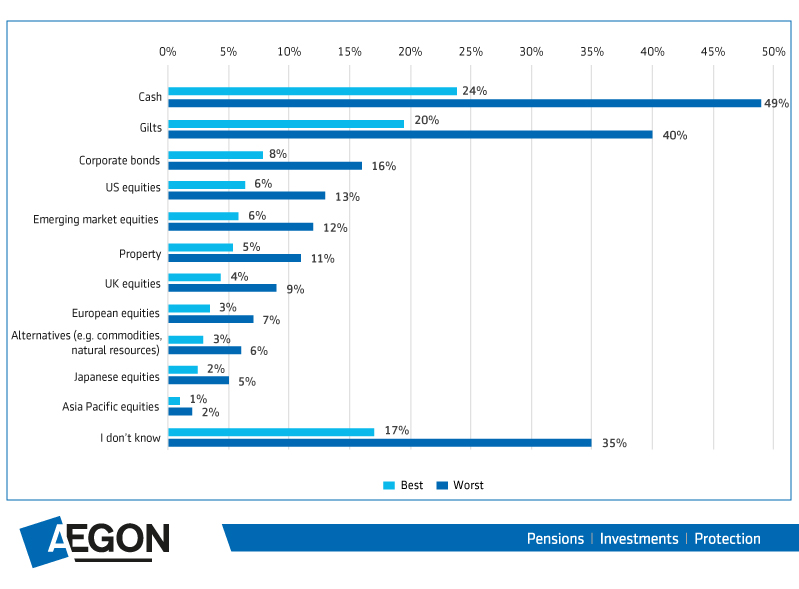 The mixed predictions of advisers reflects current market volatility and political instability, with a high proportion (22%) of advisers unsure of the asset class they would predict to generate the best returns over the next 12 months.
Research shows that views on the asset classes expected to generate the best returns for clients differs depending on the advisers average client portfolio value. For advisers whose clients' have an average pot of £200,000 or more, Asia Pacific assets are predicted to be the fourth highest performing asset at 11%, compared to the 4% figure for advisers whose clients' pot is on average under £100,000. Similarly, advisers whose clients' have an average pot of under £100,000 are more likely (6%) than advisers whose clients' have an average pot of over £200,000 (2%) to expect Japanese equities to perform well in the next 12 months.
Nick Dixon, Investment Director at Aegon, said: "In this highly volatile investment landscape, advisers are right to question whether the longest bull market in history could be coming to an end. When it comes to investment decisions, advisers and investors are having to face a number of concerns head on. This includes the impact of geopolitical stress on emerging markets, equity valuations, and potential impact of Brexit on UK equities. However, our research shows that advisers remain level-headed in the face of a very fickle market. Advisers are right to remain focused on long-term returns, diversification, and avoid reacting to fast moving market conditions."
Further information
Research carried out by Opinium on behalf of Aegon amongst 205 UK IFAs in August 2018.
Notes to Editors
In the UK, Aegon offers retirement, workplace savings and protection solutions to around two million customers and employs more than 3,000 staff. More information: aegon.co.uk

As an international life insurance, pensions and asset management company based in The Hague, Aegon has businesses in over twenty markets in the Americas, Europe and Asia. Aegon companies employ over 25,000 people and have millions of customers across the globe. Further information: aegon.com
Aegon is a brand name of Scottish Equitable plc. Scottish Equitable plc, registered office: Edinburgh Park, Edinburgh EH12 9SE. Registered in Scotland (No. 144517). Authorised by the Prudential Regulation Authority and regulated by the Financial Conduct Authority and the Prudential Regulation Authority. Financial Services Register number 165548. An Aegon company.www.aegon.co.uk
© 2018 Aegon UK plc.