A third of advisers say advice increases risk appetites
Aegon Investment Team
Tuesday, 17 December 2019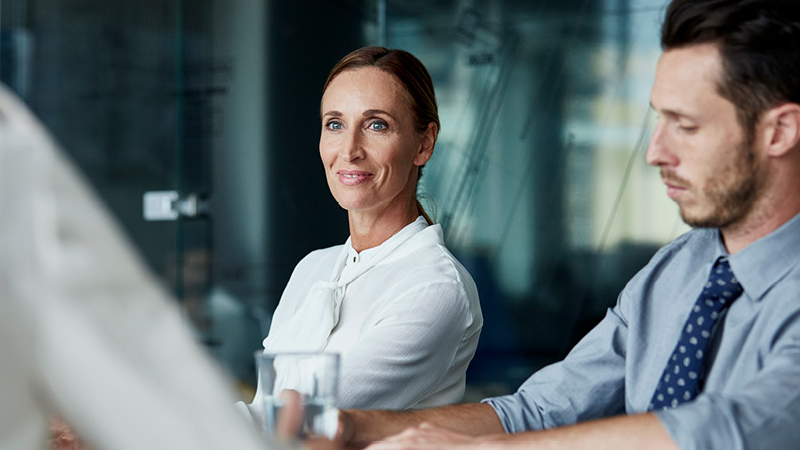 For intermediaries only
Recent survey data, commissioned by Aegon, suggests that many people have a poor understanding of the trade-off between investment risk and growth potential. Discussing investment risk with a financial adviser can impact risk appetites and, interestingly, the figures suggest that these discussions are more likely to increase than decrease a person's risk appetite.*
This is worrying in an environment where many are reliant on long-term savings to help them meet their financial goals, and in particular to fund their retirement. A cautious approach is right for some, but those who invest cautiously because they don't fully understand their options may be missing out on long-term growth potential that they badly need.
Most investors tend towards caution
Without advice, most people tend towards investment caution. Many fail to invest at all or hold significant amounts in cash**, which is unlikely to give them growth potential above inflation.
A staggering 56% say they have a 'low' or 'zero' risk appetite, compared to just 13% who say they had a 'high' or 'adventurous' risk appetite*.
Understanding the risk and return trade off
And when we asked advisers, only 47% think most of their clients understand the relationship between risk and growth potential before they explain it to them. A further 40% think that about half understand it, and 12% think the majority didn't.

The impact of financial advice
Related to this low level of initial understanding, half the advisers we surveyed say adviser education impacts the risk appetites of most clients.
Following their discussions, around a third (34%) say most become less cautious, given the potential for improved investment growth, compared to a smaller 16% who say that most become more cautious.

The remaining 50% say risk appetites remain unchanged for most clients.
The results show how valuable discussions around the basics of investing can be. Over a lifetime of saving the difference in returns between a cautious and an adventurous investment portfolio can be stark.
For example, over a 20 year period, someone with £200,000 invested in a 'cautious' asset mix (as represented by the ABI Mixed Investment 20% - 60% Shares sector average) would have seen their savings grow to £435,000 by end June 2019. In contrast, someone investing in a more 'adventurous' asset mix (as represented by the ABI Flexible Investment sector average) would have seen their savings grow to £531,000 over the same period. This represents a difference of £96,000#.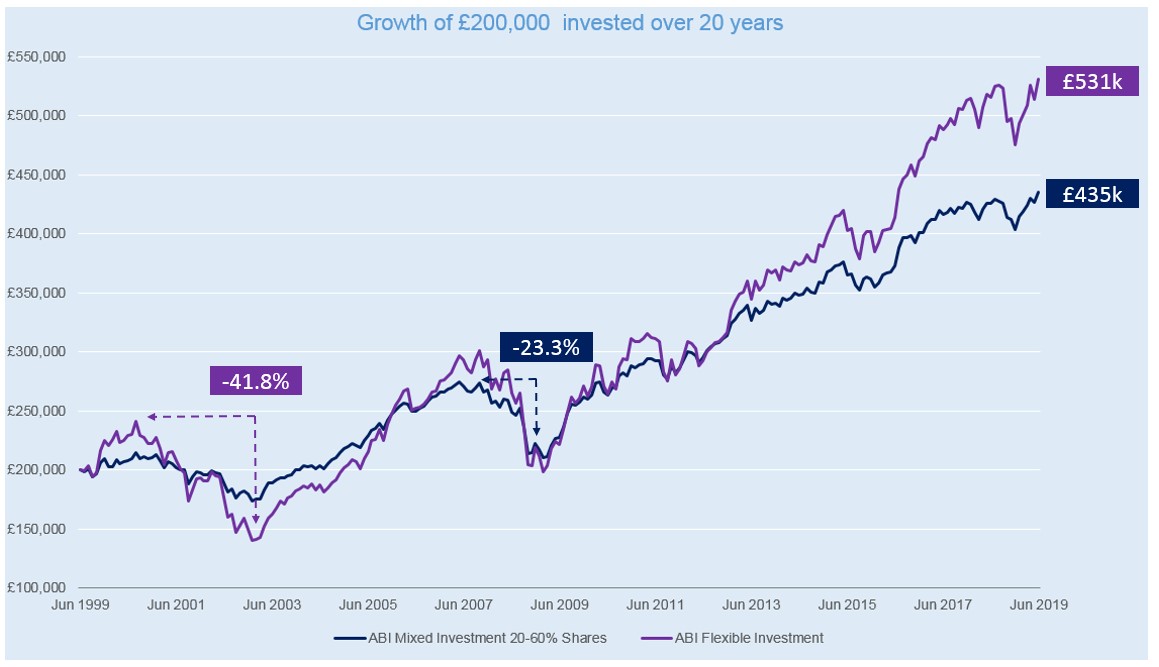 Similarly, where someone holds an investment which is above what their 'informed risk appetite' might be, there may be periods of volatility that they aren't comfortable with. Taking the same example above, the higher-risk portfolio had a standard deviation of 12.4% over the period, compared to 6.9% for the less-risky portfolio. The less-risky portfolio also had a maximum drawdown of -23.3% compared to -41.8% for the riskier portfolio#. We must bear in mind that future returns could differ quite markedly from historic figures, and people may get back less than they invest. However, this example serves to illustrate the potential impact that decisions around risk appetite can have.
It's imperative that people have the information required to make informed investment decisions. Often, conversations around some investment basics can have a real impact on long-term savings outcomes. Financial advisers have a key role to play in this, helping their clients to build the investment confidence and understanding they need to make the decisions that are right for them.
*Research conducted by Opinium. Based on a survey of 2,002 UK adults 12-15 October 2018, and a survey of 250 financial advisers 25 February - 1 March 2019.
**Based on the above survey of 2,002 UK adults, 12-15 October 2018. When asked how likely they were to invest any extra money into riskier investments (such as stocks and shares) in the next year, 67% said this was 'unlikely'.
#Source: Financial Express, commissioned by Aegon. Figures in £s on a bid-to-bid basis, net of investment charges with gross income reinvested for 30 years to end June 2019. Figures rounded to the nearest £1,000. Standard deviation figures measure the volatility of a portfolio against its own average over 20 years. Maximum drawdown figures measure the greatest single drop in value from peak to trough over 20 years.