A spotlight on each of our charities – part three
Aegon Content Team
Monday, 18 October 2021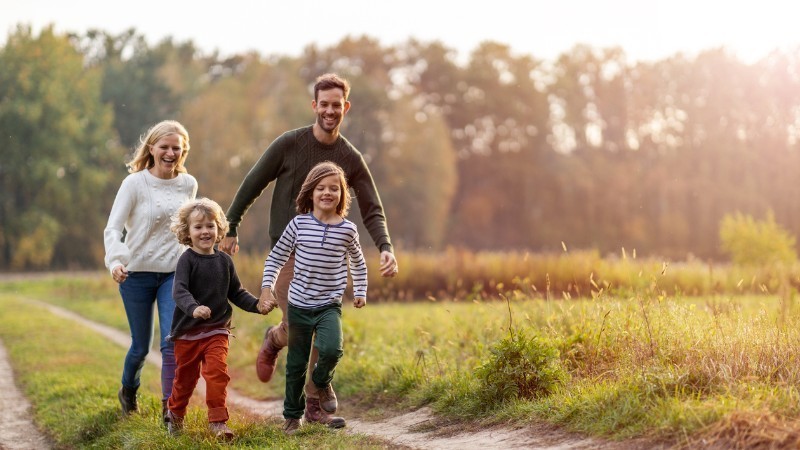 Every year we support a number of charities across the UK as we're passionate about playing an active role in our communities – by helping to make a better future for those arounds us.
We're shining a light on each of the charities we're supporting this year and, in this feature – Brian House and Trinity Hospice, Kids Inspire, London's Air Ambulance Charity and Essex &Herts Air Ambulance have provided a few words, to share the brilliant things they do as a charity.
Brian House and Trinity Hospice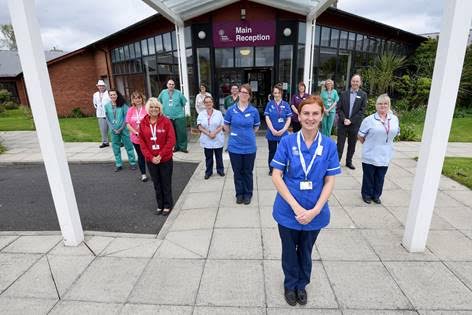 The last 12 months have been like no other – we saw how the coronavirus took hold of the whole world, and we saw how our community reacted – doing what they could to support our local hospice during such an uncertain time.
Brian House is about making the most of every day and packing all sorts of experiences and happiness into lives that can be all too short. We provide respite, palliative and end of life care for children and young people with life-limiting conditions. That means we care for youngsters both during the day and overnight, and we support their families at every step, of what can be an unpredictable journey.
Trinity Hospice focuses on the positives – providing patients with relief from the symptoms, pain and stress of a serious illness – to improve quality of life for them and their loved ones and to help them all look ahead. Death and dying aren't things to be hidden away – we have 'difficult conversations' and encourage everyone to talk more openly and plan for the future.
Our team
Our amazing care teams have been on the front line since the start. We've created extra beds here in the hospice, extended our community team to cover seven days a week – and at the hospital, our nurses are still caring for a huge number of coronavirus patients. They're also supporting staff at the Trust, psychologically, in these really challenging times.
We've had to change some of our processes, but we haven't changed how we care for all those who need us and will always support patients and their families.
It's been really tough for our care teams, but what has kept them going is your overwhelming generosity. Whether you took part in a virtual event, dedicated a light to a lost loved one in our Light up a Life service, put on a show of Christmas lights where you live or entered our New Year raffle – in these strange times it's amazing that we've been able to rely on you, as we always have done.
The impact of the coronavirus
We've been working hard to support local care homes across the Fylde coast who have their own challenges brought on by the pandemic.
We have fortnightly virtual meetings with several organisations to support issues that have arisen in care homes, and recently supported a home which had a Covid outbreak. We set up daily virtual rounds which meant we could keep in contact with the home to discuss their poorly patients, and make sure all decisions made, provided them with the right care.
We've also made sure care home staff are able to access psychological support, as it's incredibly difficult for carers to see their residents unwell or dying on a large scale. We have also supported the district nurses by doing syringe drivers in the home to help short-staffed care teams in the community.
By putting this system in place, we're prepared for any further requests for support, specifically through our use of virtual technology. We can facilitate face to face meetings and still be able to see care home residents, reducing the risk of unnecessary cross-contamination. But we will always hold face-to-face appointments where necessary, even in a pandemic.
How you can support us
We're looking to the future with much more positivity and hope that we're able to put on some of our fundraising events and activities that you're so used to seeing from us.
We're not out of the storm yet – we're still forecasting a £1.5million fundraising shortfall due to the pandemic and as our services aren't provided by the NHS, we still need support like never before. 
You can support Brian House and Trinity Hospice by volunteering, fundraising or sponsoring a nurse. Visit https://www.brianhouse.org.uk/support-us/ and https://www.trinityhospice.co.uk/support-us/ to get involved.
Kids Inspire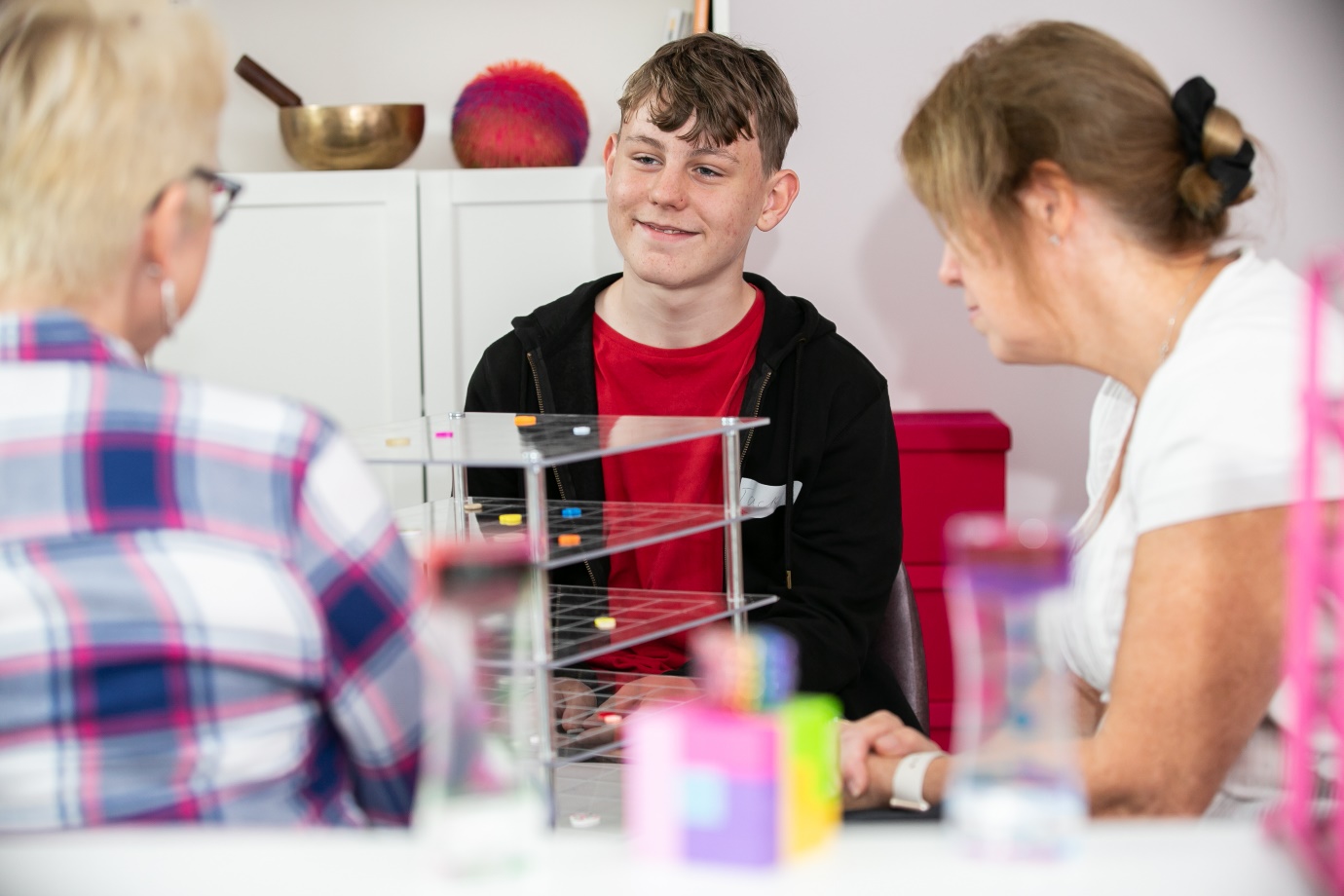 At Kids Inspire we provide mental health and trauma recovery support for children, young people and their families.
Through a range of therapeutic and community activities – we promote resilience, self-awareness, and relationship building to empower more positive life choices. Favouring creative therapy and specialising in trauma recovery, the team treat each referral individually to understand the root of the problem. Each review helps identify which family members would benefit most from intensive support, whilst keeping the whole family included in the treatment plan through regular conversations.
The aim for Kids Inspire has never changed – our goal is to meet the needs of the child at the centre of each case to help them thrive once completing a bespoke treatment plan.
The impact of the coronavirus
The role of Kids Inspire throughout the pandemic has been on the frontline by helping individuals to adapt and cope. Childhood trauma is an important topic, and the coronavirus has reminded us of what vital services organisations like Kids Inspire provide.
Whether that support comes via therapy, mentoring, coaching, community projects or the Christmas appeal. They all go a long way to empowering children, young people and their families to ease the impact of childhood trauma and anxiety.
Our Talk Together programme, established as a result of the pandemic, provides support across a continuum of need, from short-term early intervention – right through to long-term help for individuals suffering with more complex issues.
How you can support us:
1.18-24 October is our 'Week of Wellbeing'
An annual event we welcome you to get involved in. Throughout the week we will share themed ideas around using creativity as a way to promote better mental health and wellbeing. Get involved!
2.October to December – The Kids Inspire Christmas Appeal
For the past 10 years, with the ongoing support of the community, we have successfully run a Christmas Appeal – to source, wrap and deliver presents and hampers to disadvantaged children and their families in Essex. You can read more here.
3. Volunteer or take on a challenge!
If you would like to gift in another way, please join our award winning volunteer team. Or if you want to take on a challenge or be inspired in other ways become an individual fundraiser!
4. Be a GEM (Give Every Month) and help a child or young person to discover the treasure within
'GEMs' are our committed group of monthly givers, who by giving just £2 (or more) every month, help a traumatised child to receive specialist recovery support they need. Read more.
London's Air Ambulance Charity

London's Air Ambulance Charity was founded in 1989 to bring the hospital to the scene of an accident – delivering urgent, cutting-edge medical care to the most seriously injured people across London. To date, we've treated over 42,000 critically injured people and attended most major incidents in London including 7/7, the Grenfell Tower fire and London Bridge terror incident.
Our helicopter and rapid response car teams operate 24/7 for every one of the 10 million people who live and work in London. The average time between 999 calls and treatment on the scene is 15 minutes, and our advanced trauma teams treat, on average, five seriously injured patients every day – when saving time equates to saving lives.
When an injury is so serious, and there is no time to get to hospital for treatment, our crews are the only people who can perform emergency surgery at the scene. We remain the only helicopter emergency medical service, available to the millions of people that live in, work in, travel to and visit London every day.
The impact of the coronavirus
Throughout the pandemic, we've supported the NHS whilst remaining fully operational 24/7. In 2020, we completed 1,494 patient missions.
Our Physician Response Unit (PRU) is a community emergency medicine service which attends emergency calls in people's homes. During the first pandemic peak, the PRU expanded their working hours and added a second unit, which freed up hospital beds and reduced risks for vulnerable patients by helping them avoid a trip to hospital.
In January 2021, the PRU launched a third team in support of the extreme pressures faced by London's emergency services.
How you can support us
We're a charity that works alongside our partners in the NHS, but our life-saving service is only made possible by the generosity of supporters of London's Air Ambulance Charity.
Not unsurprisingly, the pandemic has affected our financial plans, with fundraising badly hit – the impact of which will be felt for years to come. As a result, we forecast that we will suffer a £6 million loss of income over the next five years. The average cost of a mission is £2,290 and it costs £9 million per year to provide London with our advanced trauma service – the majority of which comes from donations and fundraising.
There are many ways to help support us from participating in events, fundraising, donations and volunteering. Visit our 'get involved' page to find out more. We need the support of the people of London, now more than ever, to keep flying.
Essex & Herts Air Ambulance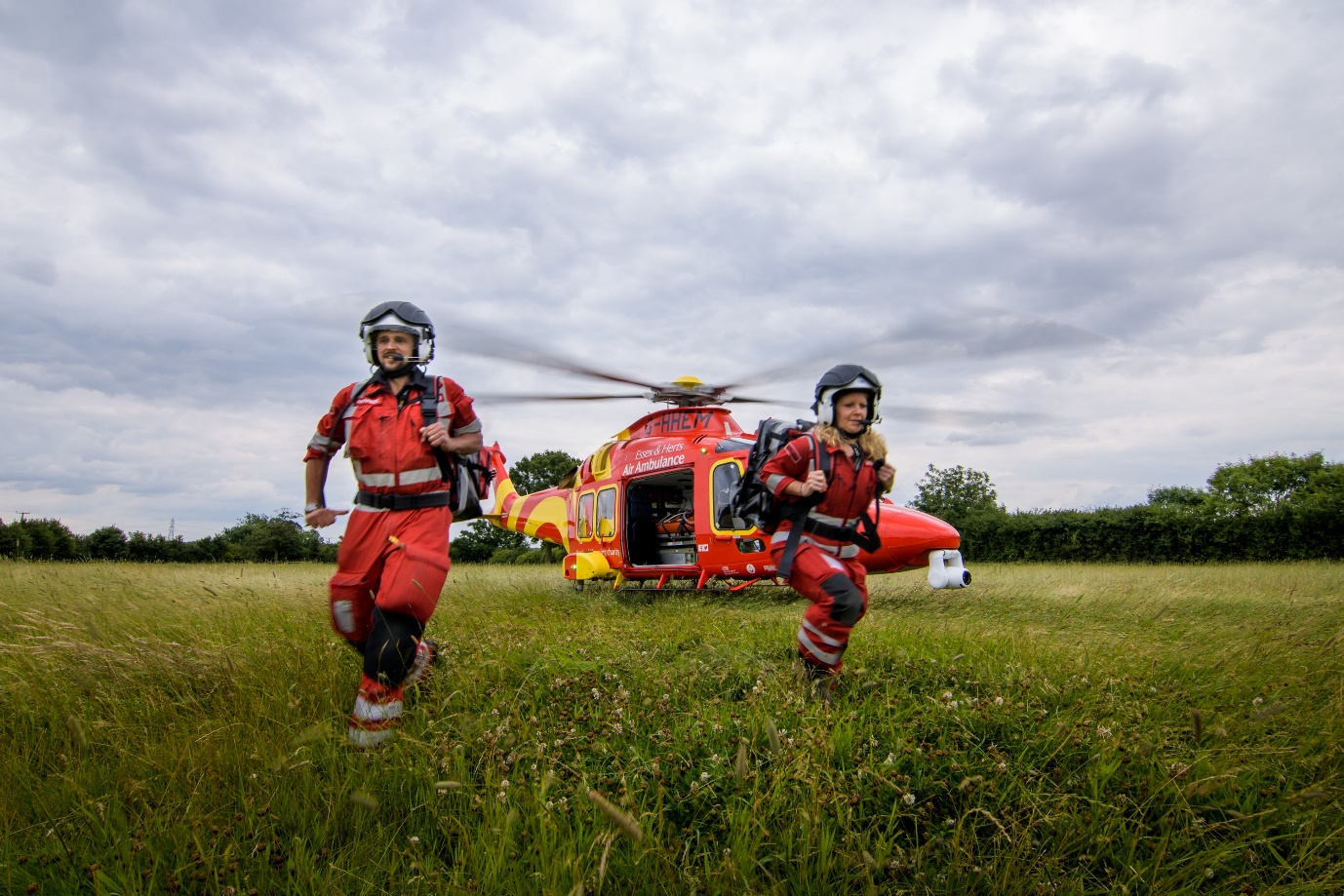 Essex & Herts Air Ambulance (EHAAT) provides Helicopter Emergency Medical Services (HEMS) for the critically ill and injured of Essex, Hertfordshire and the surrounding areas. Our aim is to save lives, reduce or prevent disability, or suffering from critical illness and injury.
We deliver a first-class pre-hospital emergency medical service — free of charge. Unlike NHS emergency services, we receive no direct funding from the National Lottery and limited funding from the Government. It costs in excess of £750,000 every month to keep the service operational. Therefore, our frontline emergency response services would not be possible without the generosity and goodwill of people and businesses.
Advanced, effective and collaborative clinical care
On average, our critical care teams are dispatched six times per day. Each team consists of a pilot, co-pilot, a pre-hospital care doctor, and a critical care paramedic who can be rushed to the scene of an incident with life-saving support equipment — delivering cutting-edge clinical care, that is usually only found in the hospital emergency department. Once stabilised, the patient will be rapidly transported by air, or land, to the most appropriate hospital for their needs.
Why we do what we do – patient story
A patient that has experienced first-hand the life-saving work from EHAAT is Andrew Bord. Andrew was taking a shower when he blacked out and fell and had a seizure. Nobody knows if the seizure was because he banged his head, or whether his seizure began as he lost consciousness. Watch Andrew's moving story at https://youtu.be/B8pKl8AaTK4.
How you can support us
With the help of our hardworking, passionate and generous fundraisers and supporters, we're regularly hosting special events throughout the year – raising vital funds to remain operational and save lives. Whether you're eager to donate, wish to learn more about us and our missions, or our latest fundraising opportunities – you can see how we deliver advanced pre-hospital interventions across Essex, Hertfordshire and the surrounding areas every day by visiting our website at www.ehaat.org.
Flight for Life Lottery: Join today for a chance to land £25,000!
Essex & Herts Air Ambulance wins every time you play their Flight for Life Lottery and Superdraw. Enter for just £2 a week, and you'll be in with a chance of winning up to £25,000 in the Superdraw, with 14 cash prizes every week — all whilst supporting your local life-saving charity.
Learn about the Lottery and Superdraw, including the Terms and Conditions, here. Players must be UK residents aged 16 and over.
Thank you for your continued support. We can't fly without you!

A big thank you
A big thank you to Brian House and Trinity Hospice, Kids Inspire, London's Air Ambulance and Essex & Herts Air Ambulance for sharing a glimpse into their charities. Supporting each of our charities is really important to us at Aegon – from fundraising activities to sharing our skills and expertise. Read our first and second feature to find out about some of the other charities we're supporting this year.
This article contains 3rd party generated content provided by each charity's authorised representative. Aegon is not responsible for the content accuracy of this article's information, or for the fundraising activities mentioned. Please reach out to the charities directly if you would like to find out more, or visit the charity registers for England and Wales, or for Scotland.