7 simple ways to keep track of your finances
Aegon Content Team
Monday, 1 November 2021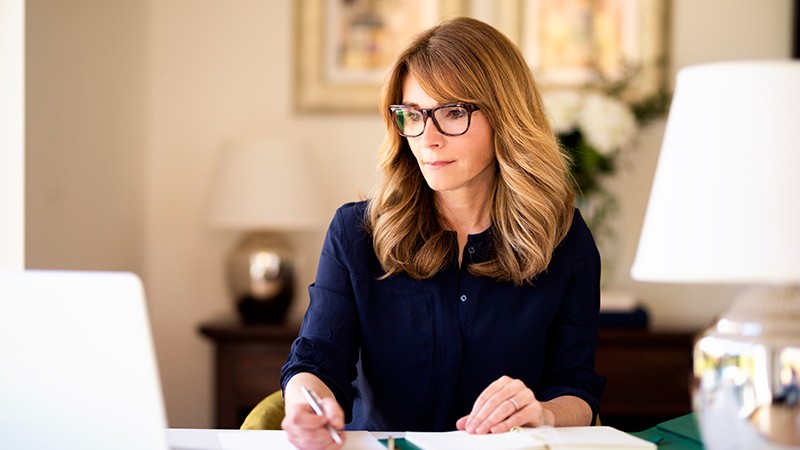 For customers
As most lockdown restrictions have been lifted for while in the UK and we've slowly been returning to a sense of normality – it's only natural to find that your spending habits might have changed. Just as lockdown affected finances in dramatic ways, so has the sense of freedom that's followed it.
Some people lost earnings, jobs and even businesses, while others have saved the money they would otherwise have spent on commuting, entertainment and eating out. Overall, the Office of National Statistics (ONS) estimates that UK households have saved a combined £190bn since the start of the pandemic.1 
Whether you're better or worse off, most people want to be more mindful about their spending these days. Here are some of our top tips for budgeting, tracking payments and making sure you can keep costs down – while also having some fun.  Bear in mind that this isn't financial advice, if you're in any doubt or would like some help with your financial planning, we recommend you speak to a financial adviser.
1. Review your budget
Checking your pot of cash, incomings, outgoings and budget regularly is a good idea at any time. But it's especially important if you anticipate a change in your spending.
Now would be a great time to look through your spending and adjust some figures, but it's important you allow yourself to have some fun too. So, if you can, consider building some money into your budget for entertainment, or socialising, so that you don't derail your savings goals. 
You might find downloading a budgeting app like Emma or Money Dashboard helpful if you haven't done so already. These typically gather all your accounts in one place. You're then able to see any upcoming transactions, plus your monthly spend is categorised to give you a clearer picture. We've put together a list of a few useful apps that can help you save time, money and stress.
For tips on how to review your budget after a long period of time, read our article on how to conduct a mid-year budget review.
2. Prioritise your expenses
Making a list of all your expenses and sorting them in order of priority can help you to identify where you can make savings. 
You can do this by writing down everything you spend money on, from mortgage payments through to your weekly exercise class. You may also find it easier to categorise your expenses under headings like housing, utilities, tax, food, travel, debt and hobbies. 
Make a list of these expenses in order of priority – then flip it on its head. 
Starting from the lowest priority expense and working your way up helps you to see where you could potentially cut back. 
Prioritising your expenses means you can be confident that you have budgeted for essential costs like rent or council tax while making savings on more optional expenses like takeaways. 
3. Compare your bank statements and track your payments
Understanding where your money is going – and when – can make a big difference.  Your spending habits during lockdown were probably very different to your spending habits as restrictions were lifted. So, in order to really understand your finances, you need to try to understand how your spending habits could have changed. 
Firstly, identify what you've spent money on during lockdown that you don't necessarily need now. For example, do you really need a subscription to every online streaming service out there? Will you still be having regular takeaways, or can you use that money towards eating out or enjoying a family day at the zoo?
Secondly, take a look at your more recent bank statements, which most people easily access online. Here, you can highlight the post lockdown costs that may be creeping in again. Have you returned to your daily coffee habit? Are lunches out becoming more commonplace? Calculating how much this will cost you over the whole year can help bring into focus whether you want to sacrifice that money.
In addition, tracking your payments can be as simple as creating a spreadsheet. Updating this daily can help you see what you're spending money on, and how much you have left for the month. 
4. Stagger treats
Now that 'freedom day' has been and gone, it's very tempting to do everything at once. But this could put a huge strain on your finances. 
In order to minimise the impact of a post-lockdown spending spree, try to space things out over several months.  For example, maybe try to schedule your next hair appointment for a month where you don't have many social engagements. 
Knowing what brings you purpose and joy in life and then allocating your spending and savings towards these goals can help you stay motivated and on track2. Having these types of activities in the diary and accounted for will not only give you something to look forward to – it could also make you more financially resilient in the future. So, you'll be less likely to go over budget.
5. Adjust your savings goals
It's important to understand that the return of socialising and commuting doesn't mean you can no longer save money. It just means that you need to be realistic about what you can put away. 
Adjusting your savings goals based on the new demands on your finances means you're still committed to a good financial habit, but you're not setting yourself up for failure. 
Automating your savings is one way of sticking to your new goals. Setting up a standing order to transfer money as soon as you have been paid is a great way of ensuring you continue to save.
6. Cut your costs
If saving money is important to you but you're finding it harder than expected, look at where you can reduce your costs. 
Regularly checking your bills and switching providers could potentially save you money in the long run. For example, have you recently reviewed your energy bill? Or thought about your mobile contract? Use comparison websites to make sure you're getting the best deal.
Then there are commuting costs. For those who haven't had to go into the office much yet, train fares can be a shock. If you aren't going back into the office full-time, you may be able to save yourself money on train fares by using Network Rail's recently launched Flexi Season ticket. Designed for those who only need to travel to work a couple of times a week, it provides a 20% discount on an equivalent Monthly Season ticket. 
7. Save on family entertainment
Why pay full price when you don't need to? If you're clever, then there are ways of keeping the cost of family entertainment down. 
Schemes such as Tesco Clubcard or Nectar help you build up points which can be redeemed against eating out or family day trips. 
Alternatively, you can keep your eye out for discount vouchers. Merlin Entertainment often run promotions with cereals brands that will see adults go free. Or there are websites like vouchercodes.co.uk that provide discount codes on a range of experiences and purchases. 
Using discounts or vouchers can allow you to enjoy days out together while making sure that you stick to your budget. 
For more articles like this visit our Customer Perspectives hub. If you don't already have a financial adviser, you can find one near you by visiting MoneyHelper. 
Sources: 
Quarterly economic commentary: January to March 2021. Data source, ONS, June 2021.
Aegon Financial Wellbeing Index – flipbook. Data source, Aegon, Financial Wellbeing research carried out in August - September 2020, 10,000 respondents, Page 26. Flipbook first published March 2021.